Pinot Chardonnay Wine Variety Wineries in South West
Discover what's going on in arts, events & culture
Discover what's going on in arts, events & culture.
Check out travel guides for regional WA
Check out travel guides for regional Western Australia.
Explore winery guides for Perth and regional WA
Check out winery guides for Perth and regional WA.
Wineries in Australias South West
categories=10067
Established in 1978, Happs is a Margaret River wine pioneer, offering the region's largest selection of grape varieties and an inviting, rustic mud-brick cellar door and pottery gallery
Wine Variety:Pinot Chardonnay,Sauvignon Blanc Semillon,Grenache,Sparkling Rose,Sparkling,Rose,Dessert,Cabernet Merlot,Chardonnay,Muscat,Pinot Noir,Semillon,Shiraz,Verdelho
Wine Region:Margaret River
Open Days/times:10am - 5pm Everyday
Details
Size & Year:Small (5,000-49,999 cases),Established 1951 - 2000
Facilities:Dogs Welcome,Kids Play Area,Cellar Door,Gallery,Picnic Facilities
Vineyards:35.2 hectares
Cases Produced:14000
Margaret River:Yallingup
Cellar Door Open:Monday,Tuesday,Wednesday,Thursday,Friday,Saturday,Sunday,Holidays
Description
Happs Wines has delighted visitors from near and far at their warm and rustic cellar door for over 35 years. Their aim to provide a wine for every palate is reflected in their extensive portfolio and willingness to break convention in terms of the size of their range and number of wine varieties within it.
The Wines
Happs Wines produces more than thirty grape varieties, all made from estate-grown fruit at two Margaret River vineyards. The northern Dunsborough vineyard enjoys a warmer growing season of rich and ripe qualities, while the southern 'Three Hills' property brings cooler-climate elegance and finesse. The wine range includes sweet, dry, preservative free, fortified, rare varietal, verjuice and more.
Wine Tasting
The rustic cellar door was built in the 1970s and is constructed of handmade mud-bricks. Look closely to see builders' finger marks on the walls, capturing, "the essence of old school Margaret River". It's not flashy, minimalistic or modern, just warm and inviting. The surroundings feel homely and the cellar door staff offer a friendly, educated approach to explain the extensive portfolio of wines.
Culinary Experiences
Grab a basket and select from a range of gourmet cheese, meats, pickled vegetables and preserves from more than 15 local producers, pair with some Happs Wine and indulge! Picnic on the lawn, at the outside tables, or inside if it's a rainy day.
The Commonage Pottery
Happs Pottery began in Vasse in the early 1970s. The current workshop and gallery located onsite was built in 1978. See artists at work in the act of creation. A wide range of handicrafts and jewellery from local artisans is available.
Family Owned & Operated Since 1978
Back in the 1970s two young teachers named Erl and Ros Happ were inspired by the notion that world-class wines might be produced in the Margaret River region. At the time, new grape varieties were becoming more readily available in WA and this encouraged the couple to not only plant the usual cultivars that became a mark of the region but to experiment with unusual selections that presented more risk. This pioneering spirit has paid off. Since 1978, Happs Wines has become a hallmark of combining science and art to create unique wines of distinctive quality, with a loyal following.
Halliday Rating
5 Red Stars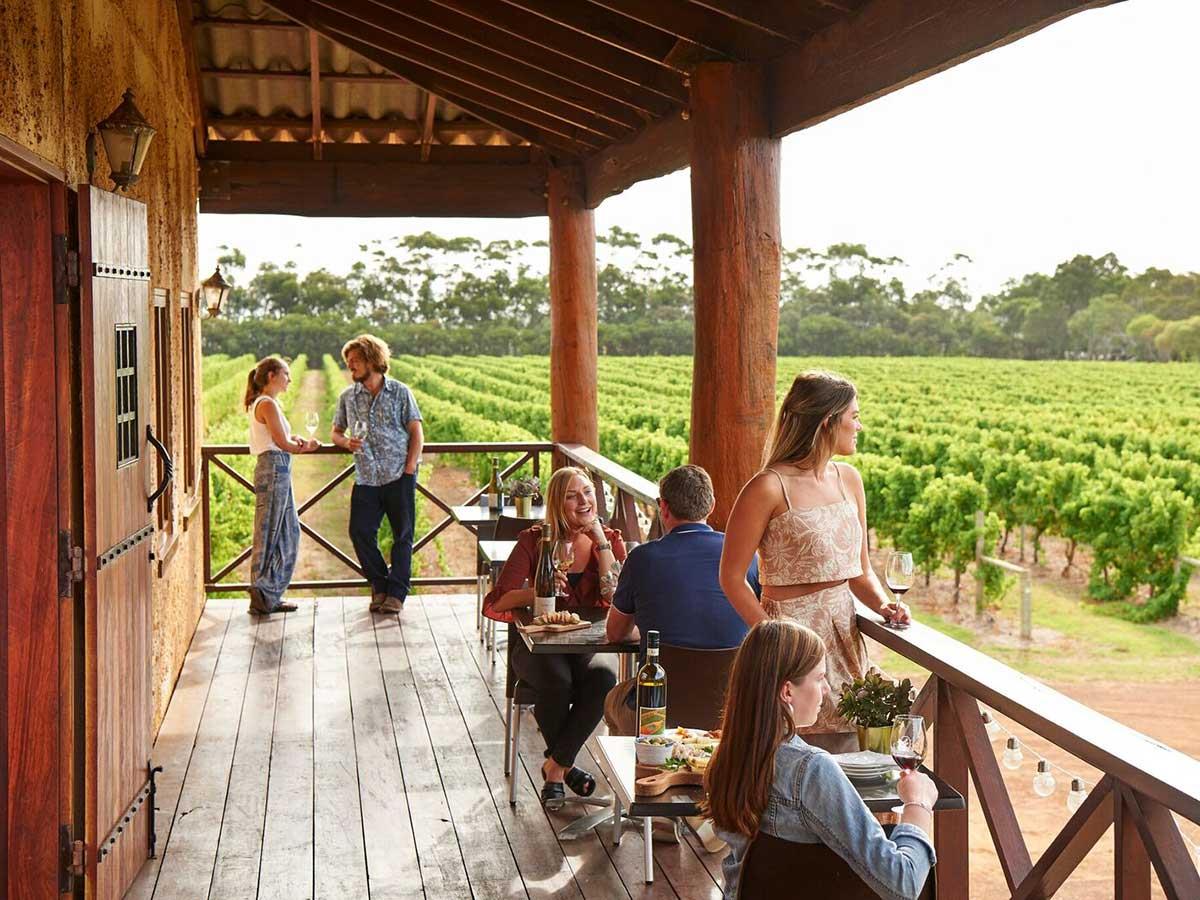 Halliday's wine maker of the year (XXXX) and Australian Winery of the Year & Best Value Winery (2011, 2017), making site-driven wines from six speciality vineyards, with modern cellar door.
Wine Variety:Botrytis Riesling,Cabernet,Cabernet Malbec,Cabernet Merlot,Cabernet Sauvignon,Chardonnay,Gewurztraminer,Grenache,Grenache Shiraz,Malbec,Merlot,Merlot Blend,Merlot Cabernet,Pinot Chardonnay,Pinot Gris,Pinot Noir,Riesling,Sauvignon Blanc,Sauvignon Blanc Semillon,Semillon,Semillon Sauvignon Blanc,Shiraz,Shiraz Cabernet,Syrah,Sparkling,Rose,Dessert
Wine Region:Greater Perth
Open Days/times:Cellar door (winter): Tue to Sat 11am to 6pm, Sun & Mon 11am to 5pm; (summer) Daily 10am to 6pm
Details
Established:2005
Facilities:Appointment Only,Functions,Gallery,Picnic Facilities
Cases Produced:8000
Vineyards:120
Winemaker:Larry Cherubino, Andrew Siddell, Matt Buchan
Size & Year:Small (5,000-49,999 cases),Established 2001 - 2010
Cellar Door Open:Monday,Tuesday,Wednesday,Thursday,Friday,Saturday,Sunday
Margaret River:Wilyabrup
Description
In response to COVID-19, Larry Cherubino Wines are providing free delivery for all online orders in March and April 2020. For every online order they are giving a $49 voucher to put towards your next one.
One of WA's most awarded winemakers, Larry Cherubino Wines makes an expressive range from a collection of estate-owned vineyards in Margaret River, Pemberton and the Great Southern (Frankland River, Mount Barker and Porongurup areas). The label began in Frankland River in 2004 when Larry and wife, Edwina purchased an historic property called Riversdale. The inaugural 2005 vintage wines were made in the family's spare room! These days they are made in a well-equipped winery in Margaret River.
Larry Cherubino Wines was named James Halliday's Australian Winery of the Year in 2011, and also Australia's Best-Value Winery by Halliday in 2017. Winemaker Larry Cherubino has a string of Winemaker of the Year nominations with leading Australian and UK wine media.
The Wines
Following the belief that great wines are made in the vineyard, Larry Cherubino Wines are made from six specialty vineyards in Western Australia's leading south-west wine regions. The wines are estate-grown and the vineyards follow a mix of principles from the schools of organics and traditional farming with the aim to encourage the vines to exist in a healthy ecosystem, for plant health. The range has a characterful selection of site-driven examples of Riesling and Chardonnay, alongside alternative varieties including Fiano and Pinot Blanc. Classic Cabernet and Shiraz are made too.
Wine Tasting
Enjoy a seasonal range of wines for tasting at all times alongside a selection of cellar door exclusives. An enomatic machine holds a curated range of rare back vintage wines which can be enjoyed as educational (and highly enjoyable) flights. Private tastings in the board room or barrel room can be booked in advance for groups. Antipasti and dinners are available by special arrangement.
If you want a good laugh, ask Larry about the dog in the bedroom incident. It all happened to a mate of his apparently!!
Halliday Rating
5 Red Stars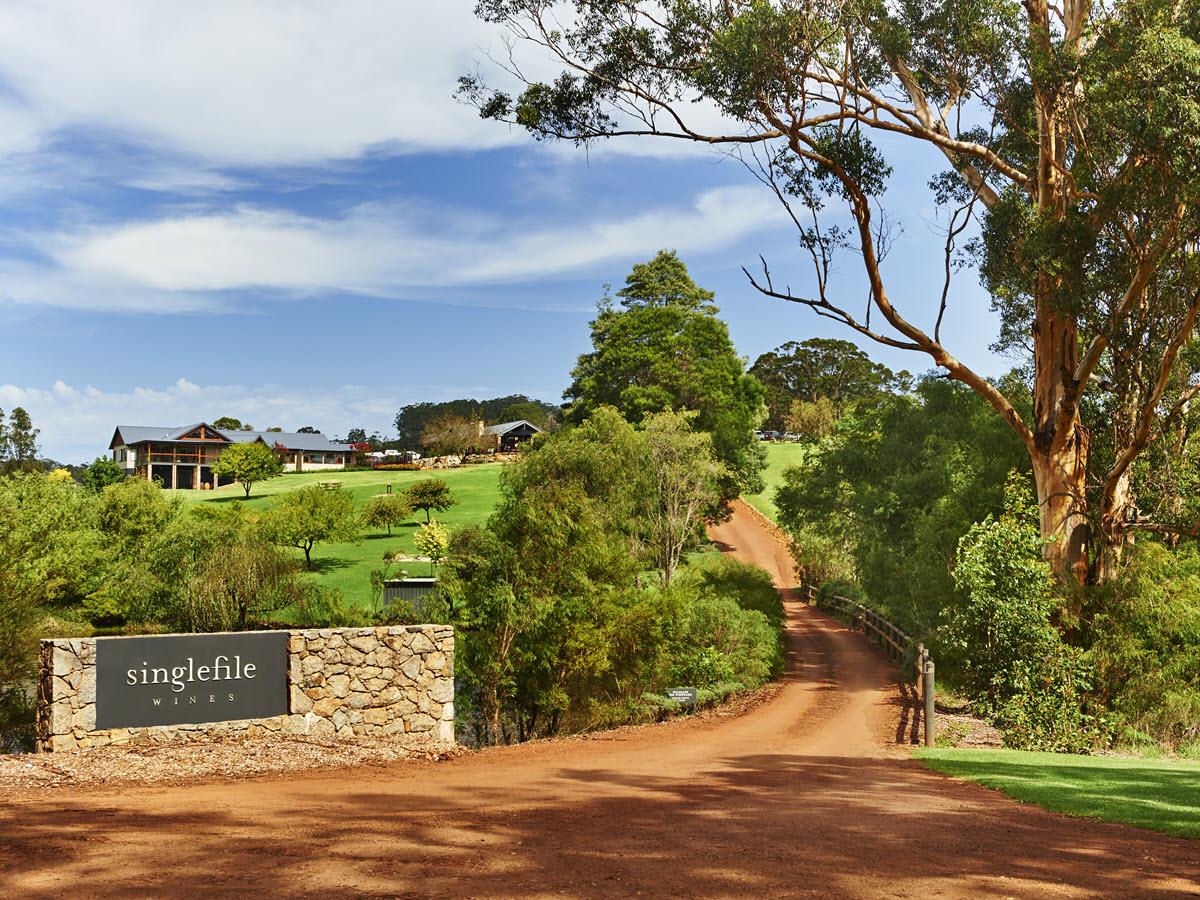 Visit the home of James Halliday's 'Best Australian Chardonnay' and three-time Gourmet Traveller Wine 'Great Southern Cellar Door of the Year' at this chic, contemporary estate near Denmark.
Wine Variety:Sparkling Cuvee,Fume Blanc,Gewurztraminer,Method Traditionale,Pinot Chardonnay,Pinot Gris,Tempranillo,Botrytis Riesling,Cabernet Sauvignon,Grenache,Sauvignon Blanc,Sparkling,Mourvedre,Shiraz,Rose,Cabernet Merlot,Chardonnay,Pinot Noir,Riesling,Dessert,Cabernet,Semillon Sauvignon Blanc
Open Days/times:Cellar door: 11am to 5pm daily
Wine Region:Great Southern
Details
Cases Produced:9000 cases
Vineyards:3.75 hectares
Winemaker:Patrick Corbett, Coby Ladwig, Mike Garland
Size & Year:Small (5,000-49,999 cases),Established 1951 - 2000
Cellar Door Open:Monday,Tuesday,Wednesday,Thursday,Friday,Saturday,Sunday,Holidays
Facilities:Cellar Door,Picnic Facilities,Wheelchair Access
Great Southern:Denmark
Brands:Singlefile Wines, Run Free
Wheelchair Access:Yes
Established:2007
Description
A treasure of the Great Southern, Singlefile is the fruit of labour of the Snowden family, who purchased an established vineyard in Scotsdale Valley in 2008 after an extensive search around Australia; determining that Denmark ticked all the boxes for the quality wines and lifestyle they were seeking.
The team decided to focus the existing vineyard entirely on Chardonnay, pulling out Shiraz and Merlot vines and planting Gingin clone Chardonnay. Fruit for the balance of their wines is sourced from specialist vineyard sites throughout the Great Southern Region and its distinct areas including Mount Barker, Albany, Frankland River.
The cool climate wines are handpicked and made as naturally as possible to allow the fruit to be the star of the finished wine. Their Chardonnay was named Chardonnay of the Year by James Halliday (2019 Wine Companion).
The Wines
Four tiers of wines are made, all of which are drawn from specially selected sites within the Great Southern, except for the estate-grown Chardonnay. Riesling, Cabernet blends, Pinot Noir and Fume Blanc are just some of the wine styles being made.
Wine Tasting
Set beside a stunning lake with beautiful manicured lawns, the wood and brick cellar door is tasteful and chic and a three-time recipient of Gourmet Traveller Wine's 'Best Cellar Door of the Great Southern' award. Guests are welcome every day of the week to taste the wines and go on a journey of discovering the different styles of wines from the diverse Great Southern region. Bring your own picnics are welcome and there's also an option to enjoy 'Coco d'Vino' which is a wine and chocolate tasting flight. No bookings required.
Halliday Rating
5 Red Stars
You've cleaned out your wardrobe numerous times, read that leaning tower of books on your bedside table and gotten through...
Read More