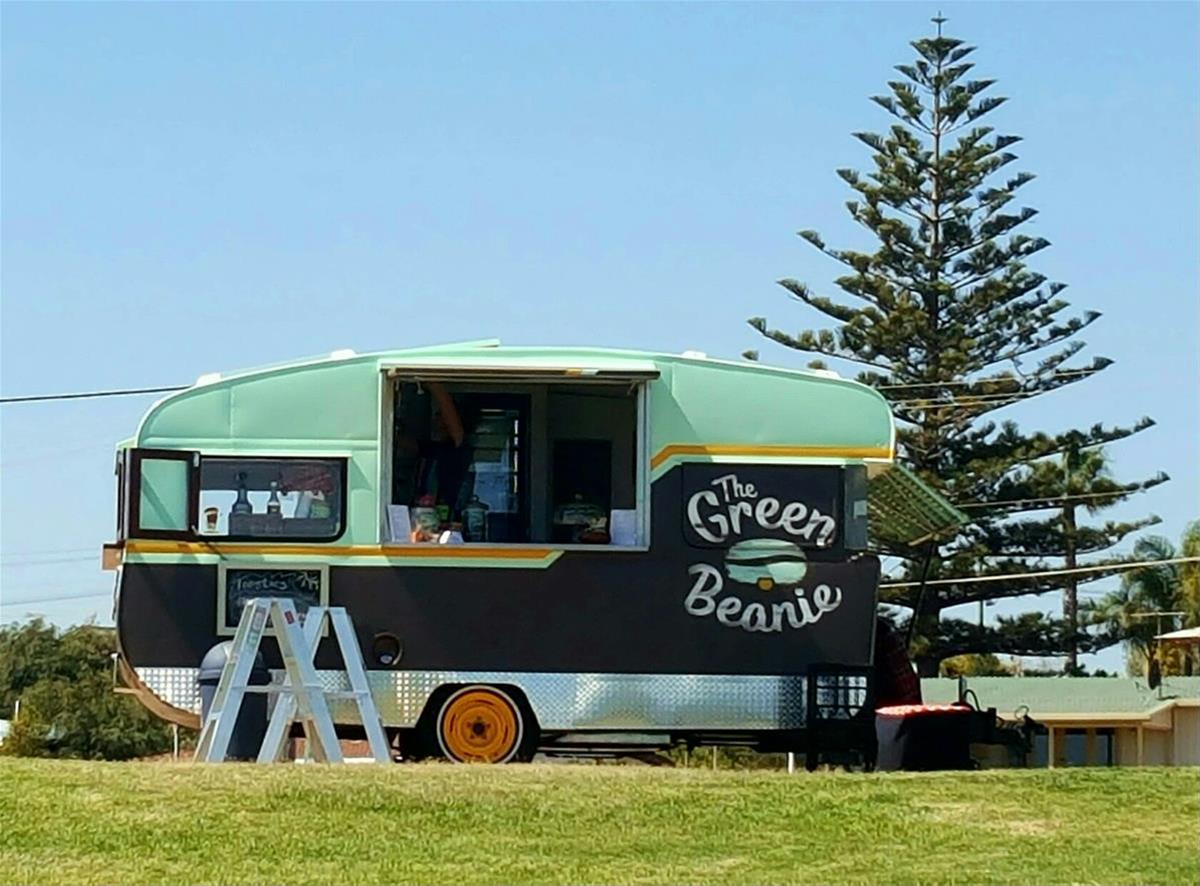 We're an Eco-friendly retro coffee van, operating from Granny's Beach, serving organic specialty lattes, teas, freshly roasted coffees, shakes & a selection of treats, including gluten free.
Facilities:Alfresco,Takeaway
Details
Facilities:Alfresco,Takeaway
Open Days:Monday,Tuesday,Wednesday,Thursday,Friday,Saturday,Sunday,Public Holidays
Description
The Green Beanie encourages customers to take a little time out - take a seat in one of our giant bean bags or on a padded milk crate on the grassed reserve, and enjoy the sounds of nature and the beautiful ocean vista. There's no generator humming in the background as the 1964 Green Beanie is fully powered by solar energy, using a gleaming old styled hybrid coffee machine which can also run on gas. Enjoy the beautiful outlook whilst the children are busy in the sandpit with our selection of toys, playing on the climbing equipment or kicking the Beanie footy!
The Green Beanie is a member of the Responsible Cafe movement, and operates on sustainability principles. We encourage our customers to make a difference and do the same, offering a discount to customers bringing along their reusable cup, or utilising one of our upcycled ceramic Op Shop mugs. Customers can purchase an Aussie made Keep Cup from our stocks or if a takeaway is needed, our Biocup takeaways are plastic free, using a PLA plant-sourced cup liner and lid. We encourage customers using takeaways to either upcycle them - plant a seedling in the cup & let nature do the composting for you, or shred them & use as feed for your worm farm or simply compost them....or, place in our onsite waste bin & we'll do it for you. We don't use any soft plastics nor sell plastic water or straws; our crockery & cutlery are reusable or bamboo, & paper products are sourced from sustainablility certified suppliers. All of our waste finds another use or is recycled.
The Green Beanie endeavours to maintain a selection of dietary options amongst the range of milks and cakes, slices and biscuits, catering for lactose, gluten, nut, dairy, grain and sugar free diets, and wherever possible sources certified organic ingredients, local produce and Australian made .
Customers can purchase 1kg bags of our delicious Bolt Coffee Roaster's bean, signed and dated by the artisan roaster on each freshly roasted batch. Bolt Coffee Roasters of Hazelmere in Perth, won the coverted Bean Hunter coffee award in 2017 as voted by coffee drinkers in Perth, and came second in 2018. We also sell fabulous Envirosax reusable shopping bags ("Strong as a suitcase, small as a lipstick") to carry your purchases away.
Weather depending, we are open Wednesday to Sunday, approx 6.45am to 12 noon during the cooler months, and 6am-12.30pm in Summer. We open EVERY DAY during SCHOOL HOLIDAYS and remain open until around 1.30-2pm.
We look forward to meeting and chatting to you soon at The Green Beanie, Port Denison.
Location
Address: The Green Beanie, Cnr McIntyre & Point Leander Dr, Port Denison,Port Denison,WA,6525
Phone: 0417935411
Email: [email protected]