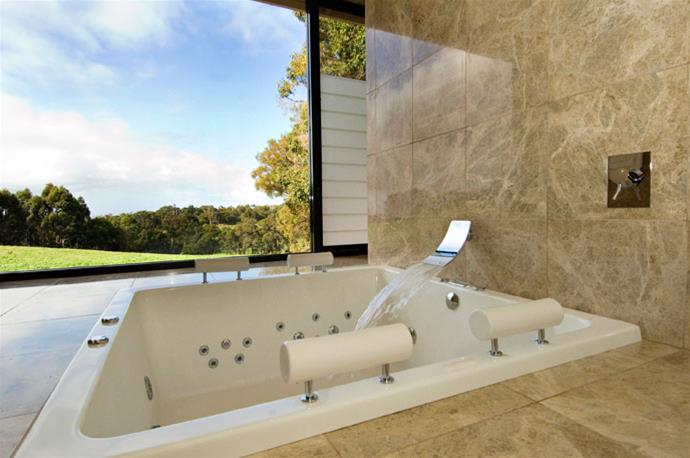 Nestled in the heart of the Margaret River wine region is W.A's newest and most exclusive adult retreat, five star luxury at it's finest.
Details
Description
Chandeliers offers absolute privacy, breathtaking views in impeccably designed and furnished self contained retreats. All 3 retreats have a living/home theatre zone featuring a 42 inch wall plasma with Foxtel coverage, king size master bed suite, spa bathroom with floor to celing marble and double rain shower, surround sound throughout. Chandeliers on Abbey.
Nestled in the heart of the Margaret River wine region, you'll find Western Australia's most exclusive luxury adult retreat, Chandeliers on Abbey.
Chandeliers on Abbey offers unparalleled privacy amidst the surrounding beauty of the National Forest. With breathtaking views of the rolling hills and pastures of Yallingup Siding, this 55-acre property is the home of three unique retreats each impeccably designed and appointed.
Surrounded by two internationally renowned wineries, Amberley and Abbey Vale, Chandeliers is only a few minutes drive from the powdery soft sands of local beaches, award-winning tourist attractions and the eclectic townships of Yallingup and Dunsborough.
Reenergise your soul, bask in the beauty and awaken your passion as you experience a haven like no other, Chandeliers on Abbey.
Chandeliers on Abbey offers a choice of three unique bungalow-style retreats, one (The Plunge) with an amazing private heated plunge pool, but each having their own individual personality. The indoor spa, home theatre system, marble bathroom and gourmet kitchen are just some of the physical delights of your Chandeliers on Abbey experience. Each bungalow also has a dedicated entry road to ensure absolute privacy, enabling you to immerse yourself in the beauty of the National Forest in total seclusion.
In house catering
A fully-equipped gourmet kitchen with oven / hotplate, microwave, full sized fridge, sink and dishwasher is provided in each of Chandeliers private retreats for you to create your own amazing dining experience. The township of Dunsborough is only minutes away and offers a range of gourmet fresh produce retailers.
However if your focus remains relaxation, you'll be delighted with our range of menu treats that can be prepared for your arrival or personally delivered during your stay. Enjoy a stunning selection of gourmet treats as you watch the sun set on your private deck.
Pure delight awaits.
Functions: Private Dinners, Wedding Ceremonies/Receptions
Chandeliers on Abbey can accommodate from 16 guests for an intimate private chef dinner in the Barn to 300 guests for a fabulous cocktail party in the gardens or seated dinner in the grand Chandelier Marquee.
Personalised catering, equipment and entertainment is all available and coordinated by the dedicated Chandeliers on Abbey team.
Our ethos is anything is possible , so if you're planning a unique wedding, celebrating a milestone or just want a picturesque location to reunite with friends and family, we are here to ensure your vision becomes a reality!
Pure beauty surrounds you.
Please contact Chandeliers on 08 9755 1100 for further information, you may also like to download our current brochure on our website.
Location
Address: Abbeys Farm Road,Yallingup,WA,6282
Phone: 08 9755 1100
Email: [email protected]