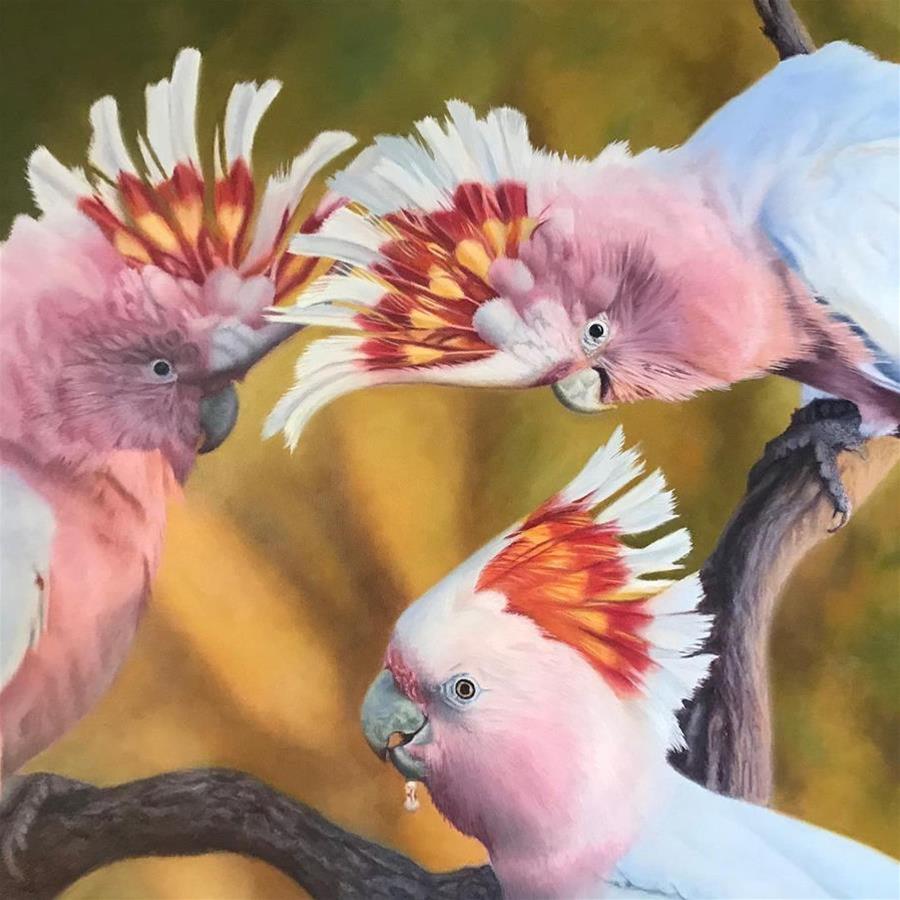 Nicky Shelton combines her contemporary realism and love of birds to produce her series of beautiful oil paintings.
Open Days/times:11 - 26 Sep open from 10AM - 4PM
Represented Artists:Nicky Shelton
Galleries:Painting
Details
Galleries:Painting
Open Days:Monday,Tuesday,Wednesday,Thursday,Friday,Saturday,Sunday
Description
Nicky is passionate about birds and lovingly recreates their exquisite beauty in fine detail, bringing forward their personality and character. She describes her style as "contemporary realism".
Each of her subjects has a story to tell and you can almost see what they are thinking in each situation. Her attention to detail and sensitivity to each bird's very soul brings each one to life.
In the first instance this gives us a perspective of birds and their individuality. In the second it challenges us to consider each bird's disposition - his or her point of view. In most of the pieces the eye or facial demeanor is a central element, and many of the eyes seem to follow you around the room.
Her fine brush strokes have won international acclaim, with collectors from around the world acquiring her works.
"Shelton's oil paintings are nothing short of breathtaking." - Amanda Keenan, West Australian 25 April 2018
Nicky has always loved birds – seeing them as one of Mother Nature's gifts. Through her paintings, she endeavours to capture the beauty, unique personality and magnificence of each native bird, interpreting each bird's quirky characteristics to bring it alive on canvas.
Painting exclusively in oils, she spends weeks layering paint to build not only the form, but also the character of each subject. The result is a lifelike image that captures the charisma and detail of every bird.
"If you have the time to sit a while and observe the beauty of birds, you will be amazed at the colourful detail that fills their feathered coats. Australian artist Nicky Shelton has that wonderful ability to bring that beauty in all its glory to the canvas." - artbaazar.com
Nicky moved to Margaret River in 2019, and feels blessed to be entertained daily by an array of wrens, finches, rosellas, parrots and cockatoos amongst others.
From every original bird painting sold, she makes a donation to Birdlife Australia to help protect the many bird species which are under threat.
Related
John Streater Fine Furniture
Location