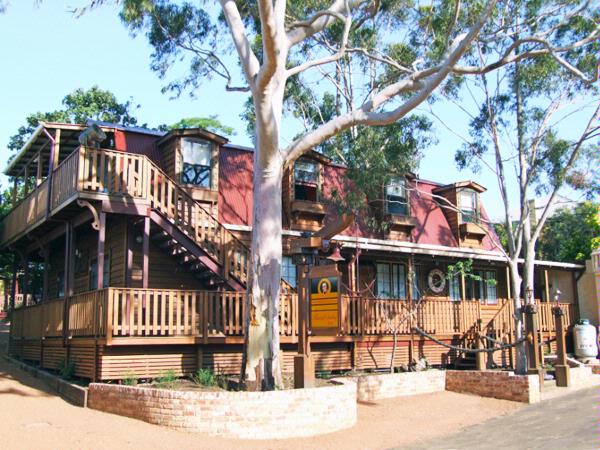 Accommodation quarters in Margaret River town, as distinctive and memorable as the Region, for individuals, twin-share, couples, families and groups.
Details
Capacity:38
Type:Lodge,Motel
Description
AHOY!
SOUL IN THE HEART OF MARGARET RIVER
Holidays in Margaret River are always fondly remembered for sumptuous food and wine, forests, beaches, surfing and galleries. Why should your accommodation be any less memorable? Admiral Stirling Inn is full of personality and provides a perfect helm from which to steer your Margaret River course.
Admiral Stirling Inn is a recent addition to the Margaret River accommodation scene, although she looks as if a well maintained part of the original town. Named after Western Australia's founding governor, who became full admiral late in life, Admiral Stirling Inn still has to be a 'she', as the air and vitality of a master-built ship exudes from every imperial inch of her jarrah decks, weatherboards and lasting craftsmanship.
Admiral Stirling Inn is an impressive presence on Ned Higgins Lane in Margaret River township, yet a peaceful one, having been carefully built amongst the existing graceful old trees, complete with falling gumnuts. Set back from the main street and close to the River's nature trails, but with the advantage of having all the attractions of town within reach of your sea-legs, the accommodations here offer convenience as well as comfort. The comforts are modern but there is a warmth brought from another time.
QUALITY & AFFORDABILITY
The promise of Admiral Stirling Inn is difference, with style. The principle is that families and small groups, as well as individuals and couples, should have affordable opportunity to have classy accommodation quarters in town. Quality is not forced to walk the gang-plank at the expense of affordability! The seafaring theme is tastefully carried throughout and, with such extensive use of incomparable local hardwood timbers, many a wishful naval-gazer (sic) will take pleasure in exploring the unique and adventurous spirit of the place.
ACCOMMODATIONS & FACILITIES
Whether travelling alone or in a group of up to eight people, Admiral Stirling Inn has something remarkable to offer. Fully self-contained accommodations are the Governor's Quarters, the Admiral's Quarters, the Captain's Quarters, and the Boatswain's Quarters. All other accommodation quarters, of differing configurations and capacities, have bathroom and in-room facilities, including TV-DVD, bar refrigerator, and tea- and coffee-making, and reverse-cycle air-conditioning. However, what makes Admiral Stirling Inn a particular treat, are the superb all-guest facilities, where sea tales might be swapped with explorers from other ports over a coffee or more at choice. Her Engine Room is a kitchen fully equipped, also with wood stove from the old world to warm the cockles in Winter, lounge and breakfast bar. 'Under the Mainsail' is the adjoining undercover barbecue area, ready for your traditional Australian experience. If a chef-prepared breakfast appeals, Admiral Stirling Inn highly recommends La Scarpetta, just over the lane at heritage Bridgefield, which is also open six nights a week for Margaret River's authentic and indulgent Italian dining experience.
The leafiness surrounding the balcony verandah of the fully self-contained Governor's Quarters is visible through the many large leadlight windows, evocative of a Swiss Family Robinson. Willing castaways are carried further upward to a mezzanine "crow's nest" bedroom. The Governor's Quarters also provide some truly stately history. The 'armchairs' in the 'gentleman's club' lounge are original circa 1904 backbenches from the Western Australian Legislative Council. So too are the writing desks. What more perfect point could there be from which to make pronouncements about one's holiday agenda!
More information and descriptions of particular accommodations are available on Admiral Stirling Inn's website – just click the link on this page, also to check availability and access the secure online booking system.
YOUR INVITATION
Come, be welcomed aboard for a Margaret River journey to remember.
Location
Address: Ned Higgins Lane (nr Higgins St),Margaret River,WA,6285
Phone: (08) 9757 2296
Email: [email protected]