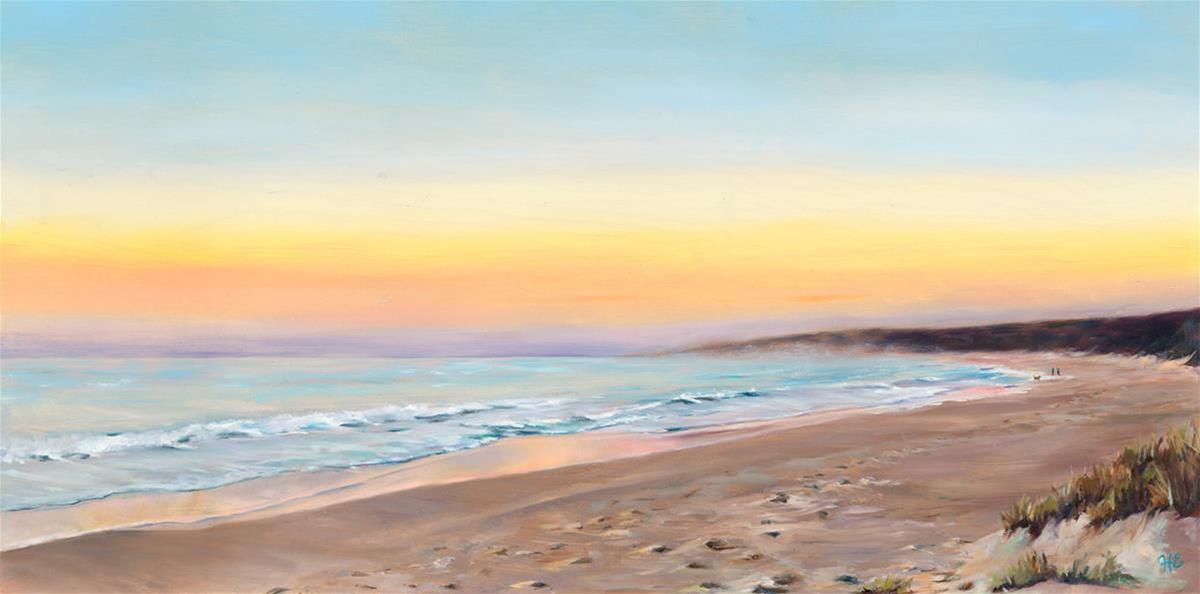 Heidi Emma Mullender :Specialising in painting and mixed media.
Represented Artists:Heidi Emma Mullender
Galleries:Painting,Mixed Media,Artist Studio
Details
Galleries:Painting,Mixed Media,Artist Studio
Open Days:Monday,Wednesday,Saturday,Sunday,By Appointment Only
Description
Heidi's creative expression focuses on compositions of still life and landscapes local to her home in the Margaret River Region of Western Australia, with occasional creative waves inspiring a series of abstract pieces. Since last year her art has taken a direction to continue celebrating simple everyday objects and dabbling in portraiture.
She is inspired by her love of light and how it plays on the surface of florals, vessels and the beautiful Australian Coastline where she lives. Heidi draws on themes of love, imagining landscapes unimpacted by humans, connection to place and nostalgia. She continues to have a passion for painting still life that are minimalist and celebrates the simplicity and intimacy of single objects.
A self-taught artist, (apart from brief tuition from a family friend who studied under a member of the Twenty Melbourne Painter's society), her favoured medium is oils on canvas and wood panels with a Tonal Impressionist technique to capture light and mood. Heidi uses traditional methods but applied in her own individual way.
Her painting style is very active; walking back, squinting, blocking in tones and shapes without drawing. Using oils, usually wet into wet and sometimes in layers, Heidi is continually excited and fascinated with how colours can blend and harmonise.
She relishes the chance to paint en plein air to capture the world as she sees it and a sense of the light and mood that a moment in time can have. Heidi uses a range of tools; some works completed with only a palette knife. Her work is realistic from a distance and painterly with deliberate texture when viewed up close. Heidi's paintings exhibit a long-standing interest in the relationship between light and shadow, as well as a person's connection to place and the emotions raw nature evokes.
Heidi delights in painting in front of people and engage them in the process. Painting gives her freedom from daily routines and expectations, allowing her to express how she sees the world and her deliberate brushstrokes from a distance help in the fight against her usually perfectionist nature.
Works are offered in a variety of sizes, from small "postbox" creations that can be displayed on shelf or come wall mountable for that slim blank space, to various sized canvases to fill a wall space crying out for some calm, peace and colour. Heidi loves special requests so feel free to inquire about potential commission openings.
Heidi runs regular workshops for adults, children, corporate groups at her studio at Flametree wines and by appointment in Perth. It's a popular activity for residents and those holidaying in the South West.
Heidi Emma Mullender will be participating in the Margaret River Open Studio 2021.
For more information on studio opening hours please visit
https://www.mrropenstudios.com.au/member/heidi-mullender?rq=Heidi%20Emma%20Mullender
Related
John Streater Fine Furniture
Location