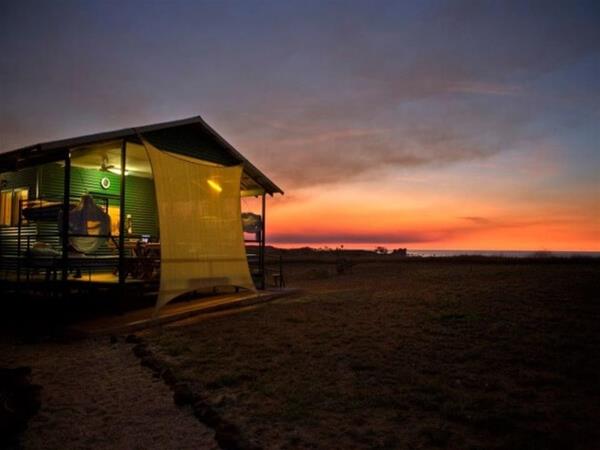 Mercedes Cove Exclusive Coastal Retreat
'Gorna arralala jardor Booroo', 'Look after our country'. Mercedes Cove Exclusive Coastal Retreat is located on the National Heritage Listed Dampier Peninsula.
Details
Capacity:24
Type:Chalet/Cottage,Aboriginal Owned & Operated
Description
Mercedes Cove is located beside Pender Bay on the Dampier Peninsula approximately 190km from Broome. Enjoy uninterrupted views of the ocean, with private sandy beach to swim and fish from, land-based whale watching (Humpback Whales during July to October) or just watch the sun set from behind the ancient Chimney Rocks.
Ardi is a Bardi word meaning northeast. Stretching 200 kilometres north east of Broome, the Dampier Peninsula is a region rich in spectacular scenery, pristine coast line and fascinating cultures. The Ardi region is a perfect getaway for the traveller with an adventurous spirit and a desire to experience the road less travelled.
Ardi offers vistors white sandy beaches, giant tides, exotic wildlife and a range of unique cultural experiences that include; bush tucker and cultural tours, local cuisine, mangrove and mudcrabbing tours, fishing, whale watching and other ocean based activities. All are conducted by the local saltwater people who share a deep affinity with the region and posses a wealth of knowledge about coast, country and culture.
All accommodation is fully-equipped with two eco tents, one two-bedroom chalet (air-conditioned) and an open-plan sleeping accommodation with uninterrupted ocean view.
Getting There
Turn of the Broome Highway, down the Cape Leveque Road. Continue as far as the Middle Lagoon turn off, which is approximately 155km from Broome. Continue on the Middle Lagoon road for approx 33kms. Follow the signs to Mercedes Cove.
Location