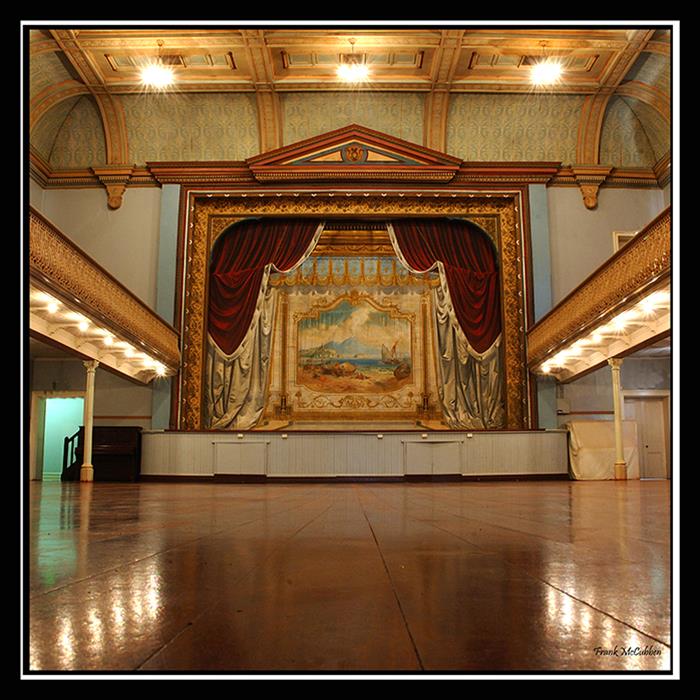 Boulder Town Hall & Goatcher Curtain
Built in 1908 this building has played the role of theatre, library and municipal offices. It is best known for the stage curtain painted by internationally renowned theatre artist Phillip Goatcher.
Details
Description
The Bay of Naples curtain can be viewed at the following times: Tuesdays, 10.00 am – 3.00 pm Thursdays, 10.00 am – 3.00 pm Boulder Market Day (every 3rd Sunday of the month), 10.30 am – 12.30 pm Philip Goatcher curtain
The Boulder Town Hall contains one of the world's last surviving examples of a working Philip Goatcher stage curtain—the Bay of Naples.
About Philip Goatcher
Philip Goatcher is noted as a great exponent of the art of stage curtain design.
He was born in London in 1852, and left school in his early teens to become a law clerk. Inspired by Sadler's Wells Theatre, he started sketching stage art on office pads.
In 1867, at the age of 14, Philip was apprenticed to a Liverpool shipping firm and sailed to Melbourne. There he jumped ship and walked to Ballarat.
In Ballarat, Philip's sketches attracted the attention of John Hemmings, Melbourne's leading scene painter, who worked for the Theatre Royal.
Hemmings predicted that this young man would have a future in painting, but Philip had gold fever and eventually moved to New Zealand and later to San Francisco—where he met the young JC Williamson.
It was not until he returned to London that he began his new career in earnest.
In 1890, JC Williamson brought him back to Australia as the highest paid scene painter in the world.
The Bay of Naples curtain
The Bay of Naples is believed to be the only surviving theatre curtain by Philip Goatcher. It was painted in 1908 as a drop-canvas to complement the 'picture frame' stage at the Boulder Town Hall.
The curtain depicts a Neapolitan scene, with Mt Vesuvius in the background. This is possibly in recognition of the number of Italians working in the Eastern Goldfields at the time.
For more information call +61 8 9021 9600 or +61 8 9093 1087.
Location
Address: Burt St,Boulder,WA,6432
Phone: 9021 9817
Email: