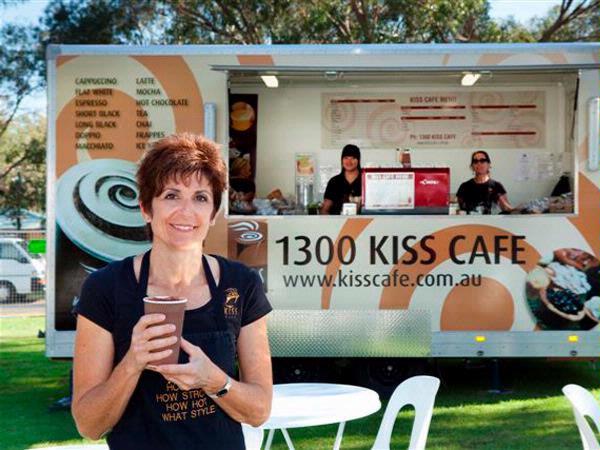 Bring freshly roasted coffee to your next event with Kiss Cafe's fleet of mobile coffee vans.
Details
Functions:Corporate,Kids Parties,Major Events (300+),Private Celebrations,Weddings
Description
Get great coffee come to you with Kiss Cafe, Perth's first truly mobile cafe. Founded in late 2002, Kiss Cafe has been setting the standard for mobile coffee suppliers ever since. Following an overwhelmingly positive response, Kiss Cafe began franchising the business in 2004 and now has vans located all over Perth. Since its establishment, Kiss Cafe's enthusiastic franchisees have been serving freshly brewed cups of coffee at festivals, events and workplaces all over the state.
Each Kiss van is custom-built to make it more productive and efficient than any of its competitors. Kiss Cafe can arrive at any outside venue and, with portable marquees available to provide shelter from the elements, you can enjoy great coffee in any weather. Each van is run by a trained barista, ensuring Kiss clients receive only the best, freshest coffee and produce.
As well as all your favourite coffees, Kiss Cafe's friendly staff can supply tea, chai, iced drinks and smoothies. A range of delicious, freshly made treats including cookies, muffins and cupcakes is also available to complement your caffeine fix. There are low-sugar, low-fat and decaffeinated options for the health-conscious. With something for everyone, there's no doubt a Kiss Cafe van will be a welcome addition to any event, function or workplace.
Location