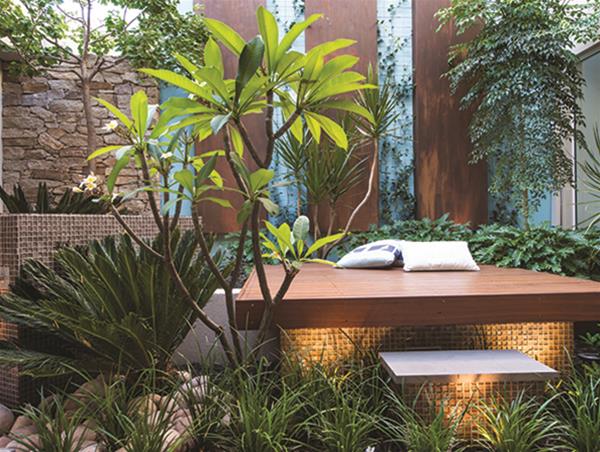 Cultivart Landscape Design demonstrates that homeowners do not need to compromise on style when they have limited space to work with, by creating spectacular garden designs for Perth's smallest blocks
Details
Description
Small block sizes are steadily becoming the norm in suburbs close to the city and new estates along the coast, which
means landscape designers are having to think outside the box to create equally attractive outdoor spaces with limited space. In this case, the small 250sqm site was within walking distance of the beach, and left its owners with a 4.2x5.6m external courtyard for outdoor entertaining.
While many landscape designers can feel limited by space constraints such as this, Janine Mendel from Cultivart Landscape Design took it in her stride to create an enchanting space that the owners are proud of.
She designed a contemporary, edgy garden with a tropical feel that fulfilled the brief and client concerns. These included a significant water feature, and lush, inviting foliage to disguise the rectangular nature of the courtyard.
One of the other client concerns was the potentially unattractive view towards the adjacent house, which had not yet been constructed. Janine decided to factor this into the design, and requested the neighbour's house plans.
This was integral to the success of the design, as it was apparent that more than half the northfacing courtyard would have the neighbours' unattractive brick wall as its imposing view. This gave Janine the impetus to design a tall blue layer of wall in front of the parapet to house the soaring Corten steel panels. Weldmesh was incorporated between these panels to give an
industrial feel, and a solid climbing frame for future planting.
The alfresco area was clad with Eco Outdoor Alpine stone on the northern wall, and the planter box was replaced with a built-in day bed.
Related
Location