Dogs Welcome Facilities Wineries in Perth Hills
Wineries in Perth Hills Region
region=perth-hills-region&type=wineries&categories=99718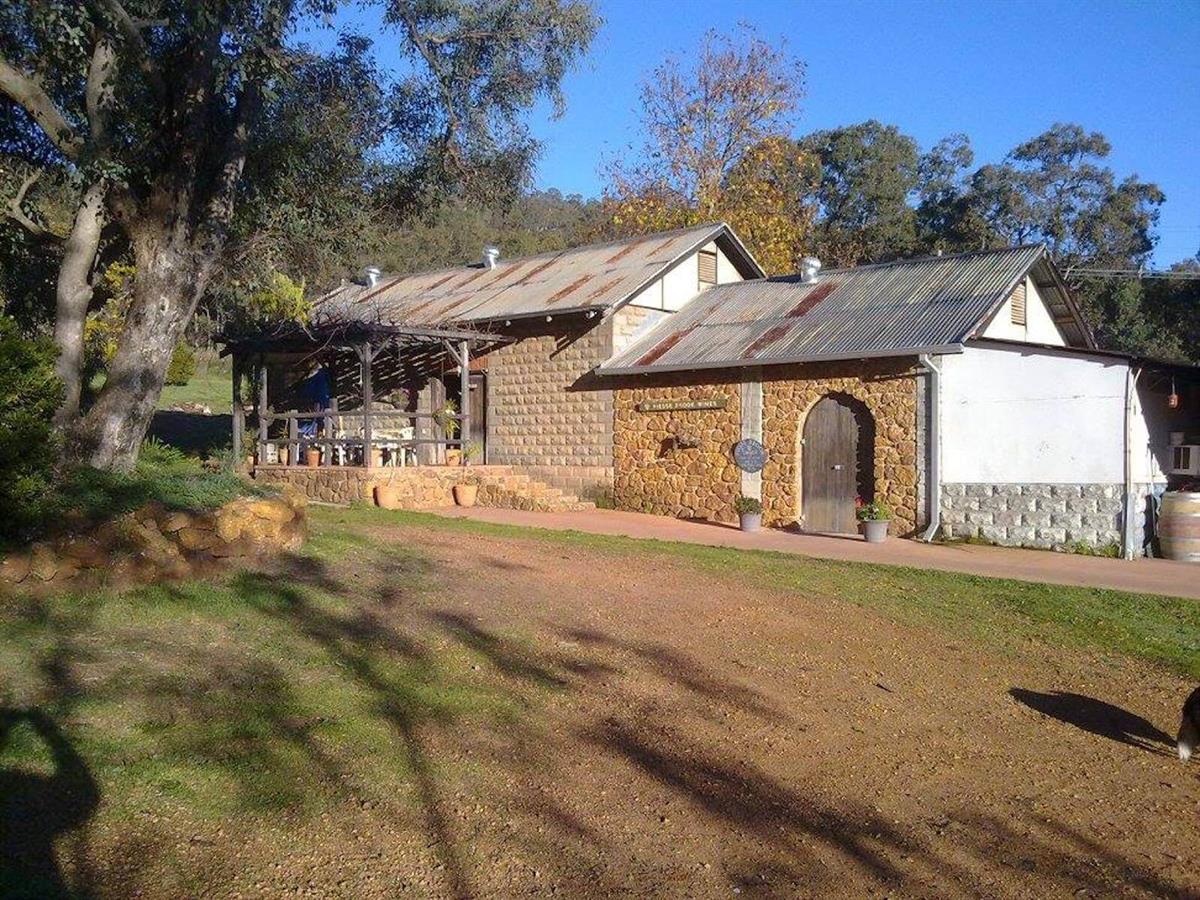 Mother & daughter team, Di and Lara, run Perth's Hills' oldest continually operating winery, producing small batches of handcrafted reds sold only at the cellar door in the stunning Bickley Valley.
Wine Region:Perth Hills
Open Days/times:Weekends 1pm to 5pm, public holidays by appointment
Wine Variety:Shiraz,Sparkling,Cabernet Sauvignon,Chardonnay,Merlot
Details
Perth Hills:Bickley Valley
Vineyards:2.5 hectares
Facilities:Cellar Door,Dogs Welcome
Size & Year:Established 1951 - 2000
Cellar Door Open:Saturday,Sunday,Holidays
Cases Produced:600 cases
Winemaker:Lara Bray
Established:1974
Description
Formerly known as Piesse Brook Wines, Aldersyde is a stunning boutique winery located in the Bickley Valley and the oldest continually operating winery in the Perth Hills.
This is a traditional family winery in the truest sense. Specializing in hand crafted wines from fruit grown entirely on the estate vineyard, practically all the winemaking procedures are done by hand, from picking and sorting the grapes to winding up the hydraulic wooden basket press.
Relatives and friends join in and help at critical times, including vintage and pruning, but Aldersyde is essentially a mother-daughter operation, with Lara looking after the vines and winemaking and mother, Di, in charge of cellar door sales.
Increasingly, the focus in the cellar is to produce more natural wines, using foot-treading and hand-plunging (pigéage) with pumpovers during fermentation and indigenous yeasts instead of manufactured yeasts and products.
Six wines are produced: Saignée, Chardonnay, Merlot, Cabernet Shiraz, Shiraz and Cabernet Sauvignon. Production is limited to approximately 100 dozen per wine style and the wines are not available for retail elsewhere, making the cellar door experience quite unique.
Wines are available for tasting by appointment at the tiny cellar door, with the gorgeous wine-covered terrace overlooking the vines. Di runs the cellar door but Lara is often also available to chat whilst you savour a delicious glass of wine and Zoe the winery dog entertains the kids.
THE WINEMAKER
Larissa (also known as Lara) Bray is one of the quiet achievers of the Western Australian wine industry and a third-generation vigneron in the Perth Hills.
After a short career as a lawyer in Canberra and London, Lara studied winemaking at Adelaide University and then gained formidable experience by working vintage at iconic Australian wineries - Brokenwood, Mt Mary and Vasse Felix; Chard Farm in Central Otago; then Burgundy, Bordeaux, the Loire, Northern and Southern Rhone, and Barolo.
After working as assistant winemaker at Cape Mentelle from 2004 until 2007, Lara left to work with her mother, Di, at the family winery.
In 2008, Lara joined a distinguished group who have been dux of the Len Evans Tutorial - 'the most exclusive wine school in the world' says James Halliday, and has judged at wine shows throughout Australia and in New Zealand.
THE VINEYARD
The climate in the Perth Hills is typically Mediterranean with cool, wet winters and hot, dry summers, mediated by cooling afternoon sea breezes and night temperatures 2-3 degrees cooler than Perth or the Swan Valley. The climate has been likened to that of the Douro Valley in Portugal. MJT Kalamunda in the Bickley locality is 23.1°C, RH 45%, rainfall 900-1200mm.
Soils comprise underlying granitic quartz clays at depths from half a metre to 3 metres. The top vineyard and the top half of the bottom vineyard are planted on hilltop slopes and comprise gravels with medium to light loam content. The lower half of the bottom vineyard is in a gently sloping valley and consists of mostly loams and alluvial soils. Because of the underlying clay subsoil, soils tend to retain good moisture levels throughout the growing season. Drip irrigation is applied if necessary.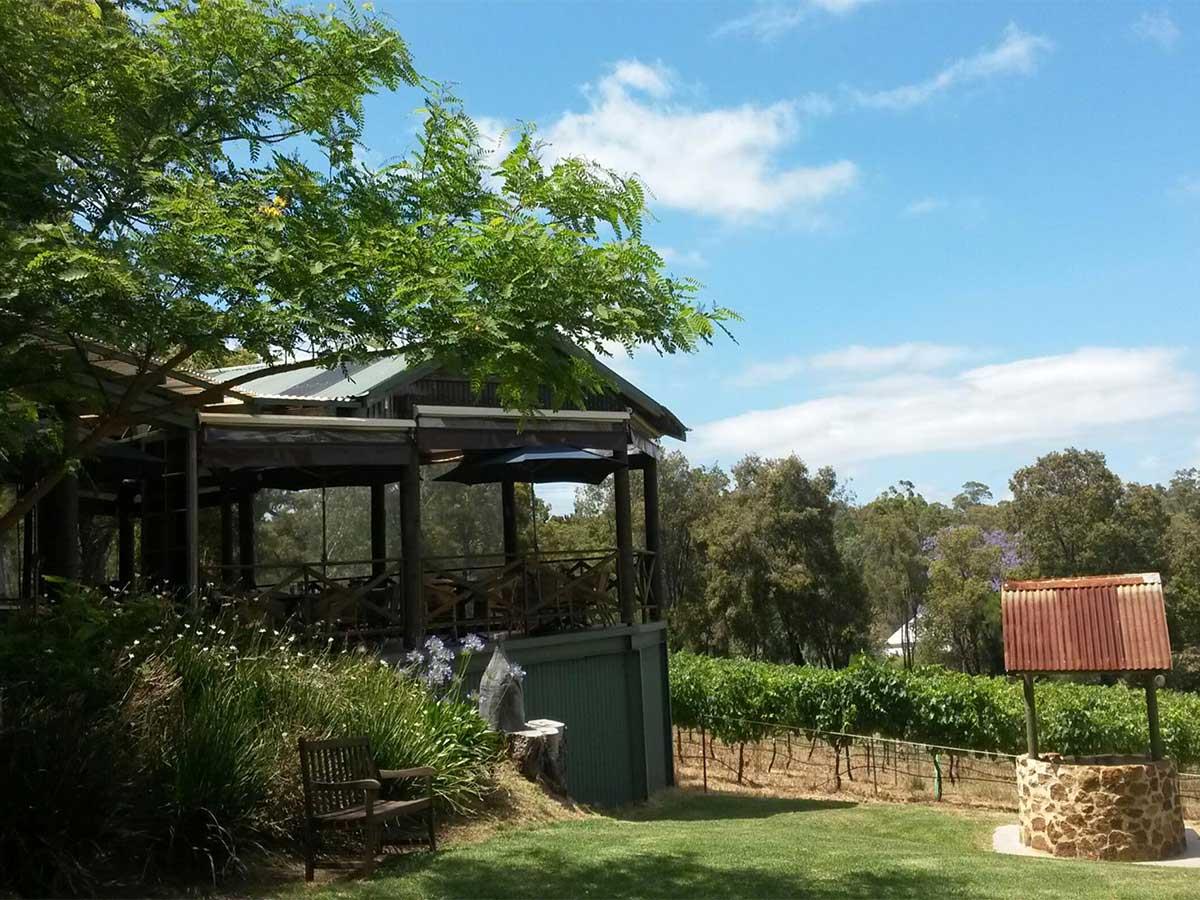 Soak up the relaxed ambience of Carmel at this charming owner-operated winery, known for its hearty breakfasts and lunches, and boutique wines; handcrafted with ancient, rustic techniques.
Open Days/times:Winery: 11am to 4pm, Friday to Sunday. Cafe: 11am to 4pm Friday, 9am to 4pm Saturday & Sunday.
Wine Region:Perth Hills
Wine Variety:Cabernet Sauvignon,Chardonnay,Malbec,Rosé,Tempranillo,Verdelho
Details
Cases Produced:2500 cases
Established:2011
Vineyards:5 hectares
Winemaker:Matthew Bowness
Facilities:Cellar Door,Restaurant,Dogs Welcome
Size & Year:Boutique (1,000-4,999 cases),Established 2011 - 2019
Cellar Door Open:Friday,Saturday,Sunday
Perth Hills:Bickley Valley
Breakfast Open:Saturday,Sunday
Lunch Open:Friday,Saturday,Sunday
Description
Winemaker Matt Bowness established Fairbrossen in 2011, following many years as a travelling winemaker in California and France and many years at Sittella Wines. Following a philosophy of minimum intervention, only the best fruit is hand-picked to ensure the highest quality of handcrafted wine.
The Wines
Fairbrossen Wines are grown in two estate-owned vineyards in the Perth Hills and Margaret River. Sparkling wines, still wines and liqueurs are made, including Chardonnay, Verdelho, Rosé, Cabernet Sauvignon, Tempranillo, Durif, Malbec, Pinot Noir and Pedro Ximinez.
The Food
'Tom's Kitchen' operates at Fairbrossen wines, and is open for lunch on Friday and breakfast and lunch on the weekends, serving a modern and generously priced, country-style menu.
Cellar Door
The tasting area at Fairbrossen offers a range of boutique wines, all of which have been handcrafted on the estate. Open Thursday to Sunday, 11am-4pm. Look out for a range of seasonal music, food and wine events.