Sports & Outdoors Shopping Shopping in East Perth
Discover what's going on in arts, events & culture
Discover what's going on in arts, events & culture.
Check out travel guides for regional WA
Check out travel guides for regional Western Australia.
Explore winery guides for Perth and regional WA
Check out winery guides for Perth and regional WA.
Shopping in East Perth
categories=101226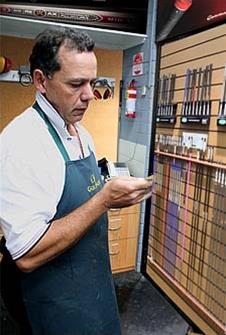 Australia's premier online golf equipment store.
Details
Shopping:Sports & Outdoors
Open Days:Monday,Tuesday,Wednesday,Thursday,Friday,Saturday
Description
As Australia's leading golf shop, GolfBox provides a massive and unparalleled range of golfing products that are available both in-store and online to suit any type of golfer and budget.
Whether you're just starting out or an experienced pro, you will be able to find the golf equipment you're looking for with our extensive variety of clubs, bags, balls, buggies, gloves, shoes and apparel from all the top golfing brands. On top of that, the highly experienced and knowledgeable GolfBox team also offers TaylorMade fitting and club making and repair services.
You will always find a great bargain at GolfBox with our huge selection of sale items, promotions and special offers, as well as free shipping on all online purchases Australia-wide.
Foodies unite! We all know Perth loves a good food and wine festival, and with tonnes of foodie events in...
Read More