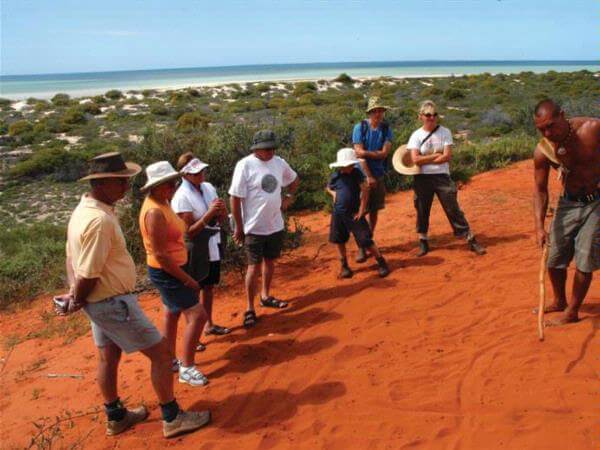 Wula Gura Nyinda Aboriginal Eco Adventures
Discover the secrets of a beautiful land and understand the deep spiritual connection between the Nhanda and Malgana people and country.
Tour Duration:8:30am - 4:30pm
Tour Price:From $75
Type:Tours
Activity:Aboriginal Owned & Operated,Four Wheel Driving,Kayak/Canoe/Raft,Aboriginal Bushfoods,Aboriginal Music, Art & Dance,Aboriginal Traditional Fishing,Seafood Experiences
Suited For:Families
Details
Tour Locations:Shark Bay
Type:Tours
Suited For:Families
Description
Where desert meets the ocean…
Long before Europeans landed and settled in the Shark Bay area, the land and waters of Monkey Mia and surrounds provided a strong livelihood for the Nhanda and Malgana people.
Hundreds of years later Wula Guda Nyinda Aboriginal Cultural Tours provide the ultimate enriching experience of the Indigenous culture, history and tradition to visitors of Monkey Mia in Shark Bay, Western Australia.
Owned and operated by Darren "Capes" Capewell, a descendant of the Nhanda and Malgana people, the tours are the only Indigenous experience in Gutharraguda (Shark Bay), and aim to foster an understanding of the natural land, wildlife, stories and traditions of the region.
"Learn the secrets of my people and how we relate to the land, ocean and spirit of country," said Capes.
"When you visit Monkey Mia it is easy to 'see' country, but to truly take something away with you – you need to feel the spirit of country. This is what I share with visitors. People walk away with a deeper appreciation of what country means to my people," said Capes.
You will be captivated by the deep Aboriginal connections to Gutharraguda as you discover the secrets that have seen the land flourish for thousands of years. Encounter the landscape's natural beauty and appreciate the Wula Guda Nyinda teachings of the profound relationship between the nature and humankind.
Discover traditional bush tucker, animal tracking techniques and medicinal plants. Immerse yourself in the sacred stories, legends and traditions that have built the strong cultural history of the world heritage listed Shark Bay.
We have developed a range of eco friendly non strenuous tours, each showcasing the very best of Shark Bay's breathtaking natural environment. From a relaxing tour of Little lagoon on Stand-Up Paddleboards (SUP's) to Kayaking, 4WD, Camping and even our unique Didgeridoo Dreaming Night Tour. We can even tailor a tour to include a range of experiences for indiviuals, groups or corporate training programs.
You can also enjoy their Francois Peron Overnight Catch and Cook Safari. It is an overnight adventure in a unique and vibrant location with so much to do including:
Seeing breathtaking natural landscapes
Learn about bush tucker and traditional medicine plants
Learn about local Aboriginal culture & heritage
Snorkelling & swimming in crystal clear oceans
Amazing wildlife and bird watching
Camping under the stars
Didgeridoo around the campfire
Catch and cook your dinner
Forage for bush foods (when in season)

Location