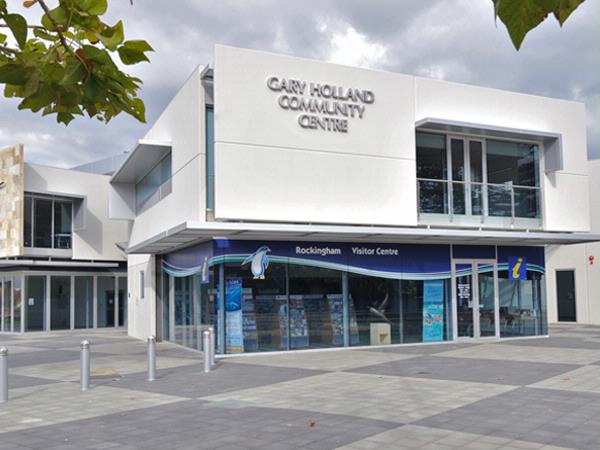 Rockingham Visitor Centre
Just 40km South of Perth, Rockingham is much more than award winning beaches – there's something special for everyone. Whether you want to surf, dive, swim, play golf, meet dolphins, penguins or sea lions, taste award winning wines, eat great food while you watch the world go by, or learn about our region's indigenous heritage. It's right here in Rockingham.
Details
Description
Natural Attractions
You can swim with or watch the world famous Rockingham Dolphins or take a cruise on a boat to experience the best of iconic Australian nature experiences. Penguin Island has magnificent rugged coastline and shallow, protected bays, a wonderful place to explore both on land and in the water.
Underwater Paradise
Rockingham has over 40km of magnificent open water to explore with scuba diving or Snorkelling for all ages and levels of ability. The Saxon Ranger dive wreck is offshore at Safety Bay. The West Coast Dive Park is within Shoalwater Islands Marine Park, an area renowned for its safe calm waters, pristine beaches, and abundance of fish species.
Tours & Activities
Rockingham has a variety of tours and activities for the young and young at heart.Safety Bay is a world renowned windsurfing and kite-surfing destination for keen and experienced surfers. If you have never tried it before, you can learn to windsurf or kite-surf ideal, gentle conditions at Safety Bay or take a surfing lesson in the perfect beginner's waves at Secret Harbour. Enjoy a picnic or a barbeque on the superb shaded grass of Bell and Churchill Parks beside the calm, clear waters of Rockingham Beach. With plenty of tables and BBQ facilities plus a huge play area for kids, it's the ideal family area for fun and relaxation.
Perth's Golf Coast
Rockingham boasts some of the most challenging and picturesque golf courses in the Perth Metropolitan area. The stretch of coast from Kwinana to Mandurah is home to five top quality golf courses which have justifiably given rise to the term 'Golf Coast'. Clubs are located only a short drive from the Rockingham town centre and offer great value with green fees starting from as low as $18.
Baldivis Karnup Wine Trail
The Baldivis Karnup Wine Trail is one of WA's most promising wine regions, located in the renowned Tuart soils of the Rockingham hinterland with most wineries only a short drive from the Rockingham City centre. The Baldivis Karnup Wine Trail is part of the greater Peel Wine Region, which takes in local and national award winning wineries from as far south as Lake Clifton and as far east as Jarrahdale. All the wineries are a comfortable drive apart and perfect for a pleasant day's tasting with family and friends.
Restaurants & Cafés
A short drive of 45 minutes south of the Perth CBD will bring you to some of the Best dining experiences found anywhere in WA, not only for the quality of the cuisine but also the superb Settings boasted by many of the establishments. Many of Rockingham's restaurants have an ever changing range of menu items utilising seasonal produce plus the best local ingredients, including Cockburn Sound mussels and local seafood.
Points of Interest
CATALPA RESCUE - Escape of the Fremantle Six in 1876 Learn about the historic Escape of six members of the Irish Republican Brotherhood (Fenians) from Fremantle Prison in 1876.
Z FORCE MEMORIAL A short distance past the Catalpa Memorial by the Jetty is the memorial commemorating the Z Force. The Z Force was formed during World War II and was a combination of British and Australian Army, Navy and Air Forces.
NAVAL MEMORIAL PARK Situated on the corner of Rockingham Beach Rd and Governor Rd is a memorial dedicated to the memory of HMAS Perth and those who perished with her.
CAPE PERON Once a main observation post for a World War II coastal battery, the lookout gives a commanding view of Cockburn Sound, the attractive coastline and the Shoalwater Island Marine Park.
GARDEN ISLAND The site of a maintenance facility for the Royal Australian Navy, with a causeway 13,809 feet (4,209 metres) long linking it with the mainland. However, public access to the island is by private boat only.
ROCKINGHAM FORESHORE Rockingham is well known for its shady, grassed foreshores and beautiful clean beaches. Rockingham foreshore has picnic tables, benches and free electric bbq's amongst the trees. With Excellent children's playgrounds, it's the perfect spot for a family day out.
Aquatic Playground
If you love the sun on your back and your toes in the sand, you'll adore Rockingham's beaches, some of the best in Perth. For safe, calm, shallow water swimming and sandy beaches, Rockingham Beach, Palm Beach, Safety Bay, Shoalwater, Warnbro and Port Kennedy are the best places to go.
Shopping
Rockingham has a range of shopping centres spread throughout the region that are easy to find and located on major roads.
Local History
A number of heritage trails, walks and drives exist within the region. The "Old Rockingham" and "Rockingham - Jarrahdale" heritage trail brochures provide excellent information and are available from the Rockingham Visitor Centre or more historical information can be obtained from the Rockingham Historical Society Museum.
Visitor Centre Open 7 days a week, closed 25th & 26th December.
Location
Address: 19 Kent Street,Rockingham,WA,6168
Phone: 08 9592 3464
Email: [email protected]