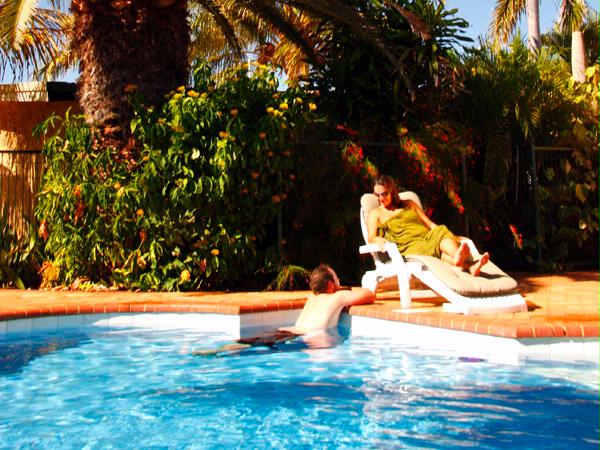 A complete designer makeover of the resort units in 2009 has produced a stunning result. Relax and rejuvenate with fine food and friendly service.
Details
Capacity:26
Type:4 - 5 Stars,Motel
Facilities:Room Service,Room Spa,Pool,Bar,Restaurant,Conference Facilities
Description
Point Samson is truly one of the most unspoilt and picturesque seaside resort villages in North Western Australia. In this unique setting the resort offers deluxe self contained units scattered among award winning tropical landscaping.
Just a few hundred meters from the Indian Ocean, Point Samson Resort is the perfect getaway. Relax and enjoy the accommodation resort facilities.
Today Point Samson's attractive setting has become a popular beach retreat for locals and visitors alike. Samson now offers a growing amount of accommodation and attractions, with the most famous of these being TaTa's Restaurant, renowned for selling the best speciality meat and fish dishes in the North West. Point Samson is also a popular destination as a day trip from Karratha and Dampier.
Point Samson Resort Accommodation
A million dollar make over in 2009 with extensive use of granite and glass, flat screen televisions and King beds in all units, create a stylish and tranquil feel that will delight your senses
All units are serviced daily, equipped with a kitchenette, sink and microwave and we also offer a guest laundry so whether it's a short stop over with work, or a long weekend with that some one special all your needs are at your fingertips.
Modem ports, wireless internet in restaurant & bar areas, keep the guest connected to the outside world.
The Pilbara's only Delux luxury spa suites are the perfect indulgent get away for special occasions offering luxury unparallel in the Pilbara
Tata's Restaurant
TaTa's Restaurant is renowned for it's first class presentation of selected Point Samson Seafood and specialty meat dishes.
Using only fresh ingredients, TaTa's chefs spend up to 8 hours a day just preparing ingredients ready for service. Pasta is hand made, local fish is hand filleted, bread baked daily, red wine sauce for the beef is painstakingly simmered down for two days to produce a true jus. The herb garden is all organic and produces most of the herbs and green leaf for the restaurant. The list goes on.
The full restaurant menu is available room service, poolside, or in the air conditioned Tata's restaurant
Location