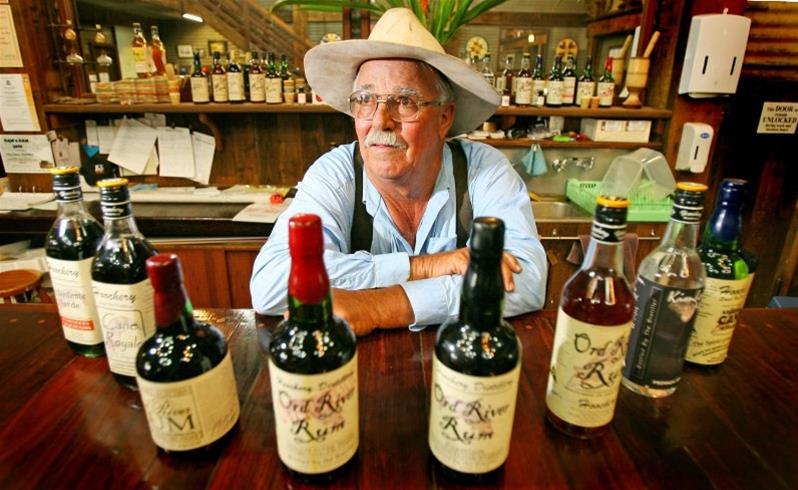 The Hoochery stands proud at being a 100% Australian owned and operated family business and wherever possible using locally grown ingredients.
Open Days/times:9am-4pm Everyday
Facilities:Function Venue,Licensed
Details
Facilities:Function Venue,Licensed
Open Days:Monday,Tuesday,Wednesday,Thursday,Friday,Saturday,Sunday,Public Holidays
Description
Ord River Rum is made from local sugar cane, Wet Season rainwater and yeast that is all vat fermented, pot distilled, aged in Oak barrels and hand bottled. We age our Rum in 300 liter Oak barrels which naturally colours and flavours our Rum, resulting in a very smooth tropical flavour with an oaky finish. As you may have heard since the sugar mill shut down in Kununurra, we no longer have access to the excess molasses to make our rum. So Spike; being the ever-resourceful person that he is; travelled to Columbia at the beginning of 2009 to look into cane crushing processes there. So we imported a cane crusher from Columbia and The Hoochery now has 3 hectares of sugar cane under plantation on the farm, which is hand cut and crushed to make a sugar syrup which is now the base product of all of our products. Tours of the still are run daily.
MAKERS OF ORD RIVER RUM THE BEST AUSTRALIAN RUM

Gold Medal Winners & CHAMPION RUM in 2014 2015 & 2016

Melbourne Fine Food Awards, Australian Distilled Spirit Competition, International Spirits Challenge in London & San Francisco World Spirits Competition.
Don't be fooled by imitations - we make the ONLY Rum in Western Australia,
With the red-eyed crocodile representing our regalia.
We have the only genuine Kimberley alcoholic products, made like no other!
With the Hoochery you get no gimmicks and no fancy label,
Just bloody good dinky-di Kimberley Spirit to enjoy around the table!
Remember to look for the red-eyed crocodile on the bottle.
100% Australian Owned and Made
Location