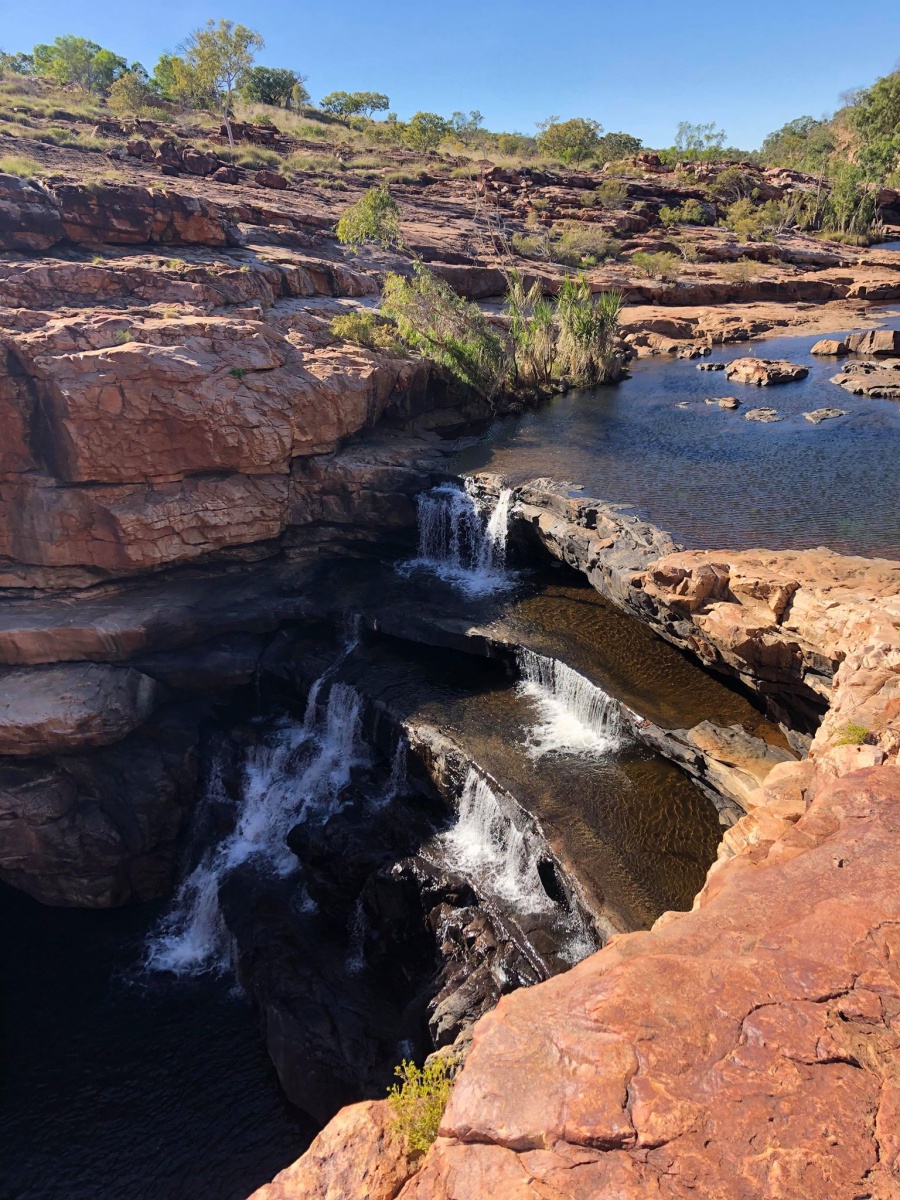 Wunaamin Conservation Park
Wunaamin Conservation Park is known for its spectacular Dalmanyi (Bell Gorge), peaceful campsite at Dalandi (Silent Grove) and Walarra mindi (Mount Hart) Homestead.
Details
Office Hours:Monday to Friday 8:30am - 4:30pm Closed weekends and public holidays
Park Entry Fees:Yes
Feature:Info Shelter,Toilet,Lookout / Deck
Description
With respect and acknowledgement to the native title holders, the former King Leopold Ranges Conservation Park has officially been renamed with the Aboriginal name for the area. As the park crosses over lands of both Bunuba and Wilinggin people, the park has been divided into two conservation parks.
These parks showcase the 560 million year old mountain ranges that extend for some 300km from Walcott Inlet to Margaret River, about 100km west of Halls Creek. The ranges themselves are now referred to as the Wunaamin Miliwundi ranges, combining both Wilinggin word 'Wunaamin' and Bunuba word 'Miliwundi' to specifically name the mountain ranges. Note the difference in spelling between Miluwindi Conservation Park and Wunaamin Miliwundi Ranges. This is explained by Bunuba people having different variations and pronunciations of the word for nearby areas. For example, Miluwindi is the area the conservation park is located, while Miliwundi is the name of the mountain range that is located within Bunuba country.
The conservation park north of the Gibb River Road is Wilinggin country, land of the Ngarinyin people. This area is now renamed Wunaamin Conservation Park and includes the peaceful campsite at Dalandi (Silent Grove) and Walarra mindi (Mount Hart) Homestead. Tourists are attracted to the spectacular cascading waterfalls at Dalmanyi (Bell Gorge), a relaxing place to swim.
Access is four-wheel drive only and closed during the wet season, when roads are impassable, but the waterfalls, which are swollen after the rains, can be viewed by aerial tours from Derby and Broome.
Camping
The campground at Dalandi (Silent Grove) is 10km from Dalmanyi (Bell Gorge). Book up to 180 days in advance for 1 June to 31 October. For other periods, booking will be available when the seasonal opening and closing of the park is confirmed, following the wet season in April or May. The privately operated Mount Hart Wilderness Lodge has camping facilities and glamping accommodation options.
Your safety
It's great to escape everyday life and visit?a park or reserve in WA. It is also important to us that you return safely to your family and friends.?
Always remember it is?really important to plan when to visit. Read this safety information about swimming and bushwalking. Consider traveling with a personal location beacon (PLB). In the event you need to be rescued it could save your life!
Crocodile safety
When you are entering the Kimberley or Pilbara regions, you are entering crocodile country. Two species of crocodile occur in Western Australia: the estuarine (or saltwater) crocodile and the freshwater crocodile. The estuarine crocodile is the largest living reptile and is considered to be a dangerous predator. Freshwater crocodiles are smaller and not as aggressive. Freshwater crocodiles inhabit waterways in the Wunaamin Miliwundi Ranges. Saltwater crocodiles have not been known to occur in the area but this may change in the future as crocodile populations increase and wet season floods enable movement into other water systems.
Be CROCWISE in Western Australia's north and download our Crocodile safety and myth-busting factsheet and Crocodile brochure. For more information visit Be CROCWISE.
This information was provided by the Department of Biodiversity, Conservation and Attractions: dpaw.wa.gov.au
Related
Walarra mindi (Mount Hart) Homestead
Dalandi (Silent Grove) Campground
Location
Address: 111 Herbert Street Broome,King Leopold Ranges,WA,
Phone: 0898819200
Email: [email protected]