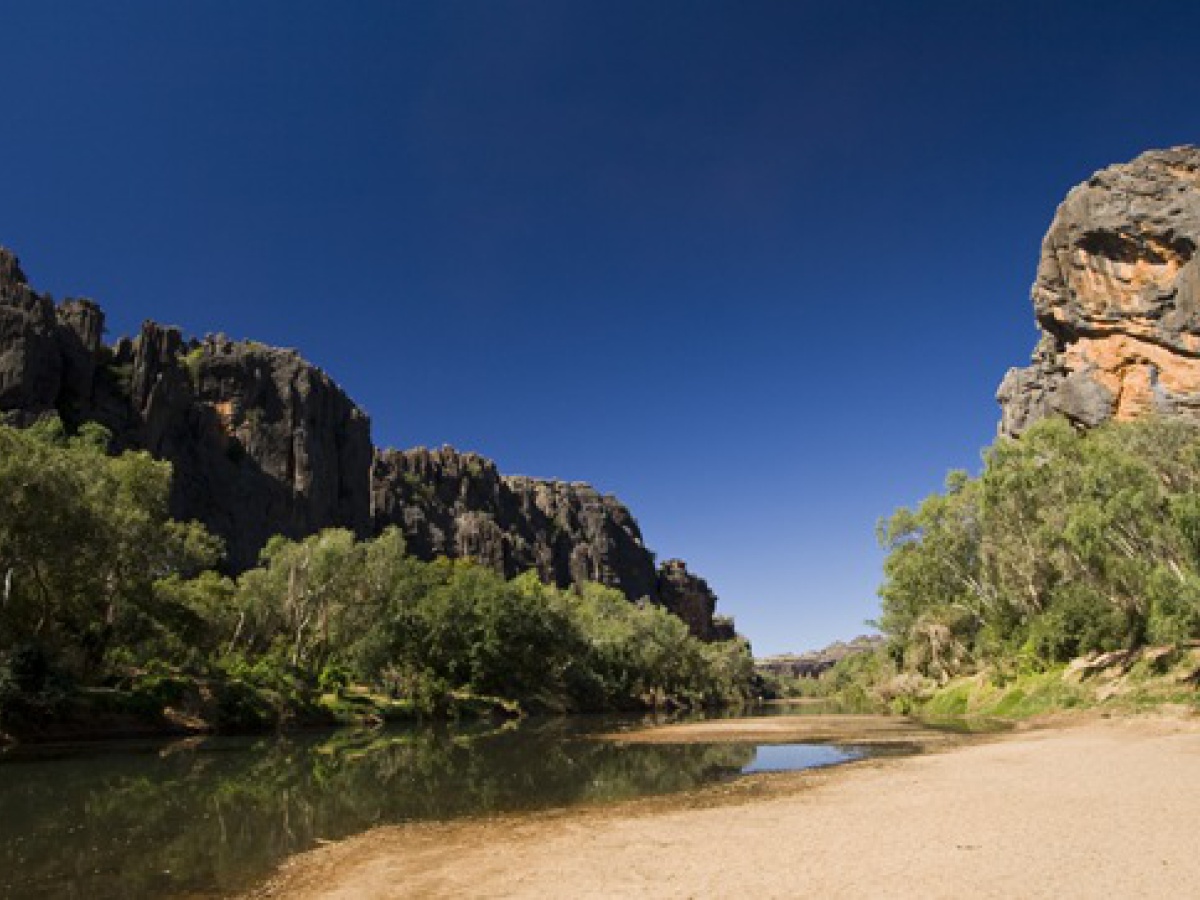 Bandilngan (Windjana Gorge) National Park
Bandilngan (Windjana Gorge) National Park is one of the Kimberley's most stunning gorges, with water-streaked walls that rise majestically to heights of 100m.
Details
Office Hours:Monday to Friday 8:30am - 4:30pm Closed weekends and public holidays
Park Entry Fees:Yes
Feature:Info Shelter,Toilet,Entry Station
Activity:Bush Walking
Description
Meet the wildlife
The Lennard River runs through Bandilngan (Windjana Gorge) in wet weather, but forms pools surrounded by trees and shrubs during the dry season. The 3.5km long gorge cuts through Napier Range: part of the ancient Devonian limestone reef that can also be seen at gu and Dimalurru. Freshwater crocodiles bask in the pools, while fruit bats and corellas roost in the waterside trees.
Walk the gorge
Walks include the Gorge Walk, which begins at the camping area and winds through the gorge for 3.5km each way. The short Time Walk takes a look at marine life forms fossilised within the limestone of the gorge walls. The Savannah Walk along the south-eastern wall showcases the plants and animals of the woodlands.
Camping
Book up to 180 days in advance for 1 June to 31 October for camping at an (Windjana Gorge) Campground. For other periods, booking will be available when the seasonal opening and closing of the park is confirmed.
Check availability & book
Steeped in culture
Aboriginal leader Jandamarra used the gorge as a hideout and was shot at Pigeon's Rock during a gun battle with Europeans in 1894. Bandilngan (Windjana Gorge) is a highly spiritual place to Bunuba people and the Wandjina are the powerful creation spirits that reside here. Hence the name Windjana, which was (mis)recorded by William Forrester, who took up a nearby pastoral lease in 1884 and built Lillimooloora Homestead. You can visit the ruins of this homestead.
Access
A four-wheel-drive is recommended to access the park. The park is closed during the wet season as the roads are inaccessible.
Your safety
It's great to escape everyday life and visit a park or reserve in WA. It is also important to us that you return safely to your family and friends.
Always remember it is really important to plan when to visit. Read this safety information about bushwalking. Consider traveling with a personal location beacon (PLB). In the event you need to be rescued it could save your life!
Crocodile Safety

When you are entering the Kimberley or Pilbara regions, you are entering crocodile country. Two species of crocodile occur in Western Australia: the estuarine (or saltwater) crocodile and the freshwater crocodile. The estuarine crocodile is the largest living reptile and is considered to be a dangerous predator. Freshwater crocodiles are smaller and not as aggressive. Freshwater crocodiles inhabit Windjana Gorge. Saltwater crocodiles have not been known to occur in the area but this may change. Be CROCWISE in Western Australia's north and download our Crocodile safety and myth-busting factsheet and Crocodile brochure. For more information on Be CROCWISE see www.nt.gov.au/becrocwise
This information was provided by the Department of Biodiversity, Conservation and Attractions: dpaw.wa.gov.au
Related
Bandilngan (Windjana Gorge) Campground
Location
Address: 111 Herbert Street Broome,King Leopold Ranges,WA,
Phone: 0898819200
Email: [email protected]