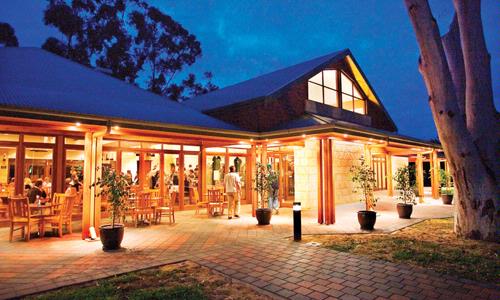 Elmars in the Valley Brewery
Visit the Swan Valley's largest boutique brewery with unique glass and copper kettles, producing award-winning beers free from artificial colours and preservatives. German and Modern European cuisine
Open Days/times:Wed-Thurs 11:30am-4pm, Fri 11:30am-10pm, Sat 11a,-10pm, Sun 11am-8pm
Facilities:Family Friendly,Licensed
Details
Facilities:Family Friendly,Licensed
Open Days:Wednesday,Thursday,Friday,Saturday,Sunday
Lunch:Wednesday,Thursday,Friday,Saturday,Sunday
Dinner:Wednesday,Thursday,Friday,Saturday,Sunday
Description
Welcome to Elmar's in the Valley, home to the largest glass micro-brewery in the Southern Hemisphere. Elmar's is a German style Restaurant, Brewery and Smallgoods Gift Shop located in the heart of the Swan Valley, just 20 minutes from Perth. Whether it's a quiet beer with friends or a large corporate event, make Elmar's in the Valley your destination. Its inspired facilities, experienced friendly staff, world class food and award winning beers make for a memorable occasion. Combine these qualities with its stunning location in the beautiful Swan Valley and you have all the ingredients for a truly unique experience.
Elmar's in the Valley was established by Elmar and Anette Dieren and is a German themed brewery, restaurant, bar and smallgoods shop located in the heart of the Swan Valley.
Elmar's in the Valley has the largest micro glass brewery in the southern hemisphere, with modern glass and copper kettles which can be seen through glass viewing windows by guests enjoying a drink at the bar. Elmar's beer is brewed to the exacting standards of the oldest food standard laws in the world, the Bavarian Purity Law formed in 1516.
The restaurant has an elegant open-plan wooden interior and furnishings; it offers an elegant, modern German style dining experience. Elmar's in the Valley also has a huge two acre outdoor beer garden area, licensed for up to 500+ guests. The menu caters for all tastes, featuring traditional German and modern European cuisine, incorporating Elmar's preservative free smallgoods.
A selection of Elmar and Anette's smallgoods is available on site, at Elmar's in the Valley. A large range of merchandise, gift ideas and local artwork is also on display for purchase. Traditionally in Germany, pubs and smallgoods stores are located along side one another to offer complimentary services, Elmar's in the Valley incorporates German culture in a uniquely Australian environment.
Elmar's in the valley has a huge car park which offers free parking, with allocated bus bays and disability access. Other disability facilities include a bathroom and wheelchair access throughout the restaurant.
We are open for Lunch Wednesday and Thursday 11.00am-4.00pm,
then Lunch and Dinner Friday, Saturday and Sunday 11.00am till late
(subject to change seasonally and depending on trade, weekend bookings essential)
Location