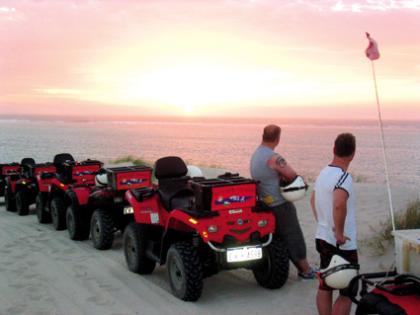 Quad Trek Coastal Adventure Tour
Four-wheel quad bike tours not only offer a quick adrenalin fix but are also a surprisingly environmentally friendly way to see some of Coral Bay's most popular natural attractions.
Tour Duration:1.5-2.5 hours
Tour Price:$60 Adults $45 Children
Type:Tours
Activity:Motorcycle
Suited For:Teens (13 - 17),Adults (18+)
Details
Tour Locations:Coral Bay
Type:Tours
Suited For:Teens (13 - 17),Adults (18+)
Description
Coastal Adventure Tours' and ATV Eco-Tours offer three different four-wheel motorbike treks of Coral Bay. The sunset trip described above lasts two hours and takes participants to Moncks Head, south of Coral Bay. Here you can view a turtle rookery, where green and Loggerhead turtles congregate all year. It really is special watching these unusual creatures as they pop their periscope-like heads above the water to take a breath and look around. After viewing the turtles, tour-goers sit back and relax while the sun sets over the ocean. There is also a two-hour turtle adventure held earlier in the day.
The longest tour lasts three hours and visits two snorkelling destinations north of the Coral Bay township. The underwater gardens of the magnificent Ningaloo Reef start just metres from the shoreline and you're bound to spot many clown fish among an incredible variety of other marine animals. Then of course there's the coral – the Ningaloo Reef is home to about 200 coral species of the most amazing colour and formation.
Coastal Adventure Tour operators Kim and Karen Lay started their business six and half years ago after Kim noticed looks of envy as he rode his quad bike around Coral Bay. Karen says the move proved spot on, with the most common comment after each tour aboard a quad bike being "I want one".
Karen also stresses the company's commitment to conserving the environment. "Basically the bikes are a low-impact and fun way to see the coast, and the visitors love it."
The bikes' tyres are kept at a relatively low pressure to minimise impact on the environment and the bikes must stay below the high tide line to ensure turtle nests aren't disrupted.
To join a tour you need to have a current drivers' licence or ride as a passenger with someone who does have a licence. The three-hour Snorkel Adventure costs $80 and both two-hour trips cost $70. If travelling as a passenger, it costs $45 for adults and $30 for children. Helmets and snorkelling gear are provided.
Location