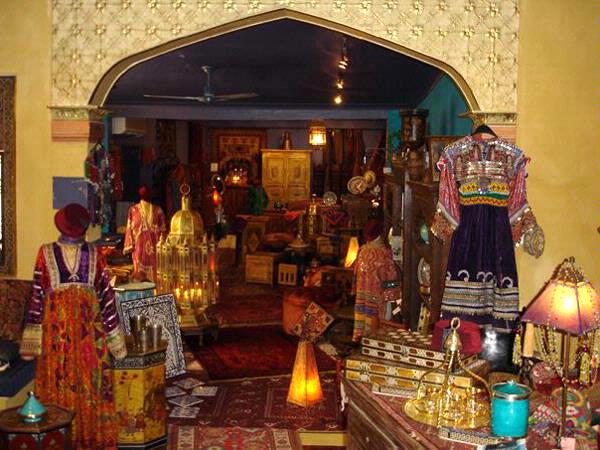 AFEZ journeys to Morocco, Turkey, and Rajasthan and personally sources oriental carpets, furniture, textiles, ceramics, brass and other unique objects.
Details
Type:Giftware,Homewares,Jewellery
Open Days:Monday,Tuesday,Wednesday,Thursday,Friday,Saturday
Description
LANTERN:
AFEZ has a beautiful new range of lanterns from Morocco, in store and new Indian hand painted and etched lanterns will be arriving in March from India (from our trip there in November 2010). These are orb shaped and very popular.
ORIENTAL RUGS:
This northern Afghan prayer rug is handknotted and is a wonderful example of the type of rugs we stock at AFEZ. These are old pieces sourced from war torn Afghanistan. We have many large carpets from this area too, which will soon be impossible to find because of the continuous war and the resettlement of the local people.
FURNITURE:
AFEZ stocks great eclectic pieces of furniture from India - old and new pieces. This is a beautiful handmade coffee table from Morocco - other colours and styles are available.
JEWELLERY:
This beautiful necklace is a piece from the AYALA BAR collection from Israel. AFEZ is one of the largest stockists (in W.A.) of this international designer of costume jewellery whose jewellery is very collectable and unique.
TEXTILES:
This beautiful hand embroidered umbrella is from Rajasthan, India. AFEZ has a new container of custom ordered textiles from Rajasthan arriving in March - from our recent trip in November. It will be full of sumptuous ottomans, cushions and lovely snuggly quilts to get you all through the winter months!
TILES & CERAMICS:
AFEZ travelled to Morocco last year and found some of the best ceramics and tiles ever! We also stock tiles and ceramics from Turkey and India. The Indian tiles are recycled (art nouveau era) which look great around fire places or even in contemporary homes. We can assist you in designing a pattern for your own home.
Location