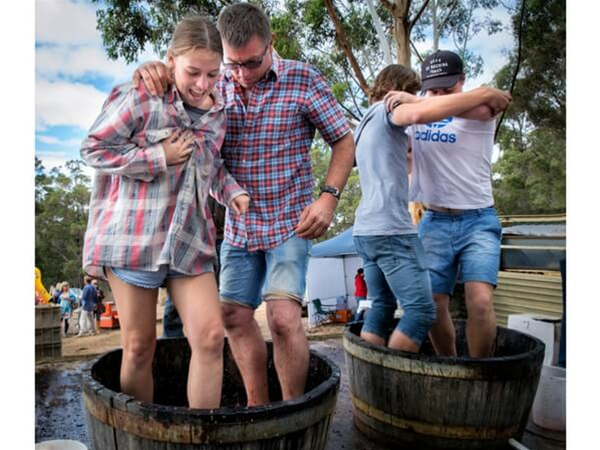 Porongurup Wine Festival - Taste Great Southern
2018 sees the Porongurup Wine Festival enjoying it's 30th year Anniversary and we will be celebrating in style!
Dates:11am - 4 Mar 2018
Venue:Karridale and Porongurup
Details
Venue:Karridale and Porongurup
Description
Local wineries will present their award winning cool climate wines for you to taste. Enjoy a day of live music, fine wines, local food stalls and entertainment for the whole family. Watch culinary creations in the making at the One Wok Wonder and cooking demonstrations with celebrity chefs. Join one of the fun Wine Masterclasses. Grab a friend and compete in the Grape Stomping competition for fantastic prizes. There will be lots of childrens activities including a sand pit treasure hunt, obstacle race and face painting. Relax amongst the beautiful trees of Karridale with a stunning backdrop of the Porongurup Ranges.
Accompanied children under age 18 - free. Entry includes complimentary wine tastings and a souvenir tasting glass. Wine Masterclass tickets can be purchased on the day for $10 per person (numbers strictly limited to 30 places per session). Wine and food is available to be purchased on site.
Please bring cash to avoid disappointment, as EFTPOS may be unreliable or unavailable at festival stalls.
At the Gate:
$25 cash only
11.00am - 5.00pm
9:45 am departing Albany Visitors Centre
10:00 am departing BCF
10:15 am departing Bakers Junction
Arrival at festival 10:45 am
Depart festival at 4:45 pm for return trip
Entry & Denmark Bus 1:
$52
10:00 am departing Denmark Visitor Centre
Departing festival at 4.30 pm for return trip
Entry & Mount Barker Bus 1:
$42
10:40 am departing Mt Barker Railway Station
Departing festival at 4.30 pm for return trip
Entry & Denmark Bus 2:
$52
10:30 am departing Denmark Visitor Centre
Departing festival at 4.30 pm for return trip
Entry & Mount Barker Bus 2:
$42
11:10 am departing Mt Barker Railway Station
Departing festival at 4.30 pm for return trip
For more event information, please contact Porongurup Wine Festival on
[email protected]
or 08 9853 1035
For more information on ticketing or Taste Great Southern, please contact CMS Events on
[email protected]
or 08 9228 9166
Location
Venue:Karridale and Porongurup
Address: 153 Woodlands Road,Porongurup,WA,6324
Phone: 08 9853 1035
Email: [email protected]