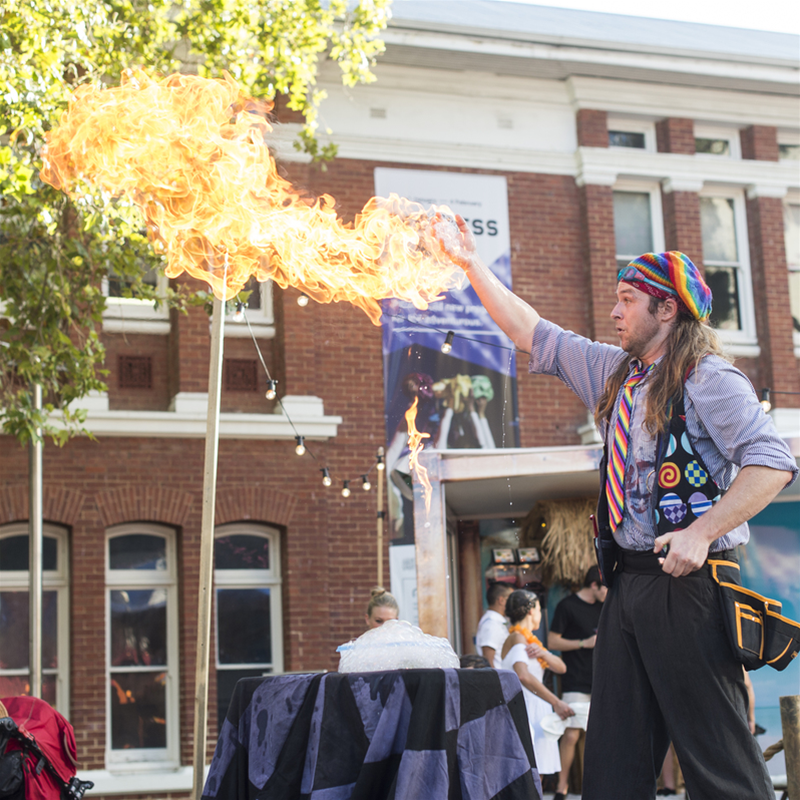 City of Perth FRINGE WORLD Buskers Weekender
Forget boring and forget what you thought you knew about busking, and get ready for some of the wildest entertainment to ever hit the city malls with a packed program across seven stages.
Venue:City of Perth Malls
Details
Venue:City of Perth Malls
Description
The Weekender is a free event that will see the City come alive with wild performances from around the world from 2-4 February. Street artists, circus performers and other weird and wonderful acts will hustle throughout Forrest Place and Murray St malls from 11am to 4pm across the weekend, and from 5pm to 9pm on Friday.
A big highlight of the Weekender is acrobat Zane from Colossal, who on Sunday 3rd of February Perth will attempt a Guinness World Record. Be there at 11am to see Zane attempt to break the record for most number of balls juggled while suspended upside down on a trapeze
The Buskers Weekender is free, but Cash is King! Our performers always hat at the end. This is your chance to show your appreciation for what you have just watched or been a part of.
There are seven stages at the Buskers Weekender and they are all within close walking distance of each other.
For more information, the full schedule and a map of the stages for the Buskers Weekender visit https://fringeworld.com.au/news/how-to-get-the-most-out-of-the-cityof-perth-fringe-world-buskers-weekender
Location
Venue:City of Perth Malls
Address: Hay Street Mall,Perth,WA,6003
Phone:
Email: [email protected]