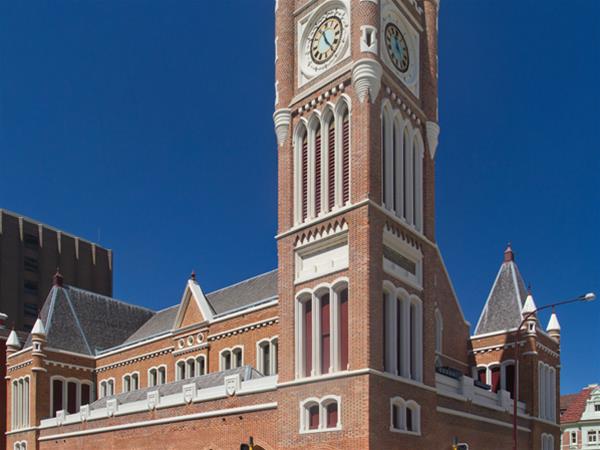 Perth Town Hall
The Perth Town Hall, situated on the corner of Hay and Barrack streets, is the only convict-built town hall in Australia.
Historical Sites:Buildings
Details
Historical Sites:Buildings
Open Days:Monday,Tuesday,Wednesday,Thursday,Friday,Saturday,Sunday
Description
Designed by Richard Roach Jewell and James Manning in the Victorian Free Gothic style, the hall was built by convicts and free men between 1868 and 1870. Its decorations contain a number of convict motifs, including windows in the shape of the broad arrow, and decorations in the shape of a hangman's rope.

The foundation stone for Perth Town Hall was laid on 24 May 1867 by Governor Hampton in a ceremony involving a lot of pomp and parade. However there were torrential downpours. The ceremony went on anyway with an official procession from Government House and a mock battle performed by the Volunteer Regiments, Enrolled Forces of Pensioners, and the WA Country Regiment.

In 1929, the Centenary of Western Australia one of the events in the city of Perth was the placing of a commemorative plaque in the north west corner of the building by the Governor Sir William Campion.
Location
Address: Corner Hay and Barrack Streets,Perth,WA,6000
Phone: (08) 9229 2965
Email: [email protected]