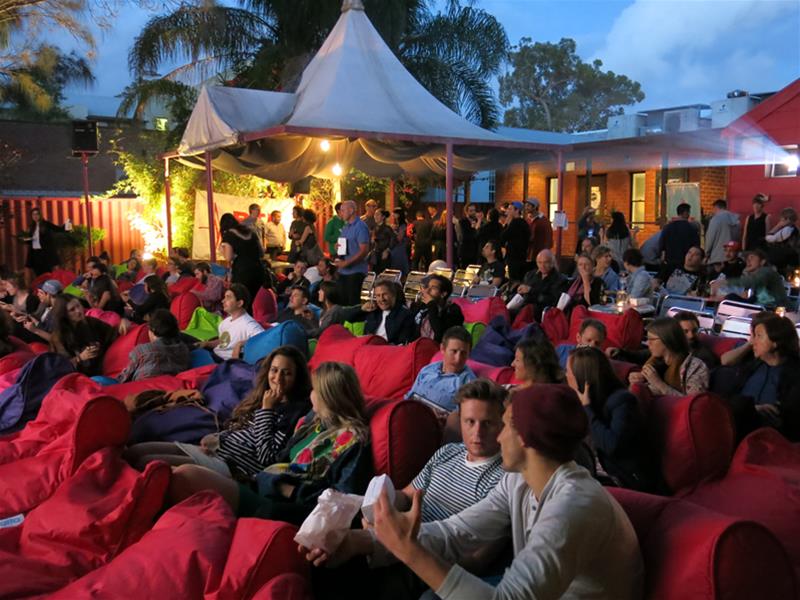 Luna Outdoor is a unique outdoor garden cinema where you can relax in comfy bean bags and watch the latest films on the latest digital technology.
Facilities:Cinemas - Outdoors
Details
Facilities:Cinemas - Outdoors
Description
Luna Outdoor Cinema is located behind the cinema at 155 Oxford Street, Leederville. Tickets are to be purchased from the indoor box office and entry is either through the laneway or the Luna Lounge. The outdoor cinema is fully licensed and has a range of snack options – please go to the Food and drink section of this website to find out more.
The seating is a mixture of bean bags and table and chair seating. It is an intimate outdoor venue, and therefore it has not only become home to a number of gnomes, it has also become advisable to pre purchase tickets – especially during the busy summer holiday period.
We hope to see you here soon. Any questions, please call Luna on 9444 4056.
LUNA OUTDOOR FUNDRAISERS or SOCIAL FUNCTIONS
The Luna Outdoor is a relaxed, easy place to get a group together for a social evening or fundraising event. Give us a call on 9444 4056 and we can get you started.
Cheap ticket days do NOT apply to Luna Outdoor.
Luna Outdoor contact details are: Tony Bective or Candice Skinner
located in the courtyard of Luna Cinemas - 155 Oxford Street Leederville.
Our phone number is (08) 9444 4056. - Our fax number is (08) 9242 1027.
You can e-mail Luna on [email protected]
Location
Address: 155 Oxford Street,Leederville,WA,6007
Phone: (08) 9444 4056
Email: [email protected]