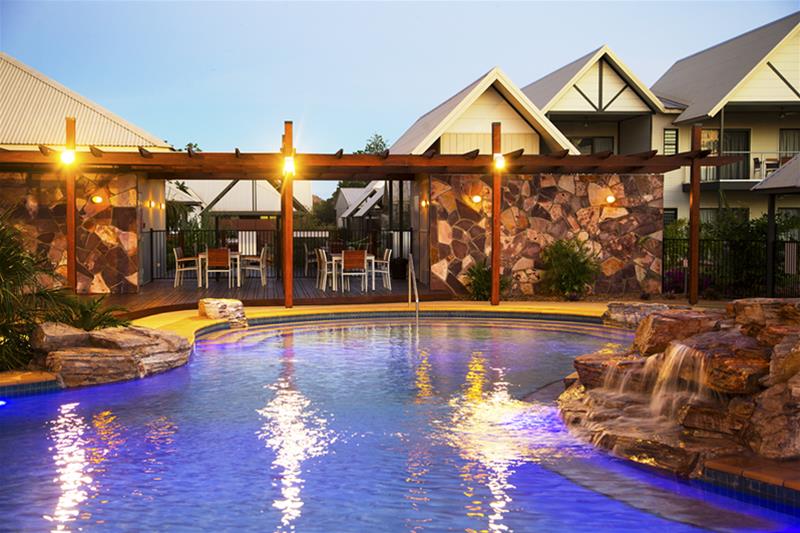 Freshwater East Kimberley Apartments
Kununurra's newest and only 4.5 star accommodation. Deluxe self-contained studio, 1, 2 & 3 bedroom apartments. Ideally located, free Wi-Fi, Foxtel, resort-style pool, guest laundry & BBQ facilities.
Details
Accessibility details:Yes, wheelchair accessible
Capacity:60 Apartments
Type:Apartment/Condo
Facilities:Pool,Adults Only
Description
Freshwater East Kimberley Apartments, Kununurra's newest and only 4.5 star deluxe accommodation is ideally located opposite the picturesque Lily Creek Lagoon, and within walking distance to Kununurra town centre.

Freshwater Apartments have been voted in TripAdvisor's Top 25 Hotels in Australia in 2016, 2017 and 2018. Each year from 2014 – 2019, Freshwater East Kimberley Apartments has received the TripAdvisor Certificate of Excellence.

Designed around a stunning resort-style pool with cascading waterfall, complimentary guest BBQs and laundry facilities, Freshwater Apartments reflects the beauty of the Kimberley landscape with its use of Kimberley stone throughout the property. Lush tropical gardens are at every turn, plus stunning photography and local artwork in all apartments.

Freshwater Apartments offer self-contained 1, 2 and 3 bedroom apartments and studio apartments with kitchenettes, ideal for business or leisure travel. 1 and 3 bedroom apartments also offer a tropical outdoor rain shower as well as the convenience of an indoor bathroom. Large balconies allow you to enjoy the lifestyle of Kimberley outdoor living.

Stay 7, Pay 6
Take advantage of our year-round special, stay for 7 nights and only pay for 6. This special offer is for all room types including studio and 1, 2 and 3 bedroom apartments. Located conveniently within walking distance to Celebrity Tree Park, local shops and places to eat are only a short walk from your room.
Highest Level of Service
Our staff go over and above to ensure your experience at Freshwater Apartments is a memorable one. From management to reception, to our housekeeping and grounds team, each and every one of our team go beyond to make sure you have a fantastic time. By the end of your stay, it's quite likely Freshwater Apartments will feel like home and you won't want to leave.
Why Freshwater Apartments?
Previously Freshwater Apartments has received Gold in the Perth Airport WA Tourism Awards in the Deluxe Accommodation category, and is currently on the Star Ratings Gold List, rated as Outstanding for Self-Catering Accommodation.
We are ranked #1 on TripAdvisor for places to stay in Kununurra for both Traveller Ranked and Best Value categories. TripAdvisor has also marked our apartments as 'Top Rated' – one of the highest rated properties in Kununurra. As well as a 'Best Seller' – one of the most booked properties in Kununurra.
Facilities
Freshwater Apartments offers Free Wi-Fi and Foxtel to all guests, plus a complimentary guest laundry and BBQ area which is perfect for groups. We offer private parking bays and the grounds are landscaped with lush tropical gardens. We often receive comments on our free form resort-style pool, with two waterfall features and reclining sun lounges. Guests rate the pool as a highlight of their stay, with it providing a place to relax and refresh in this beautiful feature of the property.
Meal Options
Our apartments are self-contained which is perfect if you are looking to cook some delicious meals during your stay. If you will be eating out, next door to Freshwater Apartments is the Kimberley Grande Restaurant which is open for 3 meals a day. Across the road, is Spilled the Beans Café which offers breakfast and your daily coffee fix, along with some sweet treats. You also have the option for our reception staff to organise meals locally made, delivered straight to your door.
Location
Address: Freshwater Apartments, 19 Victoria Highway,Kununurra,WA,6743
Phone: 1300 729 267
Email: [email protected]