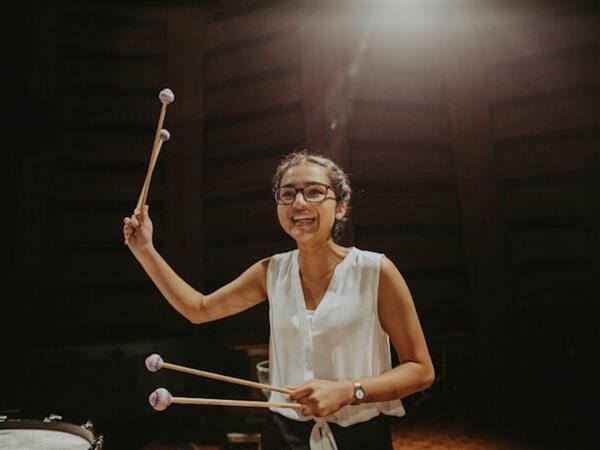 Parallel Resonance
Enjoy a joyful journey of music for marimba, vibraphone, guitar and percussion, influenced by the energetic rhythms and harmonies of flamenco, tango and jazz.
Dates:Oct 31
Time(s):7pm
Venue:Fremantle Arts Centre
Details
Hosted By:UWA Conservatorium of Music
Venue Address:Fremantle Arts Centre, 1 Finnerty St, Fremantle WA 6160
Ticket Price:$24 Adults; $15 Concession & Students
Venue:Fremantle Arts Centre
Audience:Adults,For teens 13-17,Wheelchair Access
Description
A jam-packed program of stimulating performances and events in 2019 showcases the immense talent of UWA's young emerging artists and their mentors, the celebrated alumni, and nationally and internationally recognised guest artists.
From masterclasses and workshops to intimate chamber performances and large- scale collaborations, there's something for everyone to enjoy, so come along to be inspired and entertained.
Events
Verbal Description + Tactile Tour: for visitors with vision impairment
Tom Fisher & The Layabouts + Joan & The Giants
The National [Second Show]
Sunday Music At Fremantle Arts Centre
Ritual and Empathy: Symposium
Revealed: Wa Aboriginal Art Market
Pendulum Acts: Performance by Penny Coss
Ocean Alley Australian Tour
LWAG Signs: Auslan-interpreted Tour
Little Lord Street Band & Police Pipe Band
John Prince Siddon: All Mixed Up
Indefinite Deferral: Reflections on a Maton Alver
Going Slow: Art x Mindfulness Tour
Friends of LWAG: Robertson Park Studios Visit
Friends of LWAG: Campus Art Tour #2
Friends of LWAG Lecture Series: Australian Landscape Then & Now
Friday Talk: Designing an Exhibition with Natalie Hewlett
Fragments & Thread: Workshop with Michele Elliot
Fragment & Thread: Workshop with Michele Elliot II
Exhibition: Boomerang - A National Symbol
Culture Club 1 2020: Art Party
Colab + Odette Mercy & Her Soul Atomics
City And Colour (Dallas Green)
Art Upmarket | Perth's Best Dedicated Art Market
Art Exhibition: The Long Kiss Goodbye
Art and Medicine: Workshop
Related
UWA Institute Of Advanced Studies
UWA Conservatorium of Music
University Club Of Western Australia
Lawrence Wilson Art Gallery
Fremantle Arts Centre Courses
EDCC Earth Science Museum
Callaway Music Auditorium
Location