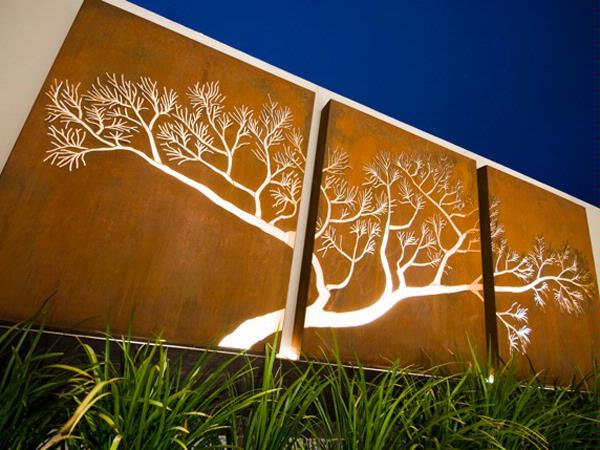 Award winning company The Fifth Room specializes in sculptural landscaping, contemporary light and water features, sculptures and screens using corten steel, stainless, copper, and glass.
Open Days/times:By Appointment Only
Galleries:Artist Studio,Sculpture
Details
Galleries:Artist Studio,Sculpture
Open Days:By Appointment Only
Description
The award winning company The Fifth Room, specializes in sculptural landscaping, contemporary light and water features, and hand crafted individual sculptures and screens. They use materials suitable for the Western Australian environment, corten steel, bronze, copper, stainless steel, and glass.
The Fifth Room wall features are inspired by Australian flora and fauna, designs include the She-Oak, Banksia, Boab, Gum Flower, Lotus, Black Cockatoo and many other custom made designs.
LED weatherproof light stripping is used in the wall features and free standing light features because it has a estimated life span of 20 years and is extremely low in power consumption.
Rob and Tanya McCulloch developed The Fifth Room seven years ago. They are both award winning artists. Robs work has been exhibited in Sculpture by the Sea and in the Museum of Contemporary Art in Melbourne. Tanya's paintings have been exhibited nationally and internationally and have won many awards. Together their creative talents and love of using materials that age beautifully in the natural environment has seen the success of their award winning business The Fifth Room.
Visit their website or email them for an onsite consultation.
Their workshop is located in Beaconsfield and is open by appointment only.
Location