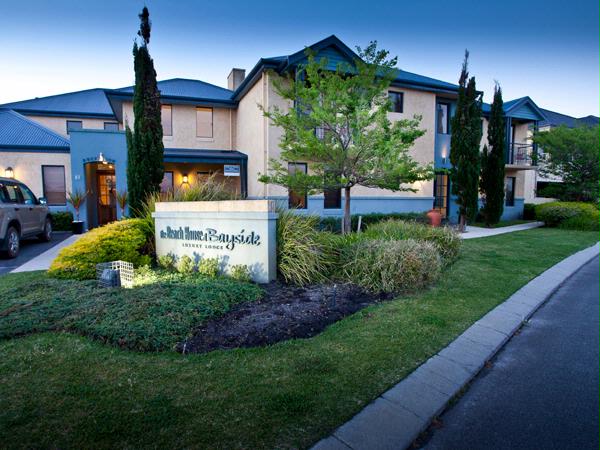 Beach House at Bayside, The
Luxurious 5-star rated accommodation in Albany, WA. An intimate, relaxed ambience - gracious service, wonderful breakfast & warm hospitality for discerning travellers.
Details
Capacity:15
Type:Bed & Breakfast,Lodge
Facilities:Room Spa
Description
The Beach House at Bayside offers 5 - Star boutique accommodation in Albany, Western Australia. Situated beyond the dunes and adjacent to one of Australia's best links golf courses, on beautiful Middleton Bay. Albany's luxurious haven by the sea, "The Beach House" offers discerning travellers an intimate relaxed ambience, gracious service, privacy, comfort and warm country hospitality.
Hear the waves crashing on the beach, smell the fresh salt-sea-air, taste the best of Great Southern food and wine and see the dramatic sights of the Southern Ocean and hidden beaches. What some of our recent guests thought of The Beach House at Bayside:
Rooms and Suites
Main House King and Queen
In the Main House, two charming King and Queen rooms with spacious showers, are convenient to the inviting guest lounge area, library, sunny dining room and paved terrace. These rooms are perfect for the business traveller and for families. Extra data points and a desk have been incorporated for your convenience. Both rooms share a communal library area and are great for couples travelling together.
Colonnade King Spa Rooms
The Colonnade Wing comprises four spacious, open plan suites accessible from the main house via a vine-covered colonnade. All suites offer King beds, open plan showers, double romantic spas and sitting areas. Ground floor suites offer private courtyards and first floor suites offer an outlook to the nearby islands. Disabled access facilities have been incorporated for your convenience.
Garden Suite
Overlooking the paved Terrace, the double storey Garden Suite, offers a luxurious king bed upstairs and a spacious downstairs lounge area with a private courtyard. A large spa bathroom (including shower) completes the suite. Ideal for special occasions and longer stays. A third person can be accommodated with a rollaway bed. Extra data points and a desk have been incorporated for business travellers. From "The Beach House" Kitchen A Bountiful Breakfast is included in all our tariffs... Please help yourself to the buffet selection of continental breakfast
Afternoon Tea
Lovely home baked treats are served each afternoon and all included in your standard tariff at "The Beach House". Exploring the wonders of Albany all day? ... don't worry... afternoon tea will be in your room awaiting your return!
In Room Dining
Had a big winery lunch? Been travelling for days and just want a night in? The Beach House's In- Room-Dining Menu offers a range of simple light meals that are bound to hit the spot! Order until 6pm for service until 8pm. Enjoy your meal in your room, the dining room, courtyard or lounge room.
Planning a "night in" in advance? Why not order a sensational dinner platter – local smoked trout and cheeses, antipasto or seafood. Twelve hours notice is greatly appreciated to ensure we have the freshest of our beautiful local ingredients to make your evening a "great night-in".
Albany and Surrounds
The City of Albany, on the rugged south coast, was the first settlement of Western Australia. Albany is a traveller's "must see" destination - rich in history and natural beauty, with a bountiful hinterland, producing some of the best food and wine in Western Australia.
• Award winning restaurants, wineries and galleries
• Historic Albany - Western Australia's first European Settlement and steeped in ANZAC heritage
• Wind farm at Sandpatch
• Cosmetics and gifts at the Sandalwood Factory
• Scenic flights over the dramatic coast of the Southern Ocean • WhaleWorld museum
• Whale watching (in season)
• Scuba diving on the Perth and Cheynnes dive wrecks
• Walk part of the Bibbulman track
• Enjoy Forests & National Parks with unique flora and fauna
• Treetop walk at Walpole
• Porongurups & Stirling Ranges
Location
Address: 33 Barry Court,Albany,WA,6330
Phone: (08) 9844 8844
Email: [email protected]