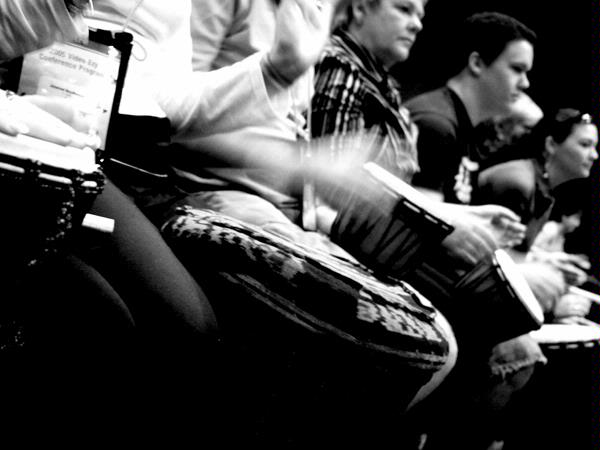 Motivational Non-Speakers transforming your group (large or small) into a performing orchestra within minutes. An unforgettable interactive experience.
Details
Description
Founded in 2001 Human Rhythms Pty Ltd prides itself on being industry leaders when it comes to memorable team building and corporate entertainment.

Drumming and percussion sessions (10 to 1000pax / 15min to 120min)
Our inter-active sessions see each and every delegate in the group (from 10 to 1000) each given a drum or other percussive instrument such as tambourine or set or maracas. Our professional facilitators then conduct the group in unison, taking them on an inter-active musical journey where the delegates themselves are actively involved in creating the performance rather than watching passively as someone else performs for them. We can tailor the session to suit the client / event variables ie: time frame / instruments size / theme / even budget. We can also brand the instruments and make them a "take home" bonus for each delegate….the kids will LUV em forever! Suitable for conferences, gala dinners, launches and short training days.

Song-Sation (15pax to 1000pax / 30min to 120min)
In today's day and age, everyone is watching "super star" wanna be type shows on TV and here is the chance to bring that experience right into the workplace. Imagine you and your colleagues performing alongside professional musicians, as you turn fantasy into reality and grab an instrument (or even a microphone) and become part of the performance on stage. Here the delegates will be guided by our professional musicians and singers and encouraged to perform a song, from choosing the style, then writing the lyrics and also being involved in playing parts on the various instruments and doing backup and (for the daring) even lead vocals. A truly unforgettable experience that can be tailored to suit your time, budget and theme. Of course to add value to the experience, the song produced can be performed "live" at the gala dinner later in the same conference. Sing-Sation (this is an abbreviated version and involves singing only)

TubeeDoo (20pax to 2500pax / 5min to 30min)
Visualize yourself amidst a sea of colour and rhythm! Our vibrant, colourful musical tubes are the perfect instrument when only a short setup time is available. Imagine 500 delegates returning from lunch to find the conference room has been transformed into a sea of instrumental colour. This option is also great in a dinner setting or when time, budget or space is an issue. Very portable and extremely well suited to be played on the move.
FUNCTIONS
Corporate,Team Building, Major Events (10 to 300+), Private, Weddings
SERVICES
Entertainment, Music
Location