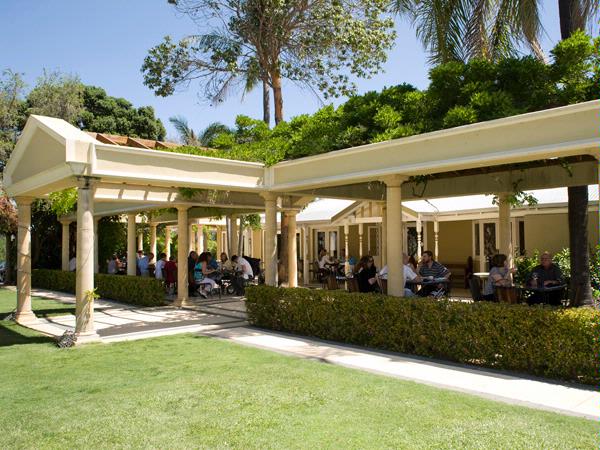 Caversham House specialises in Weddings & Ceremonies, Marquee Events, Corporate Events, Restaurant Lunches, Boat Charters and Special Occasions.
Details
Capacity:100-200
Features:Live Music,Waterfront,Outdoor Dining
Venue Type:Boat Charter,Function Centre,Restaurant
Description
A trip to the swan valley isn't complete without a visit to the secluded, historic Caversham House Estate. This secluded location is becoming one of the regions most popular tourist destinations, offering fine food, entertainment and a truly inspiring venue.

A canopy of huge olive trees line the drive way to the 1835 homestead and reception centre. The house is nestled amongst the beautifully manicures European style gardens, with alfresco dining areas draped in wisteria. Set amongst the lawned area, which is used for wedding ceremonies, is a rotunda style Gazebo and permanent Marquee. Beyond the marquee another lawned area leads to a limestone colonnade set amongst trees and grapevines.

One thing no visitor should miss are the Hidden Gardens. These stunning, terrace gardens have become a must see attraction for passing river cruises. With the slowly meandering Swan River as a backdrop, the exotic location features limestone terraces that lead the visitor through the Renaissance gardens, decorated with classical sandstone sculptures, grottos and a breathtaking four storey high waterfall and a majestic, sweeping grand staircase that offers magnificent, panoramic views to the river and main lawn area.

Enjoy a walk along the Jarrah walkway to the large, private floating pontoon. Here you will find the perfect vantage point to admire the spectacle of the Hidden Gardens.

Caversham House Restaurant

Our lunches are situated under our 120 year old wisteria sand stone pergola looking out towards our Gazebo gardens. The restaurant caters for a contemporary Australian cuisine with a wine list ranging from premium to super premium wines.

The relaxed surroundings allow you to kick back, relax and on allocated weekends listen to the laid back sounds from our live music. We cater for birthdays, christenings, anniversaries, small weddings, business lunches or any special occasion.

Opening Hours:

Wednesday to Sunday 11.30am to 2.30pm.

House

Caversham House was built in 1835. This character home was transformed into the first reception centre in the Swan Valley and has catered for weddings since the 1960's. In 2005 the House has undergone further changes with a blend of French and contemporary style re-furbishments.

The House has a maximum capacity of 180 guests for a sit down meal.

Marquee

The recently renovated Marquee is fitted with ten Swiss crystal chandeliers, ceiling silks with fairy lights, plush carpets and reverse cycle air conditioning.

A grand entrance foyer with full length mirror, a large contemporary bar and Italian style lounge furniture complete the truly decedent experience.

The Marquee has a maximum capacity of 250 guests for a sit down meal.

Hidden Garden Ceremonies

The Hidden Gardens is the Premium ceremony area. It may be booked by brides and grooms having their receptions in the House or Marquee reception rooms, or those wishing to only have their ceremony at Caversham House.

MV Karen Sue

Welcome aboard the Karen Sue, a classic handcrafted timber motor vessel available to charter for any occasion, any time of the year. Enjoy a comfortable, stylish cruise down the "Swan" with your guests and take in the natural beauty of the river.
What a magnificent way to arrive at Caversham House and the Hidden Gardens for your next function. Alight the stunning Karen Sue, onto our private jetty, and make a grand entrance towards the magnificent waterfall.

All bookings are for a minimum of 3 hours. Departing from Caversham House Jetty, collecting your guests downstream and return to Caversham House or plan a day out stopping at a number of locations on the river including some trendy bars in East Perth, Perth City and Applecross. We can create an itinerary to suite your company's requirements.
Location