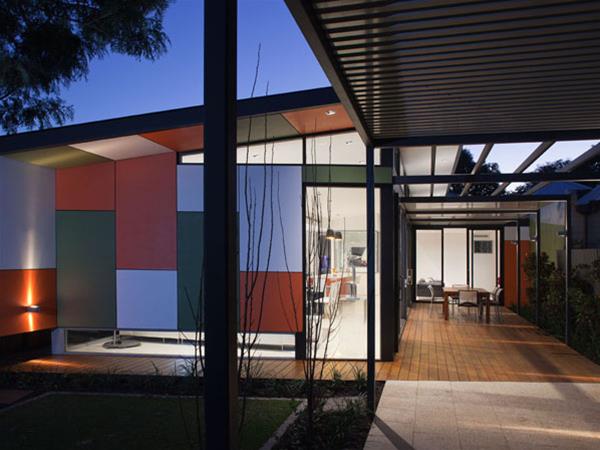 Turn of the century cottage fused with a modern contemporary extension resulting in a high impact, sustainable residence in two distinct forms.
Details
Home Design Style:Modern
Home Design Type:Courtyard,Interior Design,Modern,Renovation,Single Storey,Sustainable
Description
A tale of two contrasting forms. The existing timber clad + metal roof facade has been updated and brought back to life with a bright white statement offset and complemented with gun-metal grey trims and front timber picket fence. The idea was to maintain a symmetry that cements the classic, centred corridor of this era's homes. The modern extension to the rear contrasts the existing form. The boundaries of the open plan living disappear from the inside to the outdoor living area with the large double stacker charcoal glass sliding doors. The polished concrete floor to the new living space juxtaposes the existing jarrah floor to the entry hallway, and at this point all traces of the old cottage disappear as the modern extension captures your senses. The courtyard to the north and east wraps effortlessly around this form, bringing softer timber and landscape elements. The contrast between the quaint white cottage to Hensman Rd is sharply contrasted with this playful coloured eastern façade with expressed joints to compressed cement panels forming the architectural expression. An environmentally sustainable product where history meets the twenty-first century.
Related
Robert Andary Architecture Shenton Park Home
Robert Andary Architecture Melville Home
Location