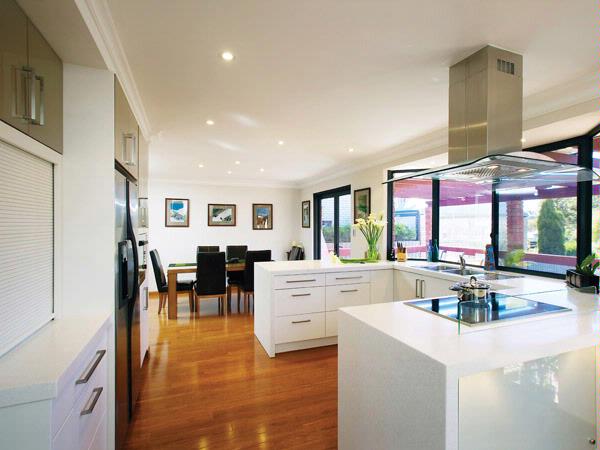 Lovely Dianella kitchen.
Details
Description
The 1980s style home needed a complete makeover, starting with the kitchen. The clients wanted to open up the original kitchen by removing walls to integrate the meals area, family area, new terrace and outdoor area.
The kitchen was to be modern, vibrant and utilise clean, glossy surfaces.

"The owners said that they were not afraid of having a really different design. Rather than making it too offbeat, we suggested the kitchen be modern with a touch of class." - Kitchen Capital WA.
The space also needed to be versatile with two keen cooks looking for an easy care workspace. A large U-shape maximises the benchtop area while dividing the dining and family room. Corian is suitable for large complex shapes with drop ends and no visible joins.
Coloured-glass cabinet doors are positioned opposite a wide expanse of glass windows to add impact and depth by reflection.The owners requested a glass splashback and a guard behind the hotplate, so a piece was added to the back of the bar, extending through the benchtop.
The owners added a new bay window and a rear deck entry was included to open up the kitchen to the outside.
Related
Location