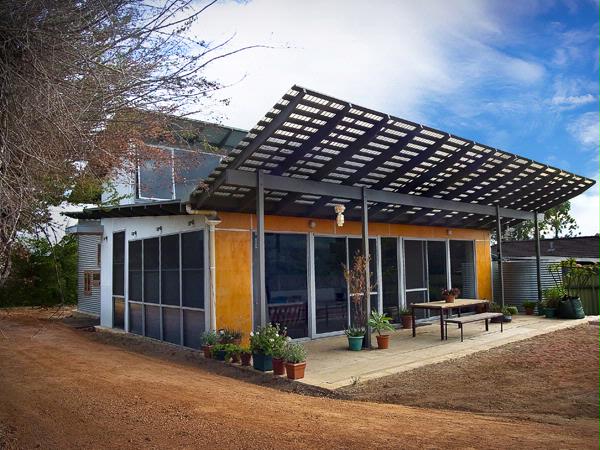 Paradigm Architects Kalamunda
Details
Description
With a suburban block in the Perth Hills, the client requested an ecologically-sensitive, compact home that was both modern and practical for a young professional couple, but would also be adaptable to family life. An efficient design was required in order to adhere to the restricted budget and accommodate for the minimal site frontage.
Proportions in plan and section were carefully considered, as was the colour palette, in order to enhance the perception of space.
With bedrooms to the 'cooler' south and living areas to the 'warmer' north, the home was carefully zoned to maximise northern exposure, while utilising breezes particular to the site. The careful location of windows allows for privacy while still providing views to the treetops and sky.
Low ceilings helped to create a feeling of intimacy and assist in heating, while a double-storey space to the entry and kitchen dramatises the light in this area.
The middle section of the home acts as a 'spine', with the entry to the east, kitchen in the centre and ancillary areas to the west. This spine is flanked by a thick rammed wall, which provides structure to the design, sheltering the more intimate bedroom space from the living area. It also assists in directing traffic, distributing breezes and stabilising the air temperature.
With its minimalist, restrained frontage, the home sits comfortably alongside its worker cottage neighbours, while the rear living areas feature alumiunium framing and expansive glass to reflect a modern aesthetic.
Related
Paradigm Architects Mosman Park Home
Paradigm Architects Margaret River Home
Location
Address: Unit 2, 55 Salvado Road,Subiaco,WA,6008
Phone: (08) 9388 1644
Email: [email protected]