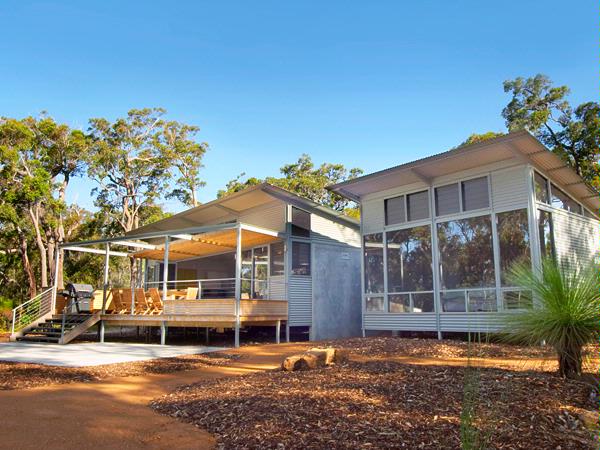 Details
Description
Paradigm Architects stuck by its philosophy of "form following function" with this contemporary 'bush' pavilion-style dwelling.T
he brief outlined a contemporary, sophisticated rural residence with an industrial feel using material such as concrete, steel and glass. "The design of the residence sought to merge industrial urban with elegant rural to provide a
contemporary architectural response to the Australian bush," says architect, Fiona Hogg. A strong visual and physical connection to the surrounding bush was requested and the house was to be positioned to retain mature trees and minimise
site disturbance where possible. Passive thermal design principles were also a constant consideration.

The design approach incorporated a pavilion style to separate various functional areas and minimise disturbance of mature trees located on the site. This approach also allows all areas of the residence to enjoy a strong connection to, and immersion in, the bush site.
A concrete tilt panel, corrugated steel and glass provide a contemporary palette of materials and finishes while still referencing the typical Australian rural building.
The use of tilt-up concrete panels provided an industrial reference with the natural imperfections in the colour of the panels reflecting the colours of the trees, foliage and soil in the surrounding environment. Pacific cedar was used for the deck
and screening – a timber which is both sustainable and naturally termite resistant, removing any need for toxic chemicals.
Materials were chosen with the intention to age gracefully and become further immersed in the bush with the regeneration of vegetation around the dwelling. For example, the timber was left unfinished to transform into a platinum grey colour,
therefore continuing to complement the residence over time.
The home was provided with two external living spaces with different qualities – a northern deck to enjoy solar access and external site views and a southern courtyard, encompassed by the pavilions of the house, to provide a more private
and shady summer retreat.
External colours were kept monochromatic to allow the building to be a "quiet" insertion on the landscape, allowing the surrounding bush to be an important element of the design. The main living pavilion is oriented to the north, permitting
access to north sun and views to the vineyard beyond.

Related
Paradigm Architects Mosman Park Home
Paradigm Architects Margaret River Home
Paradigm Architects Kalamunda
Location
Address: Unit 2, 55 Salvado Road,Subiaco,WA,6008
Phone: (08) 9388 1644
Email: [email protected]