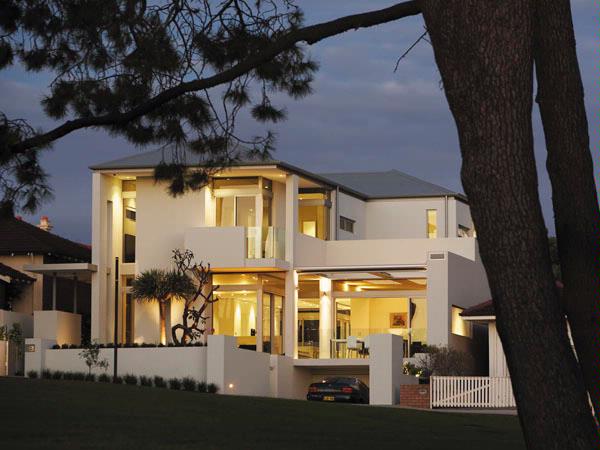 An important aspect of the Craig Steere Architects design ethos is an interest in creating timeless, functional and engaging architecture.
Details
Description
Architect Craig Steere ensured this family home met all requirements through a perfect combination of stunning aesthetics and practical living space.
The Shenton Park lake residence was to accommodate a sizeable family with three children and two dogs. The owner's brief included outdoor living space at both the front and the rear of the home, with views of the lake and park to be maximised where possible.
Good storage inside and outside was also on the request list along with low maintenance finishes, good use of natural light and sufficient entertaining space.
Craig Steere employed references to past and present in order to meet the client's brief and create an understated contemporary design.
"The aim was for the home to not be a "fashion of the day" statement or scream out to the street, but to offer a fresh, timeless and contemporary feel," says Craig.
The home's sculptural street facade enhances privacy and has the multiple benefit of shade from sun. Careful design offers an open plan, particularly on the ground floor, allowing a good outlook to the park from all areas (both inside and out) of the home.
Considered zoning provides easy-flowing functional rooms, perfect for entertaining, while also offering definition of spaces and a degree of privacy for each area to function well in a family home.
The central kitchen has commanding views to both the lake and pool, ensuring good supervision of the children in both locations and providing immediate access to outdoor entertaining areas and the internal dining room.
Built-in cabinet furniture provides most storage space in the home. A large storeroom located at the rear offers lane access for bicycles and other storage needs.
The flexible outdoor living space was planned to provide a good outlook to the pool and park while remaining convenient to the kitchen.
Aluminium electronic louvre blade roofs offer great sun and weather control inthe outdoor area. Webforge screening was used on the children's balcony to ensure privacy and provide intimate spaces for the bedrooms, with an excellent quality of light and ambience.
Related
Location
Address: 219 Onslow Road,Shenton Park,WA,6008
Phone: (08) 9380 4662
Email: [email protected]