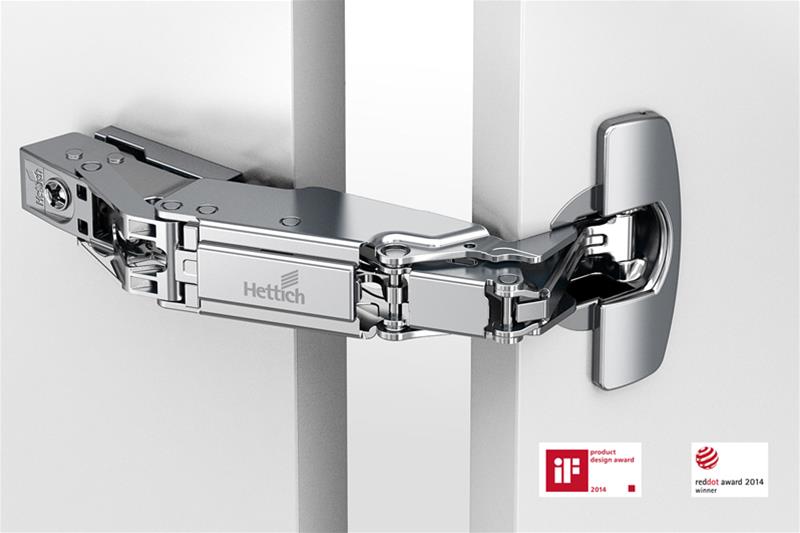 Hinges from Hettich, the heart of good doors. Unbeatable solutions for any range of furniture Innovative, reliable, untiring performers. Top quality, smart mounting and adjustment techniques.
Details
Residential:Bathroom Fitout,Kitchen & Bathroom Renovation,Kitchen Fitout
Description
The perfect connection between door and carcase at all times - precisely that is assured by the Hettich hinge range. Whether glass, metal, wood or lightweight material: the range includes the ideal hinge for every material and almost every application.
With or without the soft-closing function, we have the answer to any type of door mounting.
With soft-closing function:
Sensys, the hinge system with integrated soft-closing mechanism for even more convenience in closing hinged doors. Self-closing from a uniquely wide angle, Sensys takes care of closing doors almost by itself. Innovative, easy, gentle, quiet.

Added convenience in prize-winning design from Hettich.
Without soft-closing function:
Intermat is the handy and versatile hinge for fast assembly. It is particularly easy to fit and can be adjusted without effort. Intermat hinges can be used for virtually every application. Intermat offers tangible convenience in everyday use. With the optional Silent System, it lets cabinet doors close without a sound.
Sensys hinges are also available without soft closing function. To make your furniture ranges stand apart while leaving their design unchanged. Easy way of saving costs in the mid segment.
Handleless design: Push to open
Unique practical convenience from Hettich. With Easys, hinged doors open gently. A light press on the front initiates the electromechanical opening cycle. Purist, designer-style fronts for noticeable added value in looks and convenience. Heightened yet further in combination with softly closing Sensys hinges.
Related
Lighting in furniture from Hettich
Folding and sliding door systems from Hettich
Drawer Systems from Hettich
Location