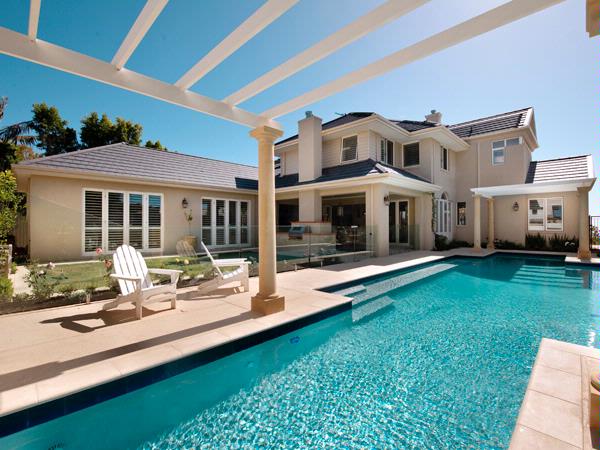 Kensington Design City Beach Home
Details
Description
Views of the beautiful blue stretch far north and far south from this 'Hamptons-style' abode.
The sensational views, along with the contrasting features of the dark and light interiors, are synonymous with the famous 19th century American architecture. The views can be eyed from most corners of the upper floor, which houses a lounge that stretches along the western frontage to maximise the scenery.
French doors on either side of a fireplace open from the lounge to a wide balcony, which not only allows for uninterrupted views but also welcomes the cool breeze throughout the upper level.
The generous master bedroom and ensuite, which are also on the upper level, are filled with plenty of natural light and the views can easily be seen from the bathtub when the slide-away screens are concealed.
The ground level of the house is just as striking, its large and airy entrance hall showcasing a wide staircase with a classic, white-painted, timber balustrade. The formal dining space located off the entry is a focal point with ocean views and direct access to the kitchen through double doors.
White cabinetry and Carrera marble benchtops are a feature of the kitchen, which sits adjacent to a traditional breakfast room. There is also a full scullery at one end of the kitchen, complete with a sink, dishwasher and working bench, ensuring plenty of space for entertaining.
The patio, with its fireplace and barbecue, is conveniently placed near the kitchen and is also protected from any prevailing winds.
White-painted, boarded balcony and patio ceilings are a standout feature, as is the gabled roof, which features a stone chimney; when combined with the white-and-grey colour scheme, they give the home a timeless appeal.
Related
Kensington Design East Fremantle Home
Kensington Design Dalkeith Home
Location
Address: 24 May Street,East Fremantle,WA,6158
Phone: (08) 9438 3288
Email: [email protected]