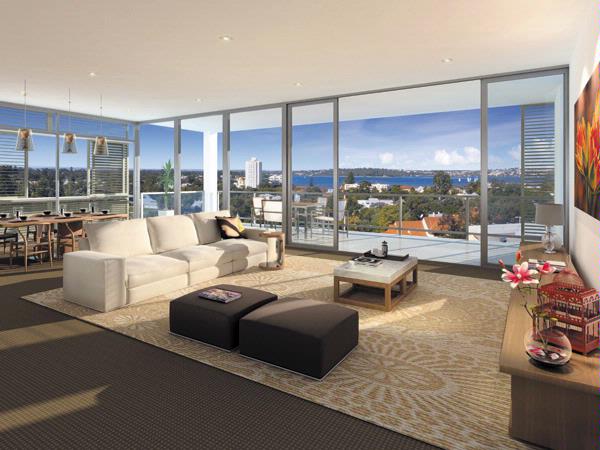 Claremont Quarter Project
Street frontage is the forecourt for the residences on a vibrant new town centre, highlighted by boutique retail outlets, restaurants and cafes.
Details
Description
The Claremont Quarter development is a joint venture development by Multiplex and the Hawaiian Group, who wanted the development to comprise of luxury apartments and penthouses behind mixed-use retail frontage right in the heart of Claremont.They appointed James Christou + Partners Architects in association with Hassell (formerly Spowers) to design the development which needed to contain versatile floor spaces, elegant finishes and a true sense of style.

Comprising 29,000sqm of retail space and 77 apartments over two stages, an upmarket selection of apartment layouts with large balconies were to provide spacious outdoor entertaining areas. The design also needed to make the most of
city and river views, or benefit from a northerly orientation over the main terrace area and swimming pool for those not oriented outward.
The residential component of the Claremont Village development is strategically placed within the overall design. The four-storey apartment building sits above and well back from the hustle and bustle of the local retailing streets below.
It's been designed to fit unobtrusively within the urban fabric, complementing the character of the Claremont area. "The joint venture client together with our architects have invested the time and effort to make the Claremont Quarter project a premium and unique mixed-use venue which will set a national benchmark," says Marcus Le Messurier of Multiplex
Developments Australia.
The project design director, James Christou, worked closely with the clients and Multiplex Living to develop the brief, obtain approvals, direct the design and documentation for the mixed-use retail and residential complex. There's a definite distinction between the mix of architectural styles, which make up the retail street frontages, and the clear, singular lines of the residential apartments above.
"The residential design 'floats' over the retail," says architect James Christou."The penthouse level is set back even further, nestled under the over sailing roof which adds to the building's apparent lightness." The commonly assumed pitfalls of apartment living have been well combated throughout the design. The individual apartments all have wide frontages with extensive balconies adjoining main living areas and bedrooms to make the most of alfresco opportunities.
The spacious layouts of the living areas add to the idea of an open plan lifestyle, and provision of good storage facilities has been key. The high level of quality and sophisticated detailing extends from the external balconies with their sun shading devices, through to the kitchens and bathrooms with their sharp clean designs, high quality fixtures and fittings and subtle lighting.
The secluded pool deck at the entry level of the development provides vital outdoor amenity for its residents while maintaining their privacy. "The Claremont Residences have been thoughtfully designed by James Christou + Partners Architects to integrate seamlessly with the existing fabric of the Claremont Village that we all know and love," says Stuart Duplock of Hawaiian.
Location