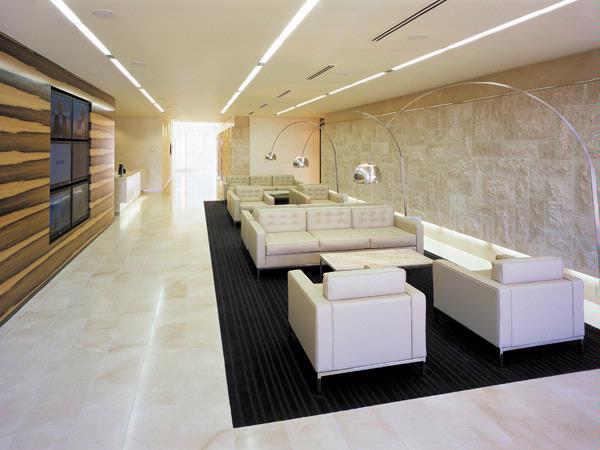 HBO+EMTB is one of Asia Pacific's leading multi-disciplinary design practices. Offering expertise in architecture, interior design, workplace strategy, urban design, landscape architecture and heritage, HBO+EMTB provides a service that accounts for a facility's full lifecycle. Today, the company conducts business from offices in 10 countries, with HBO+EMTB representing more than a century of design excellence.
Details
Description
Deloitte's make-over of their office fitouts involved all Australian offices, undertaken by HBO+EMTB.
Deloitte expressed a desire to promote the notion "it feels better to be working with Deloitte". Consultation with staff had encouraged buy-in, and allowed the design to address specific user requirements within the parameters of the existing accommodation. Deloitte wanted to establish a quality environment that differentiated them from competitors, and psychologically reinforced the Deloitte 'brand' to staff, future employees and clients.
Initially HBO+EMTB was called on to refurbish one floor of Deloitte's Sydney offices to allow the relocation of Trowbridge Deloitte. The success of this Sydney fitout governed the consequent engagement for the remaining accommodation requirements in other cities.
Deloitte commissioned HBO+EMTB to devise a national accommodation solution for all offices, including its Perth, Brisbane, Sydney, Melbourne, Canberra and Adelaide tenancies.
Rather than undertaking the initial 1800sqm refurbishment in isolation, HBO+EMTB adopted a holistic design approach which considered the client's broader accommodation requirements. A vision statement and facility brief was developed, outlining Deloitte's expectations of its facilities into the future. The established spatial standards, design principles and a 'kits-of-parts' were then applied across all offices around Australia.
The design opens up the existing work environment, providing a creative, flowingsense of space. Built zones are concentrated around the core, maximising natural light. Low screens and removal of barriers allow communication and vistas across the floor. Limiting built zones, where possible, to meeting rooms facilitates openness in both the physical and cultural sense.Centrally located multifunctional breakout spaces,all with connectivity,serve ascausal extensions of meeting areas and additional channels aiding interaction and collaboration.
Key to the design solution was the ability to accommodate the varied, changingneeds of Deloitte's business lines, ranging from office orientated divisions to openplan, flat structure groups. The selection of 120-degree workstation systems allows for easy reconfiguration, resulting in an organic flow free from rigid corridors, deadends or hidden groups.
Power and data is delivered through flexible "umbilical cords" which plug into consolidation points in the ceiling. A variety of work practices are also seamlessly accommodated through initiatives like hot-desking, which is available to transient staff such as those working predominately from home or based in a client's office.
Such flexibility is also evident in the design's modular features, with all offices and meeting rooms of identical size allowing the client to accommodate change with ease.
The result is a sophisticated, quality and innovative environment that reinforces Deloitte's culture and brand, and was recognised with the Design Institute of Australia (WAChapter) award for Corporate Interior Design 2005.
Related
Location