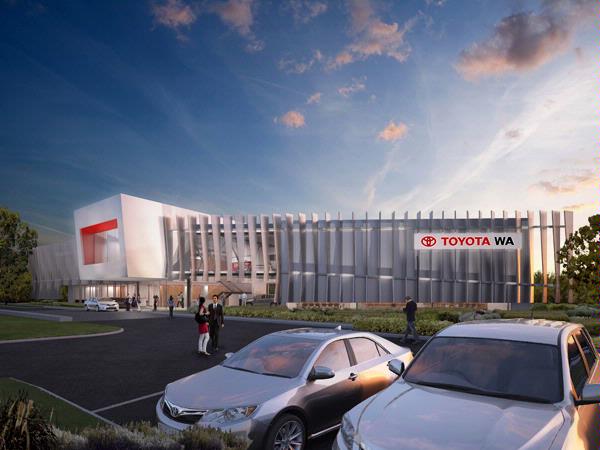 The Toyota WA Head Office is a dynamic response to a brief for an office and conference building reflects the environmental message and core values of a sophisticated client.
Details
Description
Roxby Architects won the design competition for Toyota WA's new 5 Green Star head office building from amongst four leading local and international architecture practices. The building is part of a $20m complex that will amalgamate Toyota WA's facilities to a single location with completion expected in 2013. The 1555sqm, two-storey design features a façade of perforated aluminium blades to provide a visually dynamic experience to passing traffic whilst virtually eliminating direct solar penetration to the building. The blades themselves are individually aligned to enhance the sensation of movement, an idea reflective of Toyota's 'Kaizan' philosophy of continuous innovation.

The feature also keeps heat gain through the facade to a minimum, allowing the highly efficient building air conditioning systems to further reduce energy consumption.

The work and public spaces have been planned to allow staff to make best use of natural ventilation and daylighting, which is predicted to provide a comfortable interior environment for 60 per cent of the year without air-conditioning.

A key feature of the design is the strong connection to the outdoor environment, with the staff cafe facilities and conference lobby spaces providing direct connections to the generous landscaped surroundings.

Visitors to the building will be able to observe exactly how much energy and water the building is saving on a super large LED display screen in the lobby, and see how the good design and exceptional internal environment minimises energy consumption. Similarly, office workers can get live feedback to see how their own performance impacts on the energy efficiency of the building.
In 2014 Roxby Architects took home the highest honour at the Australian Institute of Architects WA Architecture Awards, the George Temple Poole Award, for its work on the building. The judging panel commented on the project's sophisticated design response to the purpose-specific client brief, and their ability to create a landmark site within one of WA's largest industrial areas.
Related
Location
Address: 1/20 Jersey Street,Jolimont,WA,6008
Phone: (08) 9380 4044
Email: [email protected]