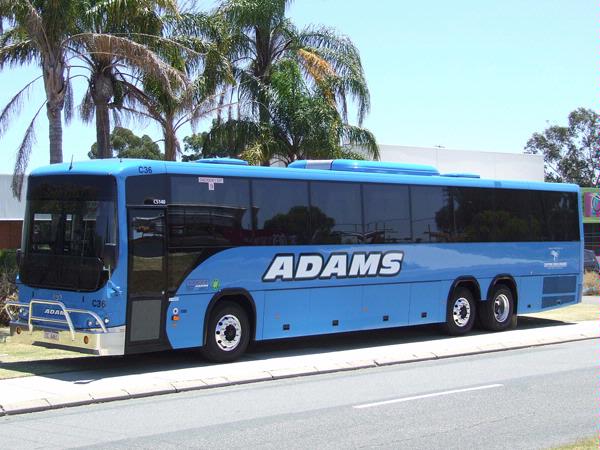 From airport transfers to full-day and extended city and country tours, this company's a quality one-stop-shop for bus and coach transport.
Details
Description
The superior quality of the fleet and attention to detail in the service we provide means our clients have the best possible coaching experience. Our fleet range means we can meet all of our clients' individual bus and coach requirements.

ADAMS has over 45 buses of various sizes from luxury sedan limousines, 10 seater mini vans all the way up to 60+ seater five star luxury coaches. ADAMS Coachlines are also the proud Western Australian operator of Nightcruiser Party Buses providing the WA fleet of party buses under license to Showworld Corporation. Check out Nightcruiser now to book your next Party bus.....

Profile:

The vision of ADAMS Coachlines founder, Adam Barnard, is to offer Perth a quality one-stop-shop for all its bus and coach requirements. Adam believes it's his mechanical and logistical experience from the Australian Army that has catapulted ADAMS Coachlines into the success it is today. Coupled with the dedication of all his staff to provide the best possible bus and coach services, has meant that Adam has built a very successful business from very humble beginnings, within the past few years.

ADAMS Coachlines are constantly updating their fleet to ensure the very highest standards of safety and reliability are always maintained. All of our driver's and Coach Captains are provided with full induction training prior to commencing employment and carrying passengers. Our fleet is kept in peak condition by our own engineers utilizing our own onsite and mobile workshops.

The ADAMS Experience:

ADAMS Coachlines is all about the experience. Our vision is simple– to give you, the customer, the best possible bus and coaching experience.
Your positive ADAMS experience will commence with our highly motivated, courteous administration staff that will assist you with your booking using the most technically advanced reservation system available, which in turn ensures the prompt arrival of your bus or coach. You will find ours is the most modern fleet of charter vehicles available in Perth and afford you the very highest standards of comfort, safety and reliability.

Your experience continues with the high standards of customer service offered by our Bus drivers and Coach Captains who have all undertaken ADAMS Coachlines comprehensive induction and training. Upon the timely arrival at your destination we will encourage you to provide your driver or captain with feedback on your ADAMS experience. Your valued feedback will enable ADAMS Coachlines to maintain the highest standards in bus or coach charters.

Our Personnel:

We recognize the strength of our company comes from our people. Consequently we try to ensure that all our Bus Drivers, Coach Captains and support personnel are highly motivated individuals through providing a friendly and productive workplace and remaining sensitive to the needs of our personnel's individual families. ADAMS Coachlines employs more than 70 staff on the road and in support roles from our brand new purpose built depot in Malaga. All of our Bus Drivers and Coach Captains are highly experienced individuals, with a combined total of over 300 years driving experience between them and covering in excess of 1.7 million km's annually.

Fleet:

ADAMS Coachlines fleet of over 45 vehicles means we are sure to have the bus or coach to meet your requirements. Our total fleet capacity exceeds 2500 passenger seats and range from 10 seater Mini Vans to 60+ seat five star luxury coaches. Our onsite and mobile workshop facilities and engineers ensure each vehicle is maintained to its peak condition and our quality control and safety are assured by a sophisticated computer maintenance system

Luxury Coaches:

ADAMS Coachlines has a fleet of over 20 coaches that are luxuriously appointed with:

• Comfortable reclining seats.
• Seat belts.
• Large panoramic windows.
• Air conditioning.
• Entertainment system.
• Many have toilet facilities.

Every ADAMS coach is maintained in peak condition by our own engineers, in our own workshops and thoroughly cleaned after each trip. Our quality control and safety standards are assured by a sophisticated computer maintenance system.

Buses:

Our buses provide clean, comfortable and economical travel for shorter journeys. All our buses undergo the same maintenance standards as our five star luxury vehicles, to ensure they remain in peak condition and provide a safe reliable service.The ADAMS standard bus range includes capacities of both 45 and 70 seat articulated buses.

Maintenance:

ADAMS Coachlines maintains its fleet to the highest standards, exceeding the requirements' of the Omnibus Operators Standards Scheme. We have our own onsite full time mechanics ensuring that all our vehicle engines are maintained on a regular basis to ensure consistent reliability at all times.

ADAMS maintains its fleets according to our generic schedule. Every vehicle is serviced every 10,000 km and undergoes a vehicle safety inspection every 3 months, followed by an annual inspection by the Department of Planning and Infrastructure vehicle inspection officers. In addition to this, all ADAMS vehicles are inspected daily by the driver prior to departing the depot.

Private Charters:

Our range of services extended to private charter hires for all your occasions, including;

• Wedding Guest Hire
• Swan Valley Day Tours
• Extended Charters
• Social Clubs
• Concert transport
• and more

Corporate Charter:

Whether it's a 10 or 64 seater coach you require, our extensive range of luxury coaches means ADAMS Coachlines can meet all of our corporate clients coaching requirements for:

• Partners packages.
• Day tours.
• Conferences and events.

Our team of reservation specialists will assist you every step of the way to ensure your event runs perfectly. The state-of-the-art booking system we use means that our operations staff are available to manage and supervise all large multi-vehicle movements.

Our fleet is radio controlled using our own private frequencies and we monitor live traffic feeds from Main Roads Department notifying our drivers of any potential traffic hot spots to avoid, ensuring you get to where you need to go on time.


Location