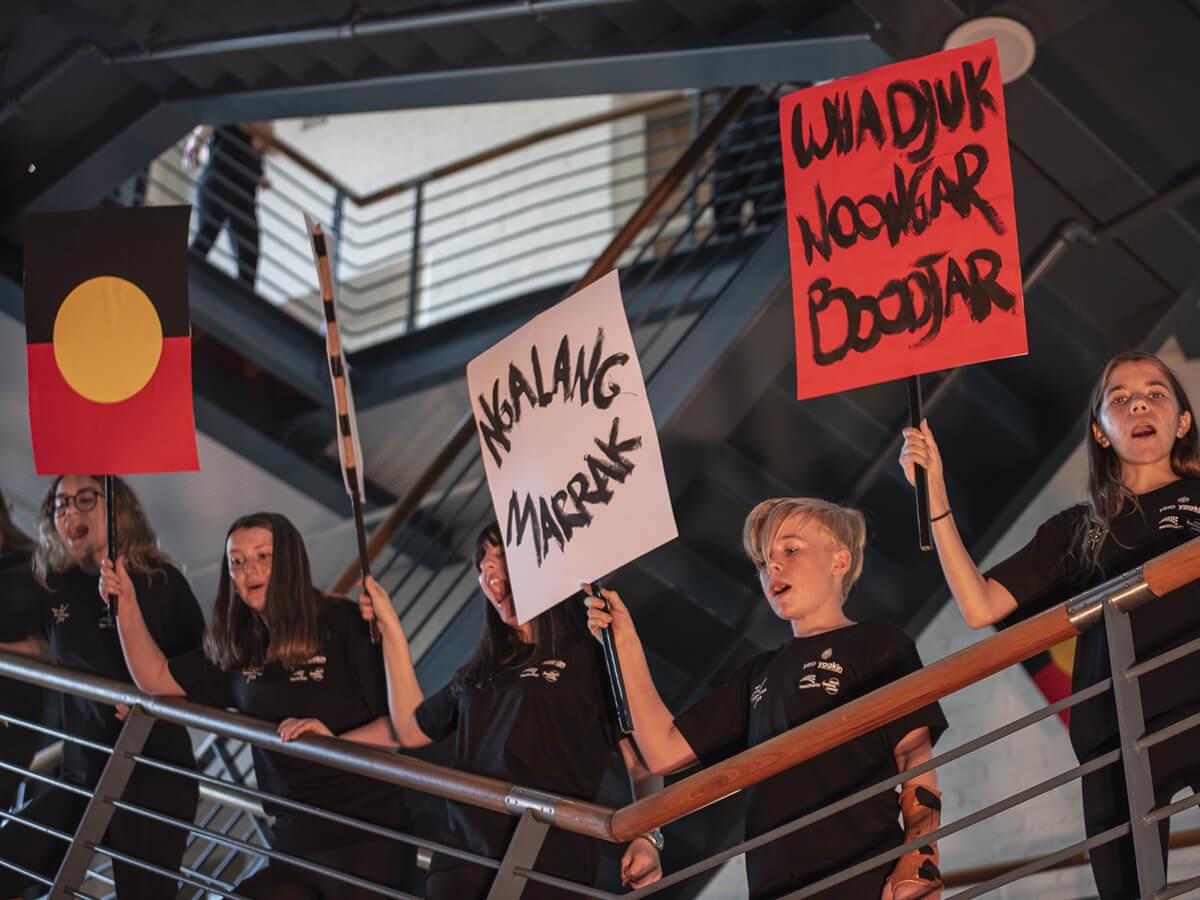 Ngalaka Daa Ensemble
2022 will see the continuation of the Ngalaka Daa Ensemble through a collaboration between Yirra Yaakin Theatre Company and WAYTCo.
Dates:Apr 27 - Aug 12
Venue:WAYTCo, King Street Arts Centre
Details
Ticket Price:Free
Venue:WAYTCo, King Street Arts Centre
Description
Driven by the sharing of Noongar language and culture, the program will provide participants with the opportunity to receive intensive development in theatre making, performance and language skills at a professional level. Successful participants will partake in an intense series of workshops and rehearsals leading to a number of curated public performance opportunities. As a member of the Ngalaka Daa Ensemble, participants will gain access to training with industry leaders including performance preparation, vocal techniques, movement techniques / physicality, Noongar language (comprehension and articulation), acting techniques (various forms and styles), monologues, dialogues and ensemble work, embodiment of text and Noongar physical theatre processes. In addition to providing people with opportunities to participate in the arts, the Ngalaka Daa Ensemble is also an avenue in promoting the sustainability of one of the oldest languages in the world, while promoting cultural awareness and reconciliation, along with a greater sense of connection and understanding of the communities they live in.
Events
Yirra Yaakin Vignette Series
Which Way? First Nations Poetry Workshops
Moorla-Na Bulla Woola Boolangul
Moorditja Wirla Workshops
Behind The Scenes Workshop Series
Related
Steps Youth Dance Company
Community Arts Network Western Australia
Artsource PD: Intro. to Public Art Masterclass
Location
Venue:WAYTCo, King Street Arts Centre
Address: WAYTCo, King Street Art Centre, 357/365 Murray Street,Perth,WA,6000
Phone: 9380 3049
Email: [email protected]