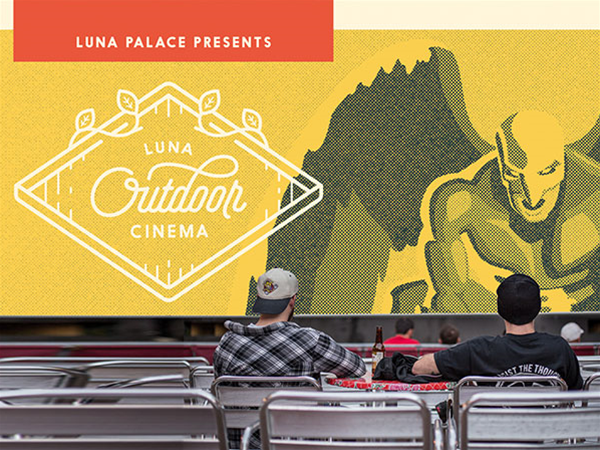 Luna Outdoor Cinema
Luna Outdoor presents another exciting summer of movies in their unique outdoor garden cinema where you can relax in comfy bean bags and watch the latest films on the latest digital technology.
Dates:Dec 2 - Feb 9
Venue:Luna Outdoor Cinema
Details
Hosted By:Luna Palace Cinemas
Venue:Luna Outdoor Cinema
Description
Luna Outdoor Cinema is located behind the cinema at 155 Oxford Street, Leederville. Tickets are to be purchased from the indoor box office and entry is either through the laneway or the Luna Lounge. The outdoor cinema is fully licensed and has a range of snack options – please go to the Food and drink section of this website to find out more.
The seating is a mixture of bean bags and table and chair seating. It is an intimate outdoor venue, and therefore it has not only become home to a number of gnomes, it has also become advisable to pre purchase tickets – especially during the busy summer holiday period.
One of the highlights of the summer season is the interactive screenings of The Room – screening once or twice or month in summer, these nights are a hoot and they hosted by the incomparable Tristan Fidler. There is a very, very strong rumour going around that Tommy may be visiting us in March. Stay tuned!
We hope to see you here soon. Any questions, please call Luna on 9444 4056.
Luna Outdoor is FULLY LICENSED (*must be 18 years+ to order alcohol) featuring a selection of fine wines and premium beers as well as tasty Luna Outdoor Blue Cow Cheese Company Platters featuring a fulfilling selection of cheeses (Blue Cow Capel Cheddar and Double Brie), a delicious assortment of Black Swan Dips plus Blue Cow Crispbread that are available from the Luna Lounge bar. In addition Luna Lounge will be providing a new summer menu that include tasty variety of Quesadillas and Hotdogs and Beer plus refreshing summer drinks that will quench that thirst! As Luna is a licensed venue - there is no BYO.
Related
Location
Venue:Luna Outdoor Cinema
Address: 155 Oxford Street,Leederville,WA,6007
Phone: (08) 9444 4056
Email: [email protected]