Fortified Wine Variety Wineries in Yallingup
Wineries in Yallingup
region=yallingup&type=wineries&categories=125831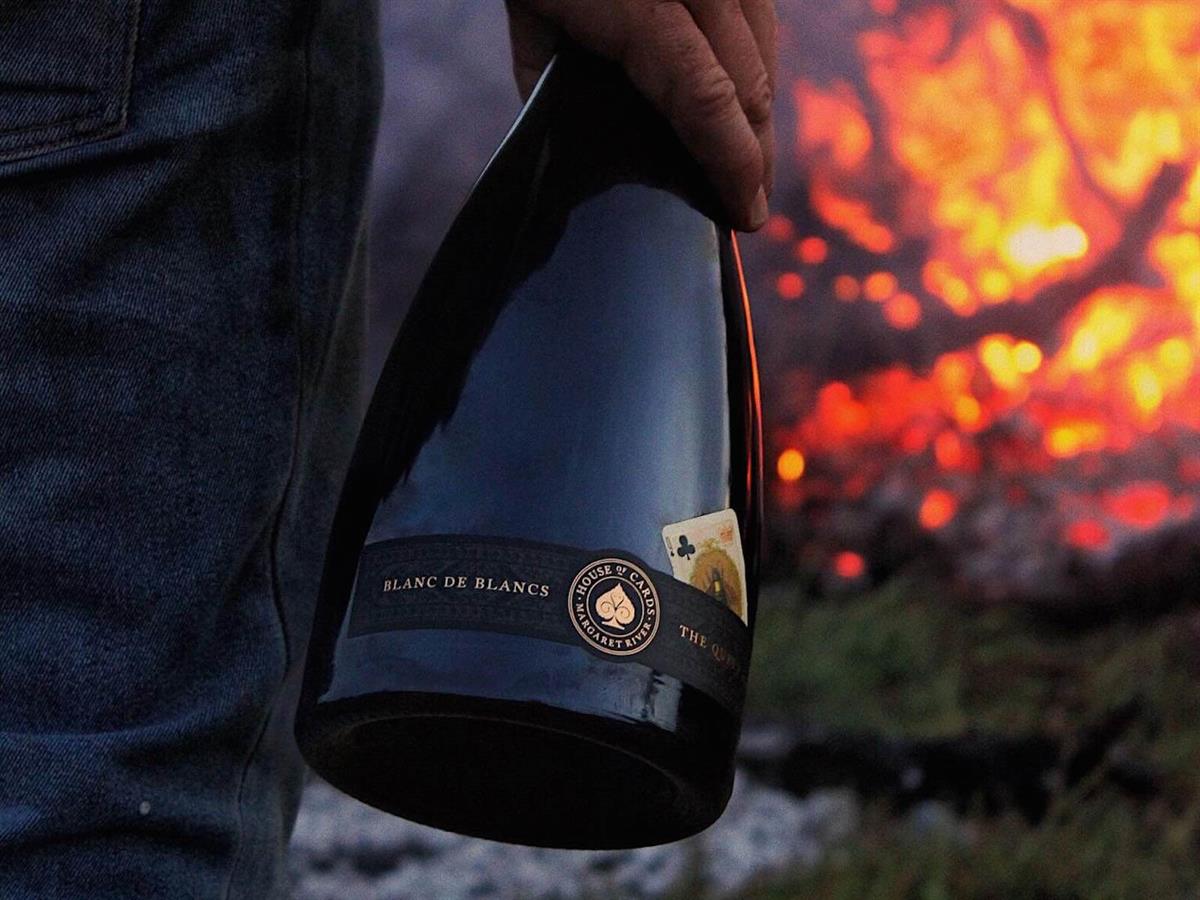 100% single organic vineyard winery, where every wine is handcrafted to the finest detail.
Wine Variety:Cabernet,Cabernet Malbec,Cabernet Merlot,Cabernet Sauvignon,Chardonnay,Tawny,Sauvignon Blanc,Shiraz,Sparkling,Fortified,Rosé
Wine Region:Margaret River
Open Days/times:10am-5pm Everyday
Details
Cellar Door Open:Monday,Tuesday,Wednesday,Thursday,Friday,Saturday,Sunday
Established:2011
Facilities:Cellar Door,Gallery,Picnic Facilities,Dogs Welcome
Margaret River:Yallingup
Cases Produced:5000
Vineyards:12 hectares
Winemaker:Travis Wray
Size & Year:Small (5,000-49,999 cases)
Description
The name House of Cards is inspired by the gamble winemakers and growers take every vintage, forced to play the hand they are dealt by Mother Nature. Owners Travis and Elizabeth Wray are personally involved in every aspect of operations, from tending the vines to making wine, bottling, marketing and sales.
The Wines
The fruit that goes into House of Cards wine all comes from a single vineyard planted in 1997 on Caves Road at the Northern end of the Margaret River Wine Region, enabling the unique terroir to be reflected in each vintage. To get the best 'hand' possible, organic and biodynamic principles are used to improve soil health and vine nutrition. The vineyard is dry grown and cropped at low levels to increase concentration of fruit flavours. The rest is up to Mother Nature.
Wine Tasting
Vistors can taste the entire wine range at House of Card's gorgeous Cellar Door.
Unique Highlights
Check out a selection of art and jewellery by local and Australian artists. Guests can also enoy dining at the on-site restaurant Chows Table.
Halliday Rating
5 Black Stars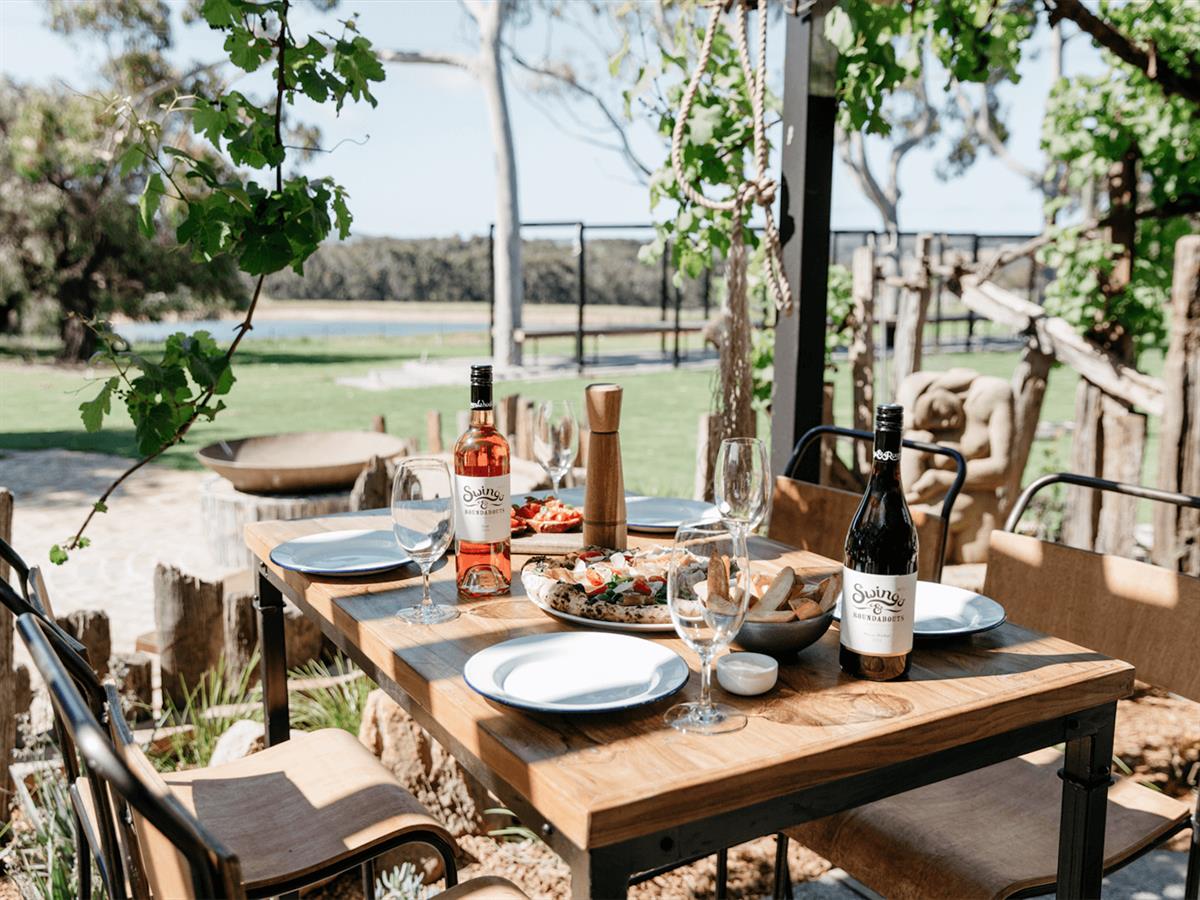 Sit back, Relax & Unwind at Swings & Roundabouts newly renovated Cellar Door & Restaurant located on the iconic Caves Road. Enjoy some of the best views & open fires in Margaret River!
Open Days/times:Cellar Door 10-5 pm Restaurant 11-4 pm
Wine Region:Margaret River
Wine Variety:Cabernet,Cabernet Merlot,Chenin Blanc,Malbec,Merlot,Sauvignon Blanc Semillon,Cabernet Sauvignon,Chardonnay,Shiraz,Fortified,Sparkling,Rosé
Details
Brands:Swings & Roundabouts
Cases Produced:15000
Established:2004
Wheelchair Access:Ramps and walkways link the car park and all facilities, wheelchair-modified bathrooms available
Winemaker:Jodie Barton
Facilities:Cellar Door,Dogs Welcome,Functions,Picnic Facilities,Restaurant
Cellar Door Open:Monday,Tuesday,Wednesday,Thursday,Friday,Saturday,Sunday,Holidays
Lunch Open:Monday,Tuesday,Wednesday,Thursday,Friday,Saturday,Sunday,Holidays
Description
Established in 2004 Swings & Roundabouts is based in the northern end of the Margaret River wine region. The cellar door & restaurant venue is situated on their vineyard located on the iconic Caves Road, Yallingup and has recently undergone a total renovation. The new space is industrial organic in style and now has a dedicated wine tasting bar, VIP tasting room, sunken fire pit area, huge feasting table set amongst majestic gumtrees & an expansive lawn area with arguably the best views in Margaret River! The atmosphere is friendly, laid back and above all, relaxed!
Open Daily 10-5pm Cellar Door, 11- 4pm Restaurant.
Whole Family Friendly Including your Doggo's
Check the website www.swings.com.au for seasonal extended opening hours, online bookings & wine specials.
E: admin@swings.com.au / T: (08) 9756 6735 / @swinground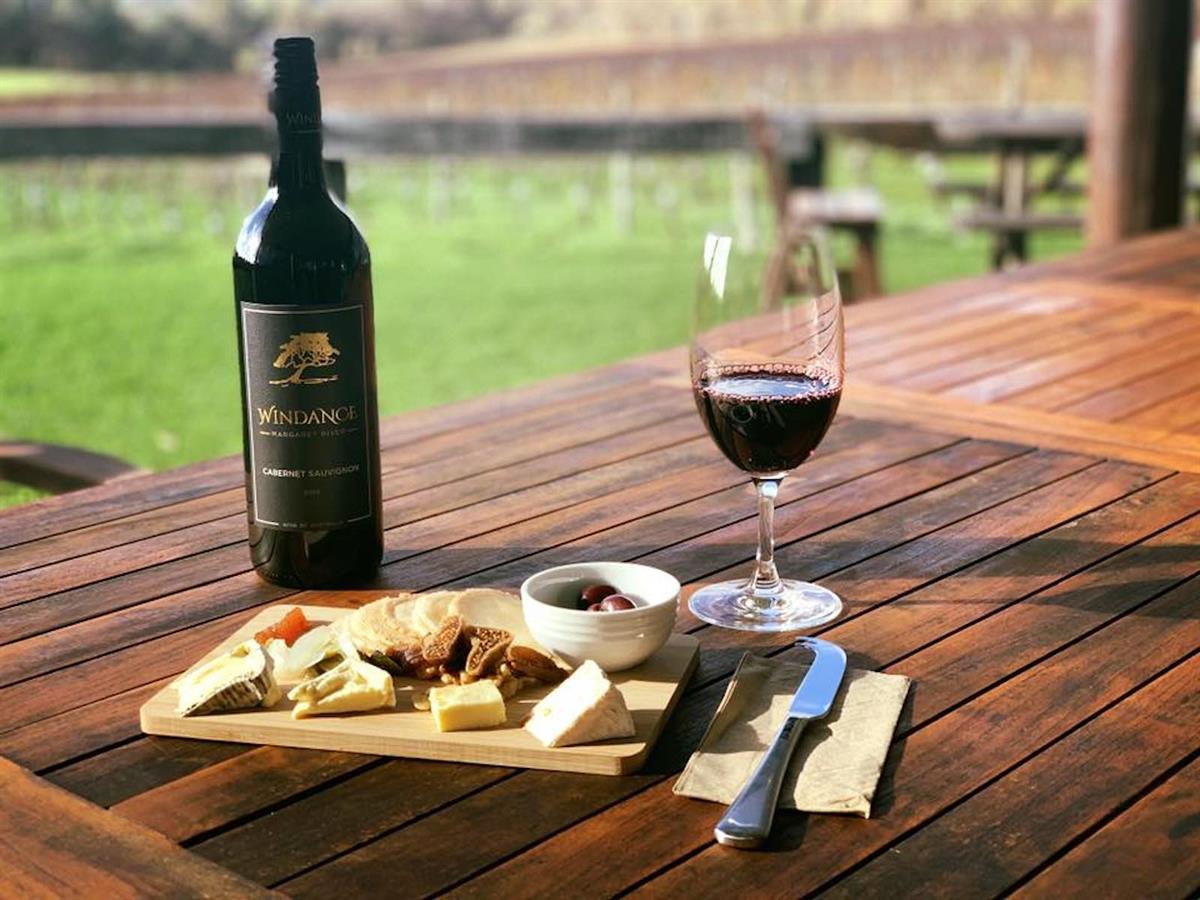 Enjoy superb wines from one of Margaret River's most awarded boutique producers at their relaxed, modern and child-friendly cellar door.
Wine Variety:Cabernet,Cabernet Merlot,Cabernet Shiraz,Chenin Blanc,Merlot,Sauvignon Blanc Semillon,Chardonnay,Shiraz,Cabernet Sauvignon,Rosé,Topaque,Fortified
Wine Region:Margaret River
Open Days/times:10am - 5pm Everyday
Details
Established:1998
Facilities:Cellar Door
Size & Year:Established 1951 - 2000,Boutique (1,000-4,999 cases)
Cellar Door Open:Tuesday,Wednesday,Thursday,Friday,Saturday,Sunday,Holidays,Monday
Cases Produced:3500
Vineyards:7.25 hectares
Winemaker:Tyke Wheatley
Margaret River:Yallingup
Description
Windance Estate is a family owned and operated vineyard established by Drew and Rosemary Brent-White in 1998. The relaxed, family-friendly atmosphere allows the wine to do the talking. There's a modern tasting bar, children's playroom and outdoor seating for spectacular views over the vineyard.
A focus on sustainable land management and environmentally friendly viticultural practices produces their quality range of sparkling, white, red and fortified wines.
Winner of more than 10 trophies and 40 gold medals, Windance is one of the most successful small producers in the region. Award highlights include "Best West Australian Red" at the Perth Royal Wine Show, "Wine of Show" and "Best Cabernet" at the Margaret River Wine Show, "Best White Blend" at the Boutique Wine Awards and "Best White Blend" at the Qantas Mt Barker Wine Show.
Being a small, family business, bookings are requested for tasting groups of 6 or more people.
We've been blessed with some balmy summer evenings over the last few weeks, which means it's the perfect time to...
Read More