Medium (50,000-499,999 cases) Size & Year Wineries in Wilyabrup
Wineries in Wilyabrup
categories=101255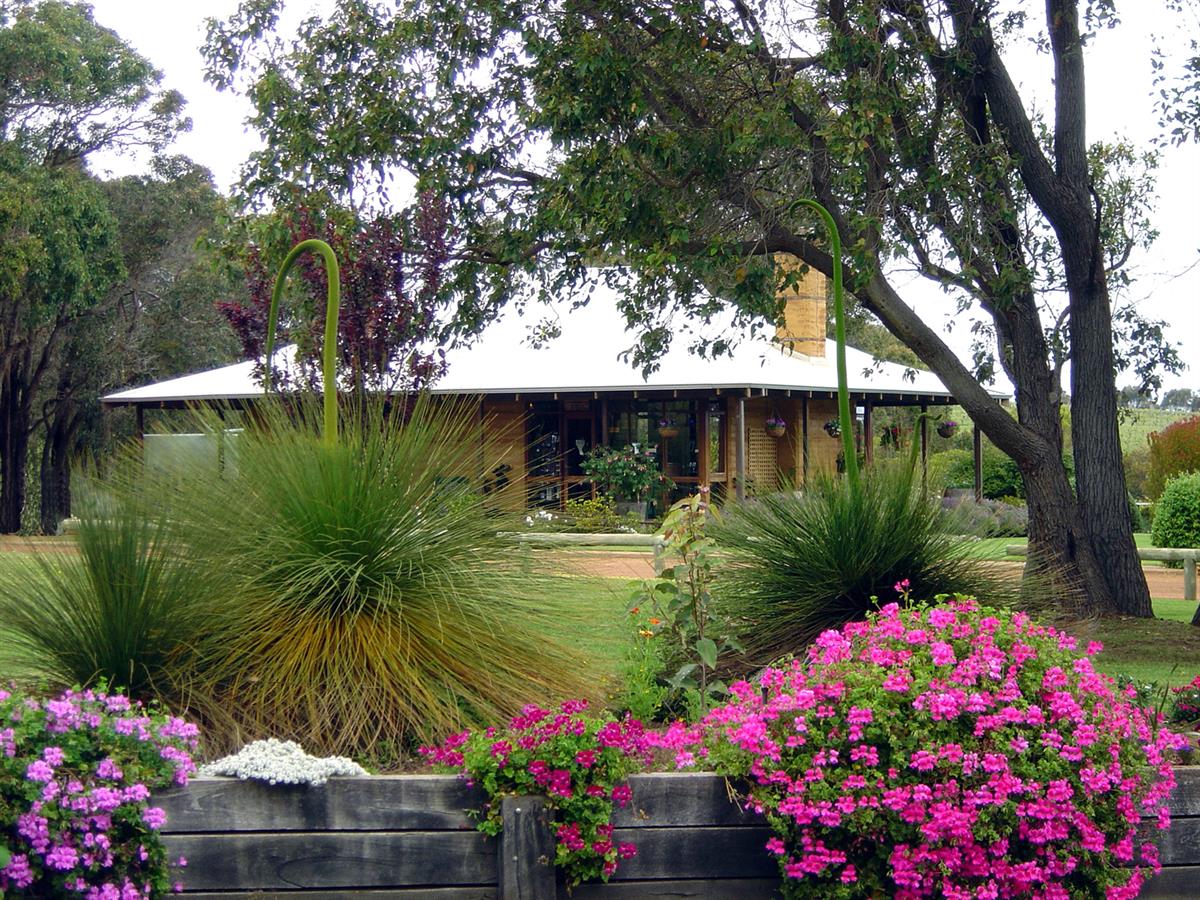 One of Australia's oldest and largest family-owned wineries, the Margaret River rammed-earth cellar door is surrounded by beautiful, country gardens, vines and native forest.
Open Days/times:Cellar door: 10am to 5pm daily. Restaurant: 12pm to 2:45pm daily.
Wine Region:Margaret River
Wine Variety:Sparkling,Fortified,Dessert,Botrytis Semillon,Cabernet Merlot,Cabernet Sauvignon,Chardonnay,Classic Dry White,Merlot,Merlot Blend,Rosé,Sauvignon Blanc,Sauvignon Blanc Semillon,Shiraz,Shiraz Cabernet,Syrah,Verdelho,Viognier
Details
Brands:Margaret River Range, Estate Reserve, Prendiville Reserve, Element Range
Cases Produced:60000 Cases
Established:1840
Vineyards:300ha
Winemaker:Hope Metcalf
Facilities:Cellar Door,Picnic Facilities,BBQ Facilities,Dogs Welcome
Size & Year:Medium (50,000-499,999 cases),Established 1800 - 1850
Cellar Door Open:Monday,Tuesday,Wednesday,Thursday,Friday,Saturday,Sunday
Margaret River:Wilyabrup
Description
Sandalford has been making superb West Australian wines for over 175 years. While the primary property is in the Swan Valley, the Margaret River cellar door is worth visiting, a cleverly-designed space made from rammed earth, surrounded by beautiful, country gardens, vines and native forest. Open daily from 10am to 5pm, a pergola and onsite BBQs make Sandalford a lovely place for a picnic with the family.
A Notable History
Sandalford was established in 1840 in the early days of the Perth colony's settlement. The property was granted to WA's first Surveyor General John Septimus Roe by Queen Victoria, to honour his 57 years of Service to the Commonwealth. He named it Sandalford after a priory in his original home of Birkshire, England.
The property had a diverse agricultural history and originally thrived growing table grapes, which became a lucrative export. Winemaking accelerated after World War II with a growing community of Croatian and Italian migrants bringing vast knowledge and techniques to the young Swan Valley wine industry. In 1970 the Roe family expanded to Margaret River, planting a vineyard on prime land in Wilyabrup.
In 1990, Sandalford was acquired by the Prendiville family, who own a portfolio of iconic tourism and hospitality establishments around WA. The Prendiville's have invested significantly in the brand, the wines and the impressive estate.
The Wines
Sandalford makes five ranges of wines from its vineyards in the Swan Valley and Margaret River. There are over 25 wines, including sparkling, red, white, dessert and fortified wines. The winery incorporates the state-of-the-art-technology, while retaining winemaking traditions, such as small batch fruit processing and using the best quality French and American oak.
Wine Tasting
The entire Sandalford wine range (and often some other special wines) can be tasted at their Margaret River cellar door and grand Swan Valley estate. The Margaret River cellar door is a cleverly-designed space, made from rammed earth. It is surrounded by beautiful, country gardens, vines and native forest.
Unique Highlights
A pergola and onsite BBQs make Sandalford a lovely place for a picnic with the family.
Open daily from 10am to 5pm.
Margaret River's founding wine estate and winner of the international 2017 New World Winery of the Year Award. Offering an exceptional wine collection, wine lounge, restaurant, art gallery and museum.
Wine Variety:Sparkling,Malbec,Sauvignon Blanc,Semillon,Semillon Sauvignon Blanc,Syrah,Cabernet Merlot,Chardonnay,Classic Dry White,Shiraz,Dessert,Cabernet Sauvignon,Sauvignon Blanc Semillon
Open Days/times:7 days 10am-5pm
Wine Region:Margaret River
Details
Cellar Door Open:Tuesday,Wednesday,Thursday,Friday,Saturday,Sunday,Holidays,Monday
Lunch Open:Holidays,Monday,Tuesday,Wednesday,Thursday,Friday,Saturday,Sunday
Margaret River:Wilyabrup
Facilities:Light Food,Functions,Cellar Door,Gallery,Restaurant
Cases Produced:150 000 cases
Vineyards:260 hectares
Winemaker:Virginia Willcock
Size & Year:Medium (50,000-499,999 cases),Established 1951 - 2000
Established:1967
Description
Established in 1967 by regional pioneer Dr Tom Cullity, Vasse Felix is Margaret River's founding wine estate.
One of the great wine regions of the world, Margaret River enjoys a truly unique environment and climate which makes it a paradise for winemakers and wine lovers alike. From the first plantings right up to the modern day, Vasse Felix has always strived to explore and express the very best of the Margaret River region and to share it globally.
Owned by the Holmes a Court family since 1987, Vasse Felix has carefully expanded its vineyards over the decades to include four distinct and exceptional sites around the Margaret River region. Each vineyard is matched to the best possible varieties and clones, and farmed sustainably using traditional and organic practices.
In 2017 Vasse Felix was awarded the international title of 'New World Winery of the Year' by US Wine Enthusiast Magazine, one of six Australian wineries to ever win this title.
The Wines
Vasse Felix's wines reflect the varietal strengths of Margaret River, with a focus on Cabernet Sauvignon and Chardonnay, as well as Shiraz and Sauvignon Blanc / Semillon blends. All wines are vinified with minimal intervention and bottled within the Estate's modern winery, situated at their Home Vineyard overlooking the Wilyabrup Brook. The Vasse Felix winemaking philosophy is founded on the beliefs that great wines are made in the vineyard, must be authentic expressions of their place, and are the work of a great team of passionate people.
Wine Tasting
The Vasse Felix Cellar Door - also located at the Home Vineyard - is renowned and offers a range of experiences. Enjoy a classic over the counter wine tasting or self-paced seated option, alternatively linger in the chic wine lounge over a glass of wine or wine flight with charcuterie. A range of historic vintages are available by the glass also. No trip to Margaret River is complete without a visit, tour or tasting at the Vasse Felix Cellar Door. Open 10am-5pm daily.
For a more bespoke experience, book a behind the scenes, epicurean tour or fill a day with Vasse Felix's Cape to Vine tour, operated in collaboration with local guide Cape to Cape Explorer Tours.
The Food
A national benchmark winery restaurant, Vasse Felix Chef Brendan Pratt creates modern cuisine with a strong focus on local, seasonal produce and a clever balance of artistry and simplicity to complement the Wine Collection. While bookings are recommended, a few walk-in seats can be snapped up at the chef's table. Open for lunch daily 12pm - 3pm.
Unique Highlights
Aside from visiting the region's oldest vines, explore the wow-factor museum space - The Vault, chronicling the history of Vasse Felix and Margaret River in the early days and housing Margaret River's oldest red wine - the 1972 Vasse Felix Cabernet Sauvignon. A seasonal program of exhibitions from Australia's largest private art collection is shown at the Vasse Felix gallery.
Halliday Rating
5 Red Stars
With Summer in full swing, there's nothing better than a cold beer to stifle the heat! Here's Scoops guide to...
Read More