Pignoletto Wine Variety Wineries in Western Australia
Discover what's going on in arts, events & culture
Discover what's going on in arts, events & culture.
Check out travel guides for regional WA
Check out travel guides for regional Western Australia.
Explore winery guides for Perth and regional WA
Check out winery guides for Perth and regional WA.
Wineries in Western Australia
categories=103917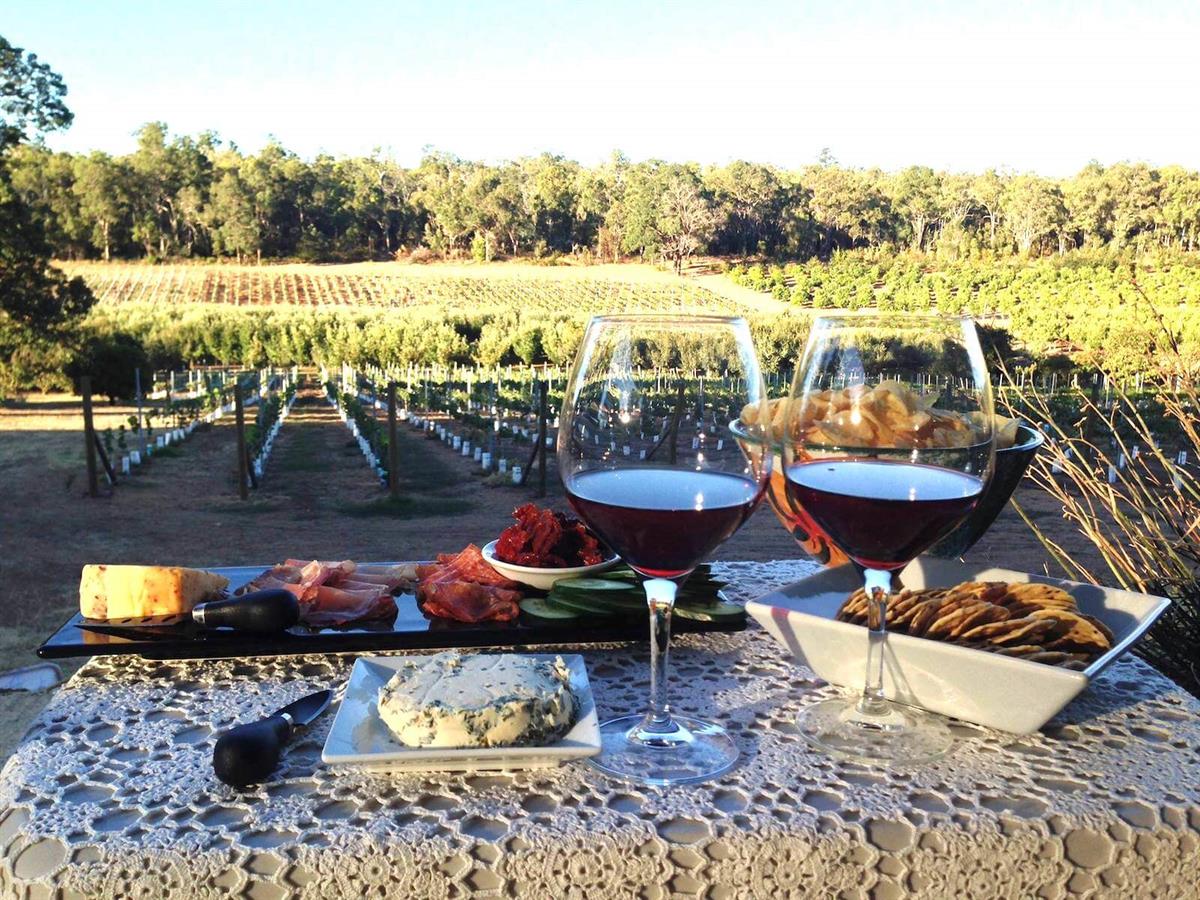 Meaning 'the farm' in Italian, indulge in a wine flight of distinct Italian wines and antipasto or join Nonna's Family lunch at this lovely estate 30 minutes from Perth, where everyone is la famiglia!
Open Days/times:Thursday to Sunday 11:30am - 4pm
Wine Variety:Barbera,Sangiovese,Vermentino,Nebbiolo,Pignoletto
Details
Lunch Open:Thursday,Friday,Saturday,Sunday
Perth Hills:Bickley Valley
Established:2012
Facilities:Cellar Door,Restaurant
Size & Year:Established 2011 - 2019
Cellar Door Open:Thursday,Friday,Saturday,Sunday
Description
Originally an orchard for stone fruit, pears and apples, the La Fattoria vineyard was established in 2012 by the Radice family with the planting of 11 Italian varieties. By nature of their native climates, Italian varieties are well suited to Australia's warm and dry grape-growing conditions, like those of the Perth Hills.
The Wines
La Fattoria is home to one of WA's widest Italian wine ranges, with varieties including Barbera, Sparkling Vermentino, Fiano, Sangiovese, Vermentino, Biancone, Sparkling Brachetto, Nebbiolo, Sparkling Pignoletto, Primitivo and Sagrantino.
Cellar Door
In Italy, wine is typically served with food during family gatherings. With this philosophy in mind, the La Fattoria cellar door showcases its wines as wine flights, available with or without traditional antipasto, and always accompanied by a friendly chat with the winery's 'family'. 'Conversation with Italy' wine flights are $10 per person and include piccolo antipasto and tastings of five wines.
The Food
Enjoy lunch just like Nonna makes it at the estate's cosy trattoria, featuring a set menu of delectable Italian dishes designed to be shared among loved ones. The culinary experience includes a wine tasting and a rustic Italian menu created from locally-sourced, seasonal produce. Alternatively, select a range of antipasto items with La Fattoria's 'pick your own platter' or homemade coffee and cake. Open Thursday to Sunday 11:30am to 4pm.
Unique Highlights
Experience grape-picking during the vineyard's harvest to gain an enjoyable insight into the estate's winemaking process. Join the 'La Famiglia' club online to gain access to these exclusive events.
Experience the 'little Italy' of the Geographe region through Italian varieties of Arneis, Dolcetto Freddo and rare Nebbiolo wines at this estate, operated passionately by the Cumbers family.
Wine Variety:Arneis,Dolcetto,Nebbiolo,Pignoletto,Muscat,Cabernet Sauvignon,Muscat a Petits Grains Rosa,Sauvignon Blanc Semillon,Fiano
Open Days/times:Cellar Door Online only at present
Wine Region:Geographe
Details
Size & Year:Boutique (1,000-4,999 cases),Established 1951 - 2000
Brands:VIneyard 28
Wheelchair Access:Wheel Chair Access
Vineyards:14 acres
Winemaker:Mark Cumbers
Cases Produced:Greater than 1000
Facilities:BBQ Facilities,Picnic Facilities,Gallery,Dogs Welcome,Wheelchair Access,Cellar Door
Geographe:Harvey
Established:1998
Description
Back in 1989, a Kiwi girl named Pip met a West Aussie boy named Mark whilst working in Melbourne. The two shared a love of all things to do with wine, and in 1997 relocated to WA, purchasing a 10 acre property near Harvey (that was later named Vineyard 28). Some twenty years later, the property now boasts an extensive vineyard planted with mostly Italian varieties.
'28' is the colloquial name for the Port Lincoln Ringneck, a local parrot, due to their contact call, a whistled "twenty-eight". When planting the first vines, these cheeky birds were a little too helpful, thus it was decided to take their name for the property.
The Wines
Enjoy Italian varieties - Arneis, Dolcetto, Moscato and Nebbiolo wines alongside classic Sauvignon Blanc Semillonand Cabernet Sauvignon.
Cellar Door - currently closed to visitors due to the Coronavirus
It was a family effort to create the cellar door, built from Lake Clifton limestone in 2005. Brimming with colour, vibrancy and of course, wine, the cellar door offers friendly tastings of lesser seen Pietmonese grape varieties and is open daily from 10am - 5pm.
For $2.00 per person you can sample the range of wines. Or take the time to enjoy a Grazing & Tasting Experience, 4 wine samples of your choice from the range accompanied by a grazing board of local produce.
The cellar door also features a spacious picnic area and barbecue facilities for a BYO lunch, and a unique collection of colourful Patchwork Quilts and works by local artists.
The state government just threw the WA wine industry a much-needed lifeline, allowing West Australians to order up to one...
Read More