Health Charity Clubs & Associations in Wembley
Discover what's going on in arts, events & culture
Discover what's going on in arts, events & culture.
Check out travel guides for regional WA
Check out travel guides for regional Western Australia.
Explore winery guides for Perth and regional WA
Check out winery guides for Perth and regional WA.
Clubs Associations in Wembley
categories=101324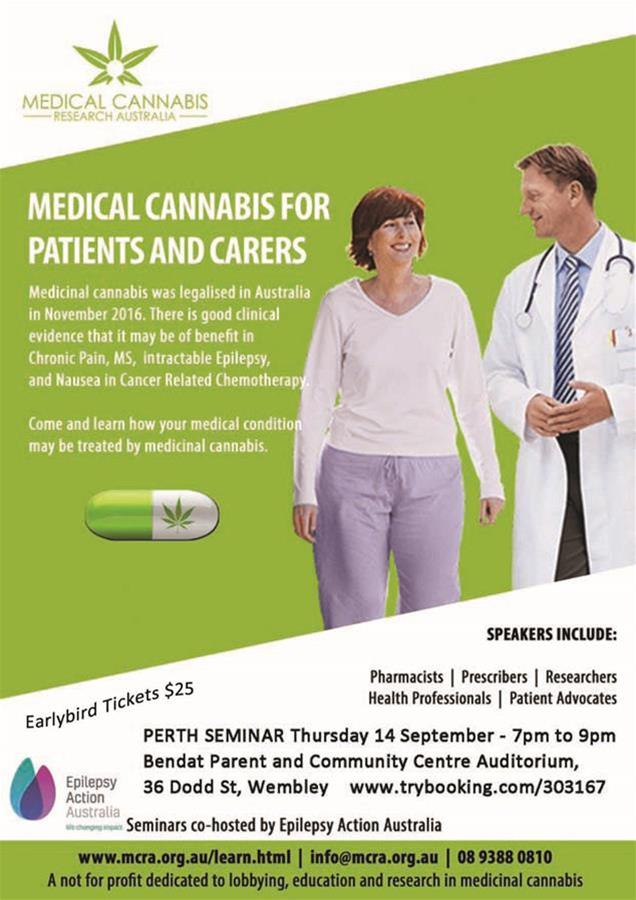 PERTH - Medical educational seminar for patients to learn how this new medicine may benefit them to treat symptoms of epilepsy, chronic pain, chemo-induced nausea and vomiting and Multiple Sclerosis.
Type:Non Government
Charity:Health
Details
Description
Perth - Medical Cannabis for Patients and Carers

Medicinal cannabis was legalised in Australia in November 2016. There is good clinical evidence that it may be of benefit in chronic pain, MS, intractable epilepsy and nausea in cancer related chemotherapy. Come and learn how your medical condition may be treated by medical cannabis.
On Thursday 14 September 2017 at 7:00pm

PRESENTERS INCLUDE
Paul Mavor - Health House International
Paul is a pharmacist who has been researching the potential of medicinal cannabis as a treatment for several years. His company was granted the first medicinal cannabis import license in Australia and he is currently distributing medicinal cannabis products to eligible patients. Paul brings a wealth of knowledge from his hands-on research in the U.S., Canada and Israel.www.healthhouse.com.au

Dr Joe Kosterich - author, keynote speaker, general practitioner and health industry consultant
Dr Joe Kosterich is a Perth-based GP with more than 20 years' experience in the media, writing for newspapers and online, and providing expert comment on health and medical issues via print, radio and television, both in Australia and internationally. While continuing to practice, Dr Joe can also be seen regularly on the Channel Nine Morning Show in Perth and has written several books on health and wellness. His website, www.drjoe.net.au, provides information, articles and tools on a wide variety of health and medical topics. He regularly engages in social media commentary via Facebook and Twitter.
.
Cameron Scadding - Source Certain
An expert in supply chain integrity and ensuring that consumers get what is both promised and from the source claimed. www.sourcecertain.com

Two Patient advocates will be discussing their journey

A representative from Epilepsy Action
Established in 1952, Epilepsy Action Australia undertakes research and advocacy, and delivers innovative, high quality services across Australia to optimise life outcomes for people with epilepsy. The organisation's aims are to increase epilepsy awareness and understanding in the community, and facilitate self-management of epilepsy for people with the condition.www.epilepsy.org.au

LOCATION

Bendat Parent and Community Centre - Auditorium (Telethon Speach & Hearing)
36 Dodd St, Wembley, WA 6014

CONTACT DETAILS
Medical Cannabis Research Australia
www.mcra.org,au
[email protected],au
08 9388 0810

A not for profit dedicated to lobbying, education and research in medicinal cannabis

Early Bird Tickets only $25 - available until 31 August 2017
BOOK NOW


https://

www.trybooking.com/303167
Be prepared to transcend the bounds of space with the kids this summer holidays as Spare Parts Puppet Theatre launches...
Read More