Travel Services in Mandurah Town
Information Centres in Mandurah
region=mandurah&type=information-centres&scroll=y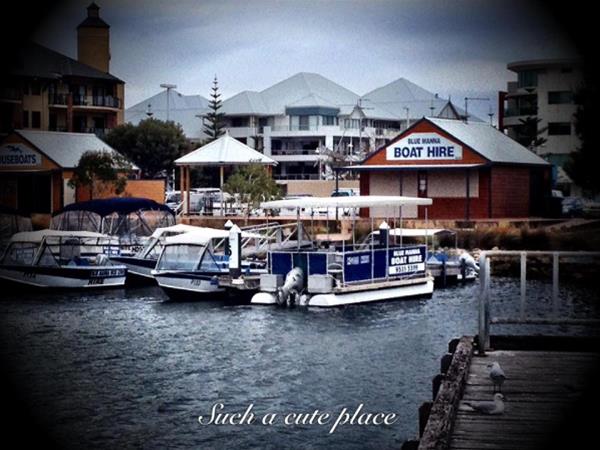 View Mandurah's luxury canal side homes or cruise the scenic Peel Inlet and Murrah River. Cruise leisurely amoung the dolphins and birdlife or go fishing, crabbing, swimming and sightseeing.
Details
Description
Blue Manna Boat Hire offers a fleet of well maintained self drive boats ready and waiting at our jetty, easily operated by any member of the family with our new 8 seater LARGE PONTOON BOAT now available.
"NO LICENSE OR EXPERIENCE NECESSARY"
Go SIGHTSEEING! Our wonderful dolphins are almost always out there to accompany you as you check out the vast array of birdlife. View Mandurah's luxury canal homes or cruise the scenic Peel Inlet right down to the incredible man made Dawesville Cut. Take time to cruise all the way up the majestic Murray River. Perhaps tie up to the jetty for a cold drink and some lunch at one of the lovely riverside pubs , restaurants or deli's.
Go FISHING! We have all the gear right here … Rod / reel combo's for hire or sale, hand lines and a wide range of bait and tackle tailored for our local waters. For the serious fisherman please contact us about our "PUNT FISHING SPECIAL" Our punt is a ripper flat bottom "tinnie" ideal for getting into those good little "secret spots" Book a trip of 3 hours or more and your first hour and 2 packets of bait are absolutely FREE! Remember….Blue Manna Boat Hire operates all year round. Mandurah often enjoys a very mild winter with fine temperate days ideal for fishing and we offer further discounts and bonuses in the off season.
Go CRABBING! From December through to April the famous Mandurah Blue Manna crab population explodes creating the fun of catching them and delight of cooking them up as a summer delicacy. We supply crab nets and equipment FREE with your boat and stock plenty of crab bait of course.
Take the FAMILY PET! Please feel free ,why should they miss out.
So remember we have everything you need for your day out on the water with a great stock of ICE, BAIT, CRAB NETS, FISHING TACKLE (for hire or sale) and DRINKS. There's also plenty of great tucker to take with you, available right here at the fabulous world class DOLPHIN QUAY MARINA.
Blue Manna's boats are ideal for fishing, crabbing, swimming, sightseeing or just leisurely cruising among the dolphins or birdlife .
All Boats are User Friendly.
Pensioner Discount is available.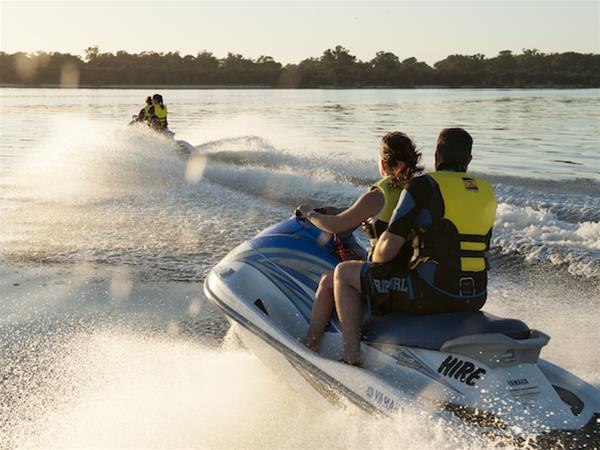 Fast Escapes. Natural Breaks. Just an hour south of Perth, Mandurah & the Peel region offers everything from coastlines, rivers and estuaries to bushland. Enjoy 6,600 square kilometres of outdoor fun.
Type:Tourism Associations
Details
Description
The Peel region is one of the most beautiful and most diverse regions of Western Australia. The region encompasses Mandurah, Murray (Pinjarra & Dwellingup), Waroona, Boddington and Serpentine/Jarrahdale and is the perfect destination for your natural adventures, right on Perth's doorstep.
So close to Perth but a million miles from city life, you find a massive area waiting to be explored from the Indian Ocean coastline, up rivers, across estuaries and through native bushland to the eastern escarpments. Spend your day kayaking, bush walking, off-road cycling or even on a horseback in the vast open spaces and state forests or sample local wines and produce and spot kangaroos and local wildlife. The opportunities are endless.
If you love adventures with adrenaline, there are extreme options from high speed, open water jet skiing to four wheel driving on the beach and surfing, white-water-rafting, skydiving and much more.
For those of you looking for more chilled adventures, choose from options like waterfall picnics at Serpentine Falls, hiking and mountain biking tours through jarrah forests and national parks, fine dining and visiting the region's excellent wineries.
The Peel region is home to unique treasures of nature. There, you find the largest Thrombolites reef in the Southern Hemisphere at Lake Clifton. This natural jewel offers a glimpse into what life was like 600 million years ago.
The Peel-Harvey estuary is twice the size of Sydney harbour – imagine an aquatic playground 130 square kilometres of estuary and inland waterways.
Welcome to a world of adventure, anytime of the year.
Stunning nature walks around the Peel-Harvey Estuary's beautiful wetland reserves, guided by Sarah Way, a zoologist passionate about engaging people with Australia's unique biodiversity
Details
Description
Looking for a unique holiday activity? Discover the incredible Peel region's natural heritage while you're in Mandurah. Explore and learn more about the habitats and wildlife with Sarah Way, a zoologist with a passion for engaging people with Australia's unique biodiversity.