Places To Go in Gascoyne Junction
Discover what's going on in arts, events & culture
Discover what's going on in arts, events & culture.
Check out travel guides for regional WA
Check out travel guides for regional Western Australia.
Explore winery guides for Perth and regional WA
Check out winery guides for Perth and regional WA.
Places To Go in Gascoyne Junction
scroll=y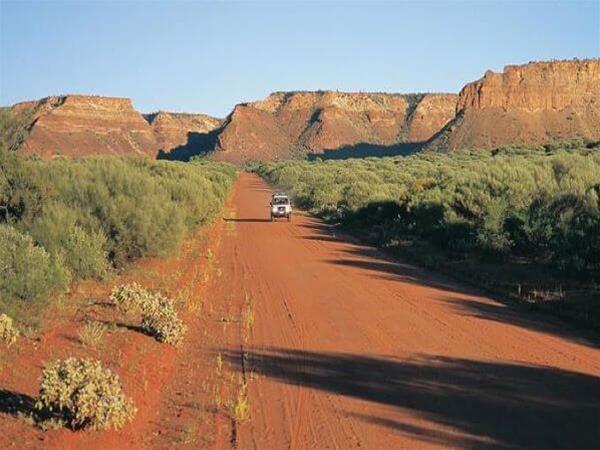 The beautiful gorges and red rock landscape of Kennedy Range National Park are about a two hour drive east of Carnarvon, or 1 hour from Gascoyne Junction.
Details
Natural Attractions:National Parks & Reserves
Activities:4WDing,Walking
Facilities:Toilets,Walking Trails
Description
Perfect for a four-wheel-drive adventure, Kennedy Range National Park is the place to go camping under a star-filled night sky. Here, you're surrounded by pristine wilderness. Go bushwalking and explore gorges and sandstone cliffs, see native animals and birds, and look out over the vast plains of pastoral leases.
Rising up to 100 metres above the valley, the Kennedy Range plateau has dominated the surrounding plains for millions of years. With red sand dunes, spinifex, wattle and mallee trees scattered throughout the area, this is what the Aussie outback is all about.
A variety of bushwalking trails run from the eastern side day-use sites and camping area, and take you into gorges where you'll see honeycomb-like rock formations. Observe marine fossils and be inspired by the geological history of the range.
The Department of Biodiversity, Conservation and Attractions has volunteer campground hosts based at the eastern side campground from May to September – which is the best time to visit.
Kennedy Range is a star attraction on the Wool Wagon Pathway – one of the three self-drive trails with interpretive signage that make up the Gascoyne Murchison Outback Pathways.
Missing happy hour drinks with the gang at your local bar? Now you can make cocktails as good as the...
Read More